The 2020 Honda Genio made its debut in the Philippine market almost exactly a year ago. Though it didn't get as much fanfare as did its adventure-style cousin, the ADV 150, this scooter is worth another look for its unique packaging.
In this feature, we highlight the defining characteristics of this trendy, user-friendly two-wheeler. If you've been eyeing the Genio, we suggest you take the time to read this before you head to the showroom.
Here are 10 ways the 2020 Honda Genio fulfills its objective of being a good option for the daily grind:
1) It's a standout in a sea of dark-colored scooters.
The local Genio comes in two statement colors: Trendy White Red and Trendy White Blue.  In a market dominated by black, gray, and matte, Honda's decision to go with white certainly bucks the trend. It's also a clever come-on for the scooter's target audience: young, fashionable, living in the city, and likely female.
More options would've been nice—the Indonesian market gets three more colors (Trendy Black Red', Trendy White, and Fabulous Matte Black—but this is a good start.
2) It comes with a new frame.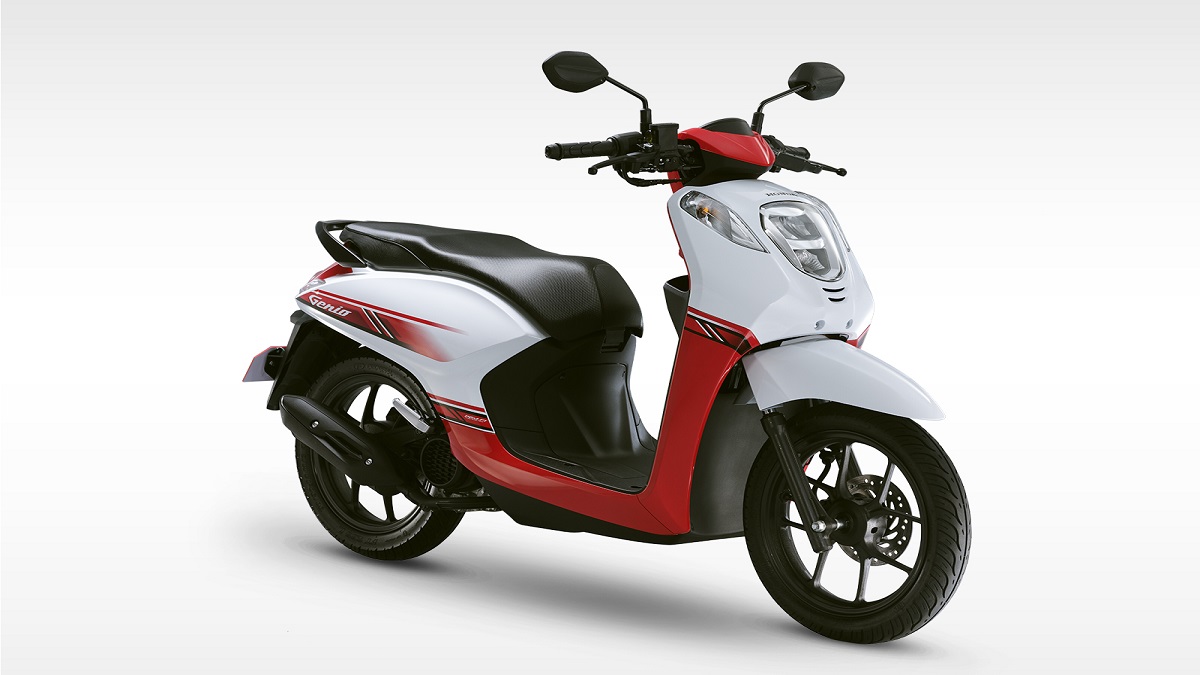 Continue reading below ↓
Recommended Videos
Honda's engineering team outfitted the Genio with an 'enhanced Smart Architecture Frame' (or eSAF, for less of a mouthful). Thanks to this new frame, the scooter is lighter and more stable in handling. The frame keeps the Genio's curb weight at a trim 89kg. That's 4kg less than the Beat, which the Genio now replaces as the lightest scooter in Honda's lineup.
3) Its fuel-injected engine bears all the hallmarks of an efficient commuter.
Honda's newest model runs on a 110cc SOHC four-stroke engine that meets Euro 3 emissions standards. That means a more fuel-efficient and eco-friendly machine for commuting around the city.
The Genio's engine uses two of Honda's fuel-conserving famous technologies to deliver its claimed mileage of 59.1 km/l or 248.22 km on a 4.2l tank: programmed fuel-injection, which sprays fuel during combustion, so there's no waste; and Idling Stop System (or ISS, which turns the engine off while idling)
4) A park brake lock and a side-stand switch reduce room for error.
Nobody wants a scooter that won't stay parked. Honda made this unlikely in the Genio with a park brake lock and a side-stand kill switch. The brake lock comes handy when parking on slopes and hills, and the kill switch trains the habit of remembering your side stand, without the jarring scrape of steel on concrete.
5) It's sized and designed for beginner and smaller riders.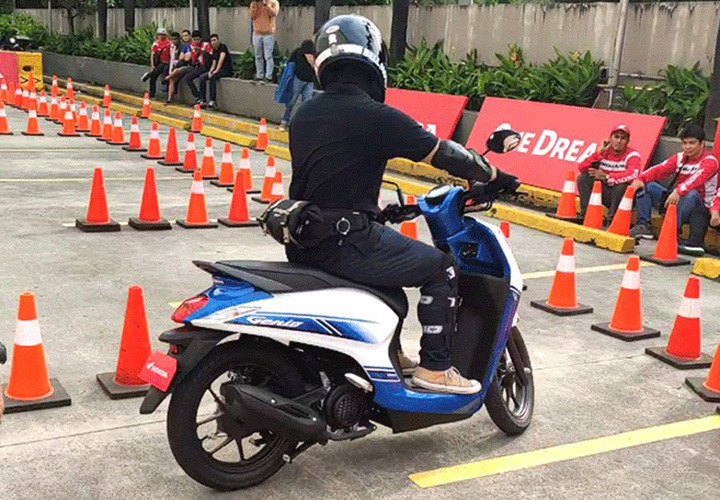 The Genio is an accommodating bike with its seat height of 29 inches (very manageable even if you're five feet tall). The aforementioned park brake lock provides added safety and convenience you're caught in standstill traffic. The round LED display panel is minimalist and easy to read. Plus, the engine comes alive at the push of a switch.
6) There's plenty of space in its front and under-seat compartments.
Another plus to come out of Genio's eSAF frame is the roomy 14-liter cargo compartment, equipped with an outlet for charging electronics. Up front with the steering column are two front racks, which can each fit a slim water bottle, a pair of gloves, or whatever else you need quick access to.
7) The brakes, tires, and suspension give it a smooth, secure ride.
The Genio comes with a combi brake system that engages both rear and front brakes for the best braking performance, regardless of which lever you pull. The front brake is a hydraulic disc while the rear is a drum—a suitable setup for something as light as the Genio.
A premium feature, the rear monoshock smooths out vibrations from the road. Paired with tubeless tires, riding around makes flats less likely and road grip better.
8) The LED headlights and rear lights are big and bright.
LEDs have been standard features on scooters for a while, and we're glad to see them on the Genio. Another thing we like about this set of lights: They take up real estate. In this case, visibility isn't sacrificed for sleek racing lines.
9) Its design is inviting.
Aside from the bold choice of white, Honda has managed to design fun into the Genio's look. The front headlights and the auxiliary lights are angular, but in a soft, cartoon-like way, so at a certain angle, you can make out the face of a koala. The body's side profile is full of angles, but they meet in ways that say 'interesting' rather than 'racy.'
10) Price always matters.
Priced at P72,900, the Genio is one of Honda's most affordable offerings. With all of us still reeling with the widespread effects of the COVID-19 pandemic, it's important that we make a good move in choosing the motorcycles that should perfectly fit our needs and lifestyle. This Japanese brand's reliable reputation is another big plus.