Who says you can't teach an old dog new tricks? My mom, Anabelle 'Anne' Estepa, is a senior citizen at 65 years old. She is a real estate broker by profession, and has zero experience riding a motorbike.
The last time she rode a bicycle was about 45 years ago. Since time immemorial, she has hated motorcycles and even scolds me for just thinking about it. A few days ago, she had a change of heart and told me that she wanted to learn to ride—which left me and other members of the family in a state of shock.
Without hesitation, she bought a Yamaha MT-15 followed by a set of Alpinestars riding gear. I was caught off guard by the series of her decisions. Investing in riding doesn't come cheap and easy, especially for someone who has despised it for decades.
The unforgettable moment came on June 17, 2021, when my mom finally got on a manual motorcycle. And I say this now: Yes, she can already ride.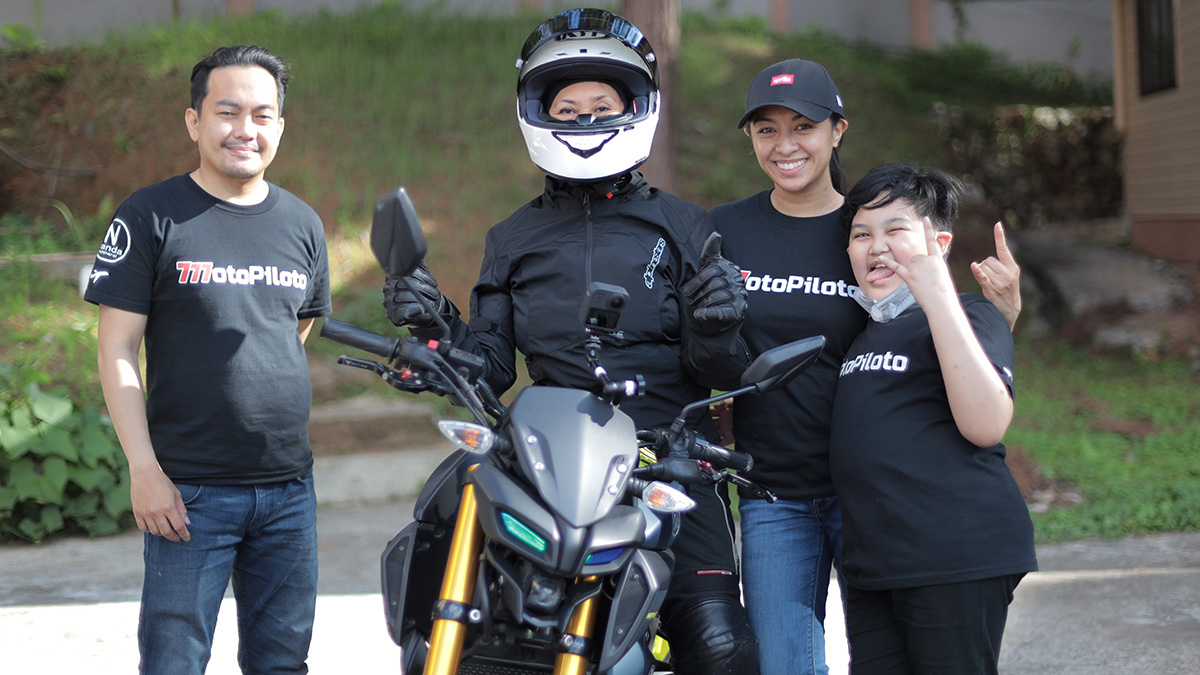 Continue reading below ↓
Recommended Videos
She wouldn't touch a motorbike with a 10-foot pole
"Never will I allow any of you to ride a motorcycle! That is the cause of accidents and deaths! I'm telling you, you are my only daughter at maliit pa yung anak mo! Think of your son! You are courting kamatayan just by thinking of riding."
I often heard these words from my mom whenever I got all bubbly about motorcycles. Who could blame her? She had already lost a few personal friends due to motorcycle accidents.
Being raised in a family that detested motorcycles, I could not fully understand why my heart was telling me otherwise. I only knew how to ride a bicycle back then. The thought of riding was so bewitching that I secretly enrolled at the Honda Safety Driving Center (HSDC).
Keeping my riding adventures from her
There were a lot of instances where my mom almost caught me riding. One time, she video-called me while I was at the Clark International Speedway (CIS). As I answered the call, I positioned myself in a way that she could only see a wall for my background. Since the engines of the motorcycles were really loud, I couldn't hide the fact that I was in the speedway.

I told her I was just watching, without her knowing that I was already into it and even coaching. When she asked about pictures of me with motorcycles, I have always reasoned out that I only pose for photos.
She was petrified after reading my articles on Top Bikes Philippines about my work as a training coach for newbie riders. She freaked out every time she found out I'm at a race track.
To allay her fears, I assured her that I always sought training and guidance from experienced riders. I kept hoping and praying that one day, this negative mindset of hers will take a 180-degree turn, and she will accept the fact that I'm madly in love with motorbikes.
Ride training begins
When my mom's motorcycle arrived, I asked her to mount it to check if her feet are securely planted on the ground. After briefing her on the components and controls of the bike, I gave her instructions on how to fire up the engine.

The first attempt is always the hardest, but to actually see her take baby steps and follow instructions was already a milestone. I was amazed by how she gets the enthusiasm and courage to conquer to her fear of motorcycles at her age.
On that day, mom was high-spirited. She was acting cool and laughing her way through all the given steps, but I can clearly see her apprehension. Staying calm through the whole process and taking her time to be comfortable on her motorcycle was essential.
With the help of fellow riding coach Marvin Caspe, we oriented my mom on what is needed and expected in riding before doing drills for practical riding sessions. She fell one time, which made her realize the importance of wearing protective gear.
Check out this video by Babin Lim of Brainfreeze Multimedia:

Time to shift gears
Her first struggle came when was looking for the biting point of the clutch system. Slowly but surely, she was able to adapt to the hand-foot coordination in shifting gears that were initially confusing for her.

We ended the day with her running in second gear. But her training doesn't stop there. She wants to be trained at the CIS. Do I still feel anxious? Not at all. I am very confident with her progress even during our one-day training.
Did she experience falling off the motorbike? Yes, a few times. Did she ever think of quitting? Not at all. In fact, seeing my caring mom courageously bouncing back from every fall makes me proud of her even more. With all honesty, I saw myself in her as she recovered from mistakes while holding her head up high and ready to move on.
A mom will always be a mom no matter where you are, how old you are, or what you have become. She will always think of you, worry about you, care for you, dream for you, believe in you, be there for you, and love you unconditionally—even when it seems otherwise.
Welcome to the wonderful world of motorcycling, mom!
Top Bikes Philippines is now on Quento! Click here to download the app and enjoy more articles and videos from Top Bikes Philippines and your favorite websites.