Filipino families typically bond over food and shared memories. So, it's not often you'll come across a family who works motorcycles so thoroughly into that bond.  In this sense, PNP Civil Security Group (CSG) Director Roberto B. Fajardo and his family are a welcome anomaly. All five of them ride (big bikes, no less) and have the animated, and at times harrowing, stories to show it's not a passing hobby.
Over the course of our interview with them, the family recounted how the motorcycle bug went around, what challenges they faced, and why the habit stuck despite some rather grim encounters. Fajardo, then a young PNP officer, gets credit for getting everything rolling.
"Before pa ako na-assign sa Highway Patrol Group (HPG), I took up the regular course for motorcycle riding course. That was in 1996. From then on, I was already riding big bikes hanggang umabot ng naging director ako ng HPG."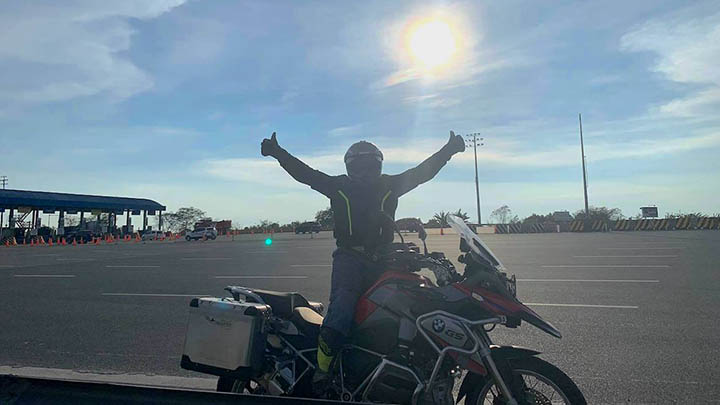 Continue reading below ↓
Recommended Videos
Fajardo's kids—Reuben, 25, Cara, 23, and Raffy, 21—grew up admiring their dad's motorcycles, but at a distance. The standing rule was "walang sasampa sa motor ko kung hindi kayo rider". Raffy, the youngest Fajardo, recalled how he became the pasimuno at the age of 15, the catalyst that got the rest of the family riding.
"Kasi meron siyang Harley V-Rod na 1200cc. He would let me start it, so ang ganda ng tunog, Harley. Tapos I asked (my dad), kailan niya ako tuturuang mag-motor. At first, very hesitant sila, 'bakit kailangan pa?'"
Tess Fajardo, wife and banker, was nervous because of Raffy's age. But both parents eventually agreed to lessons for their youngest rather than have him sneaking out with friends without proper supervision.
A high regard for safety marks the Fajardos' relationship with motorcycles and riding. They've all completed HPG's Motorcycle Riding Safety Training (MRST), a course the police group reopened to civilians and PNP senior officers in 2018 to promote safety and discipline. Apart from safety, not giving up figures into the family's relationship as well.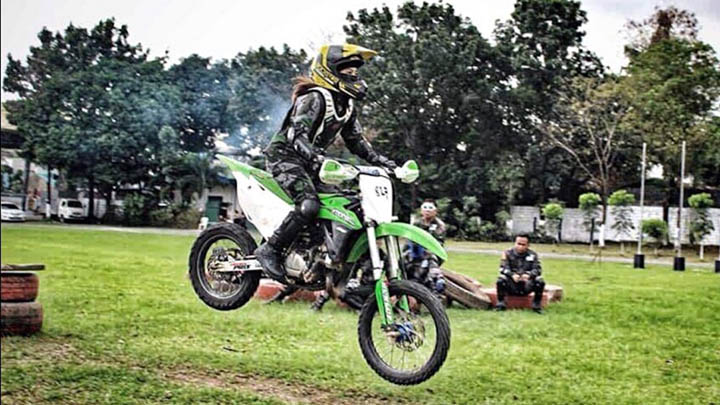 Reuben, a police lieutenant, picked up where his younger brother left off, and Cara, a freelance interior designer, followed shortly.
"I took up the riding course in 2018," Reuben told us. The MRST program was previously halted due to several accidents but it was eventually reinstated with the goal that the number of casualties stays at zero.
Cara, a freelance interior designer, followed suit after initially dropping out. "My sister and I started together at the MRSP," Reuben said. "Yun sa first try supposedly, I was scared kasi ang laki ng bike and I couldn't reach the ground," Cara, who stands at 4'11", explained further. "Sila (the rest of the class) mabilis yung progress nila. So sila nara-ride na talaga nila ang bike, pero ako learning pa lang. Hindi ako nakahabol sa batch".
The second time around proved vital for Cara. "Mas na-enjoy ko na siya, mas lumakas na yung loob ko," she said. To compensate for her height, instructors swapped the seat of her HPG motorbike with cardboard, earning her an extra two inches. "Alam nila na bike ko kasi walang upuan," she added with hearty laughter.
With four out of five members now riders, mom Tess was the only missing link. "Sumasabay lang ako sa kanila pag mag-ride sila pero ako nandoon lang ako sa backup vehicle.'Yun yung nakita kong family time, because they're all busy with school, work, and friends. So, I took time out to be with them".
Her own riding experience started on a day in 2019 when she accompanied her husband as he supervised MRST training. "All of a sudden sinabi nila sa akin. 'Gusto mo ba mag try?'" Someone offered their shoes (she was in sandals), another his gear, and the rest left no room for excuses.
"Parang washing machine lang pala," she observed, referring to the electric start on modern motorcycles. "And then they were explaining, I was just looking at the logic of how it should be done….and I was thinking about (how the motorcycle was like) a washing machine".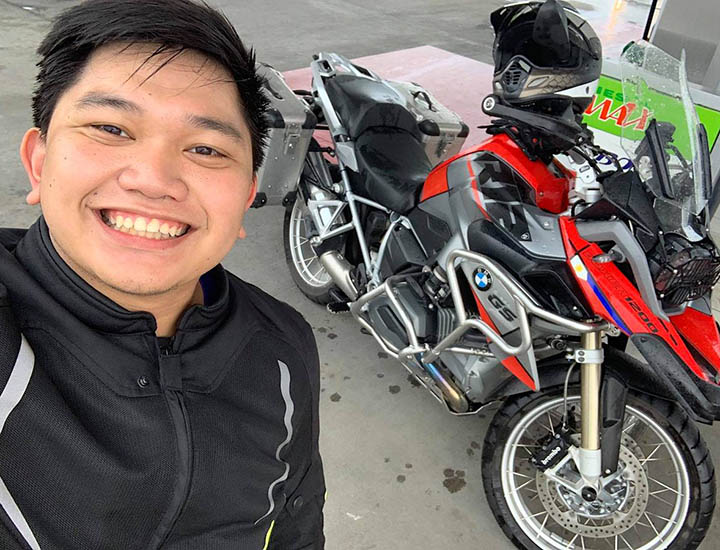 She rode on that first day and also crashed, bringing on a sense of fear. "I asked my daughter, 'how did you do it?' and then she said, 'Mommy, the feeling of being scared and the feeling of being excited is relatively the same. So, choose to be excited".

If there's anything more to learn from the Fajardo family, it's that getting into motorcycles involves picking up your bike and moving past fears, aches, and crashes. "There are only two kinds of riders," CSG Director Fajardo communicated. "Yung sumemplang na at yung sesemplang pa lang".
For Tess, her firm transition to the latter category came during the penultimate MRST obstacle for her batch. While warming up on her bike for 'the jump' (which involved launching yourself over a huge ramp on a motocross bike), she blacked out and collapsed from the heat, still clipped to her motorcycle from drilled-in muscle memory.
"Dinala ako sa hospital. Tinanong ng doctor sino nagbigay ng clearance mag-ride kasi na-angioplasty na ako, right and left. Bawal na bawal. I didn't want my family to worry so I said it was my decision. It was nobody's fault".
Raffy, a flight school student, shared a similar determination during the 2019 BOSS Ironman Motorcycle Challenge. "On the day before the Ironman event, sumemplang siya. Puro sugat yan dahil sa tricycle namaga yung paa, 'di sa amin sinabi," filled in director Fajardo.
"Kasi alam niya, pipigilan siya," mom Tess interjected. And without a word to his parents, he completed the challenge in 18 hours, despite a tightly bandaged left ankle and swelling and bruising on most of his left side.
Rounding out the family experience, Reuben told of the time he overshot a curve by coming in fast in fourth gear. And Cara followed with a fender bender tale involving a tree near Kaybiang Tunnel where, thanks to training, she came away with bruises and fared much better than her motorcycle (bent handlebars, broken lever, damaged brakes).
An outsider hearing these stories might stay away from motorcycles forever. But these encounters seemed to have strengthened the family's enthusiasm as well as their bond.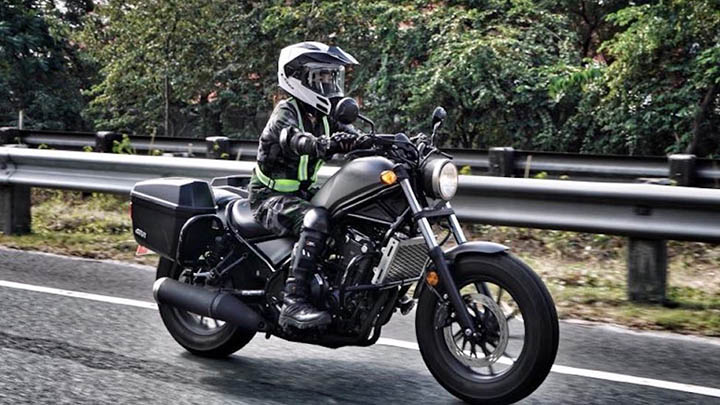 "Madalas pag nag-ride kami ang formation, ako sa harap, gitna sila Tess and Cara, si Raffy sa likod, at kami yung sweeper," Reuben explained. "When we ride, we ride together. Hindi pwedeng isa ka lang".

Tess happily shared a common interest that brings them together: "When we travel, even without the kids with us, pag nakakita kami ng motor shop, sila ang nasa puso namin." The family has been expanding, too. A fiancé, two girlfriends, and some friends were inspired to train under HPG and become riders themselves.
Respecting the machine behind the hobby is all-important. A valuable nugget of advice coming from General Fajardo is a household constant: "Huwag niyong yayabangan ang bike, kasi mas mayabang ang bike kaysa sa inyo."
Curious about the Fajardos' bike collection? Director Fajardo rides a BMW R 1250 RT,  Tess and Cara are on Honda Rebel 500s, Reuben rides a BMW R 1250 GS Adventure, and Raffy opts for a BMW R 1250 GS.