There's a good reason why Distinguished Gentleman's Ride (DGR) is the global phenomenon that it is. There's nothing like seeing the spectacle of a whole fleet of well-dressed, dappered-up men and women riding on classic, retro, and vintage motorcycles and scooters through city streets to support men's physical and mental wellness.
The annual observance of the DGR began in Manila in 2014, with only around 60 participants supporting the noble cause. In 2019, just before the pandemic struck, the number of participants reached 3,000.
The prevailing global health problem has forced many activities to adopt new norms, and the DGR is not spared from this. However, this noble tradition must go on. To keep the fire burning, we must adapt to the situation.
This year, as we ride as one community in Manila, keep in mind these simple dos and don'ts to keep with the original DGR spirit. Remember, ride safe and ride dapper on May 23!
The dos
Continue reading below ↓
Recommended Videos
Do dress in your dapper best. Need some style inspo? Check  Don Draper from Mad Men or Peaky Blinders' Tom Shelby. Women can take cues from Killing Eve's Villanelle.
Do ride a vintage, retro-modern, or classic scooter or motorcycle. Not sure if your bike is DGR-approved? Check this comprehensive style guide to be sure.
Do wear a mask and practice social distancing at all times. Keep yourself and others safe by wearing a mask and staying at least six feet away from each other.
Obey traffic rules. By doing so, we can avoid accidents on the road as we attempt to take selfies in our best bib and tucker. Let's not get overwhelmed by the party atmosphere.
Do take a screenshot of your DGR dashboard and save it on your phone. Show this at our partner pitstops as proof of registration. Also, do be kind and respectful to other riders, participants, and the people manning our partner pitstops. This is, after all, the Distinguished Gentleman's Ride. Be distinguished, and be a gentleman/woman.
Do donate if you haven't yet! Your donation will go towards prostate cancer research and suicide prevention. Any amount will surely go a long way.
The don'ts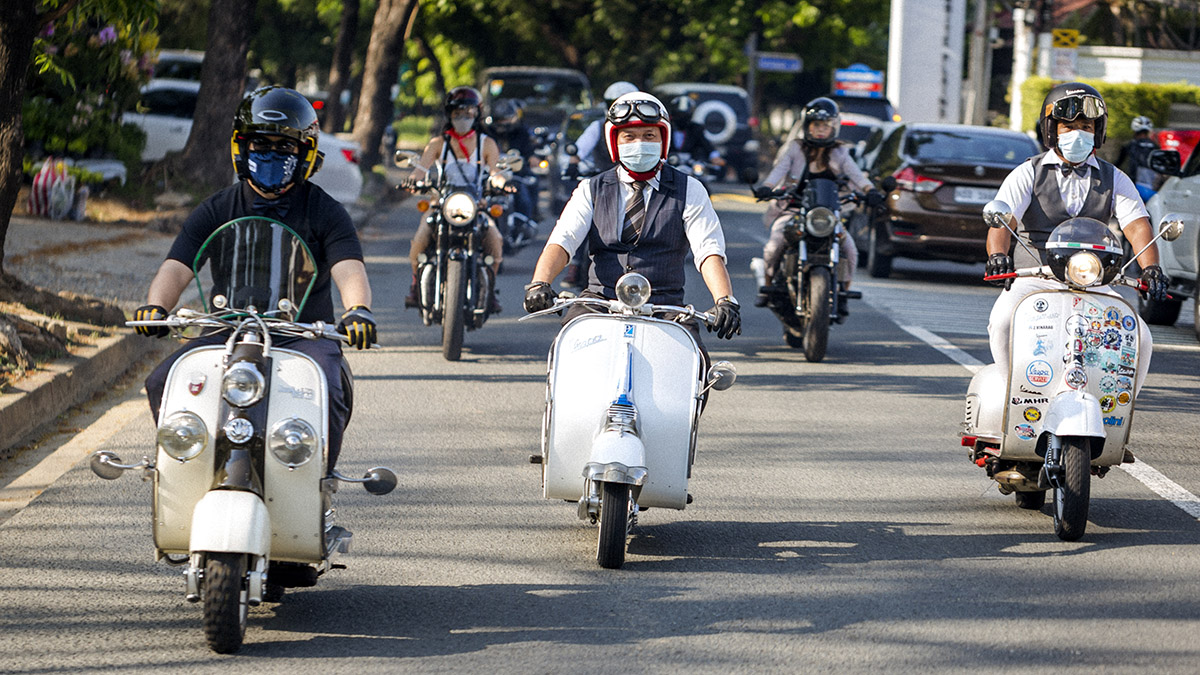 Don't crowd in one place. If you arrive at an official DGR Manila pitstop and are met by a throng of participants at the place, move on to the next one in your route.
Don't be a show-off. Leave the wheelies, racing, and showboating elsewhere. Follow traffic rules and speed limits.
Don't rev your engine needlessly. Do it someplace else. You might love the sound of those new pipes, but other people are trying to catch up on sleep Sunday mornings. 
Don't forget about the #ShootTagRideRepeat challenge! Post selfies on your Instagram and Facebook with #dgr2021, #dgrmanila2021, #ridedapper, #gentlemansride, and #shoottagriderepeat. These will give you a chance to win prizes.
Most importantly, don't forget to hydrate. Carrying extra bottled water will not spoil your looks. Do good, look good, and feel good.
Ride safe, ride dapper, and see you on the road Sunday!
Top Bikes Philippines is now on Quento! Click here to download the app and enjoy more articles and videos from Top Bikes Philippines and your favorite websites.