KTM's state-of-the-art 1290 Super Adventure is out and ready to dominate unknown terrain. Naturally, its buyers can select from a comprehensive suite of KTM PowerParts products geared for for aesthetics, performance, comfort, convenience, and more. Unless you've got exceedingly deep pockets, though, chances are you won't be able to play dress-up with this 160hp, 1,290cc adventure bike in real life.
Luckily, window shoppers like us got covered with KTM's bike configurator, which allows you to (virtually) spec out bikes like the Super Adventure to your liking without having to take out a loan. The slick interface gives you a wide array of parts to choose from, including footpegs, clutch covers, exhaust pipes, handguards, and a whole lot of luggage options.
How it works is that you're presented with the bike you're configuring (in this case, the Super Adventure 1290 R) in the middle, and on the right is a drop-down menu of parts to choose from. Once you choose a category and pick a part, you'll then be presented with info about that part and given the option to add it to your bike or remove it if it's already installed. Once added, the render of the bike updates to reflect any changes you've made. If the part you selected requires a supporting piece, like a luggage bracket for side cases, then the configurator will inform you and give you the option to add that part as well.
Continue reading below ↓
Recommended Videos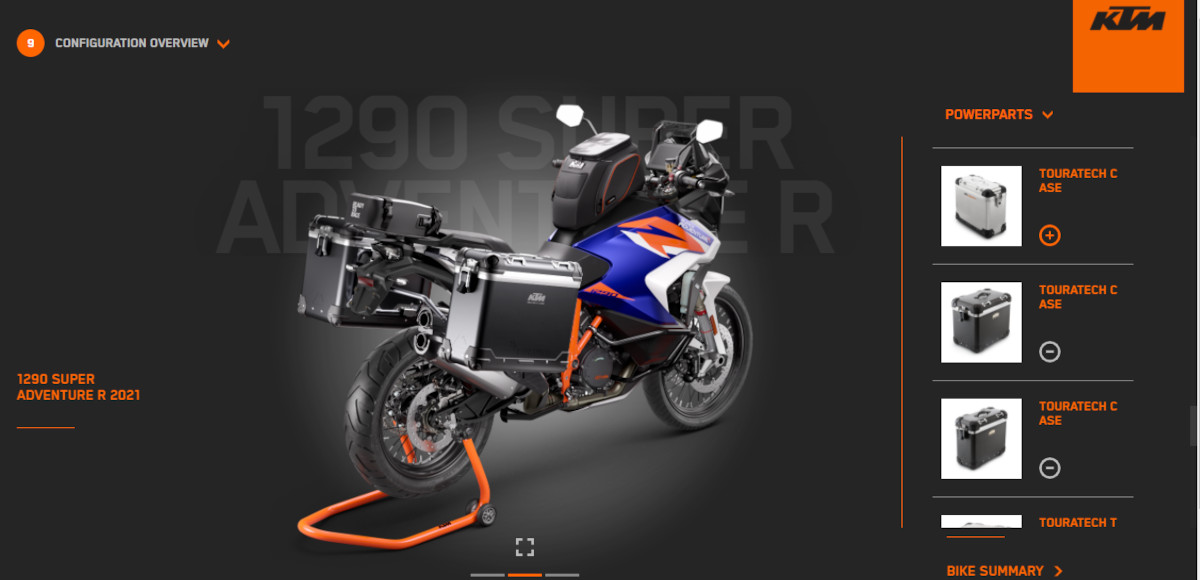 You can choose different angles to get a good look at the bike and all the parts you've added, and you can preview the full thing as well. Some parts don't show up in the configurator once added, however—things like heated grips and some electronic doodads, which makes sense since it'll be hard to see these items anyway.
Once you're done, hit the 'Bike Summary' option to finalize your build. Doing so will give you a detailed list of all the parts you've picked complete with parts numbers. You can then show the completed configuration to your local KTM dealer so they can help you get started. You can save the build for future reference, or you could just use it as bedroom-poster material.
What kind of builds will you come up with? Who knows, you might just win the lottery and make your dream build a reality some day.