There's so much more to using a motorcycle than just knowing how to ride. Because of the dangers involved in riding in an open cockpit, riders need to dress for the fall. And what better protection is there other than racing leathers?
Racing leathers are the best choice because of their exceptional abrasion resistance. They use protective leather—a thicker, stronger, and more flexible material compared to the fashion kind. On top of that, most race suits are combined with pads, impact protectors, and other technology, making them the best shield for our bodies in the event of a crash.
Here's a bit of history
One of the first documented bike races was the Isle of Man TT in 1907, where riders used leather boots, pilot's leather jackets, gauntlet gloves, leather skull caps, and pilot's goggles. The one-piece leather suit, which is now referred to as 'racing leathers,' was first used by Geoff Duke, a racer in 1950s.
He experimented with taping up his suit to make it more aerodynamic, and he gained several miles per hour from that minor modification. This led to the idea of creating one-piece leathers. At the time, the majority of leathers used made from horsehide because of the material's abrasion resistance properties and flexibility. This gave way to the variety of leathers used nowadays, which offer similar resistance but better flexibility.
Continue reading below ↓
Recommended Videos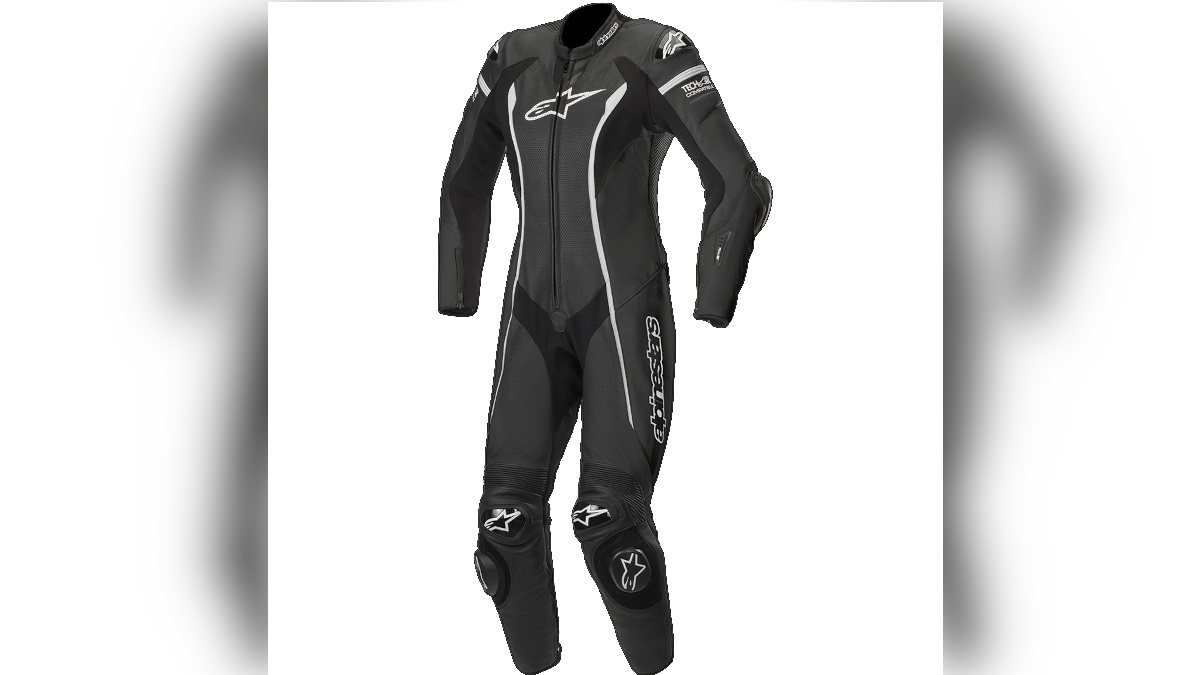 Fast forward 
To date, cowhide, kangaroo, and goatskin are the most commonly used leathers in the motorcycle industry. Cowhide is widely used because of its availability and affordability. By looking at the weight alone, you can assess how strong and durable the leather is. Kangaroo leather, or 'k-leather,' is likewise robust, but is a lot more expensive as it is thinner, softer, and lighter.
Kangaroos have less fat than other animals, so the skin doesn't have to be shaved as much during the manufacturing process. This allows the integrity and strength of the skin to remain intact.
Goatskin, on the other hand, provides riders with an excellent tactile feel. It is softer and more supple than a lot of other hides because of the presence of lanolin in the leather. This is why goatskin is the most common material used on the palm of motorcycle gloves.
Choosing good from the bad 
When choosing leathers, one thing to look at is its grade. How the leather is treated during the manufacturing process will directly affect its abrasion resistance, its hand (how it feels to the touch), and its overall durability. Full-grain leather is considered the best and the strongest leather because the entire grain remains intact, providing greater sturdiness and durability. Top-grain leather, on the other hand, is a bit thinner in comparison to full-grain because it is sanded to hide imperfections, which puts it a tier below in terms of strength.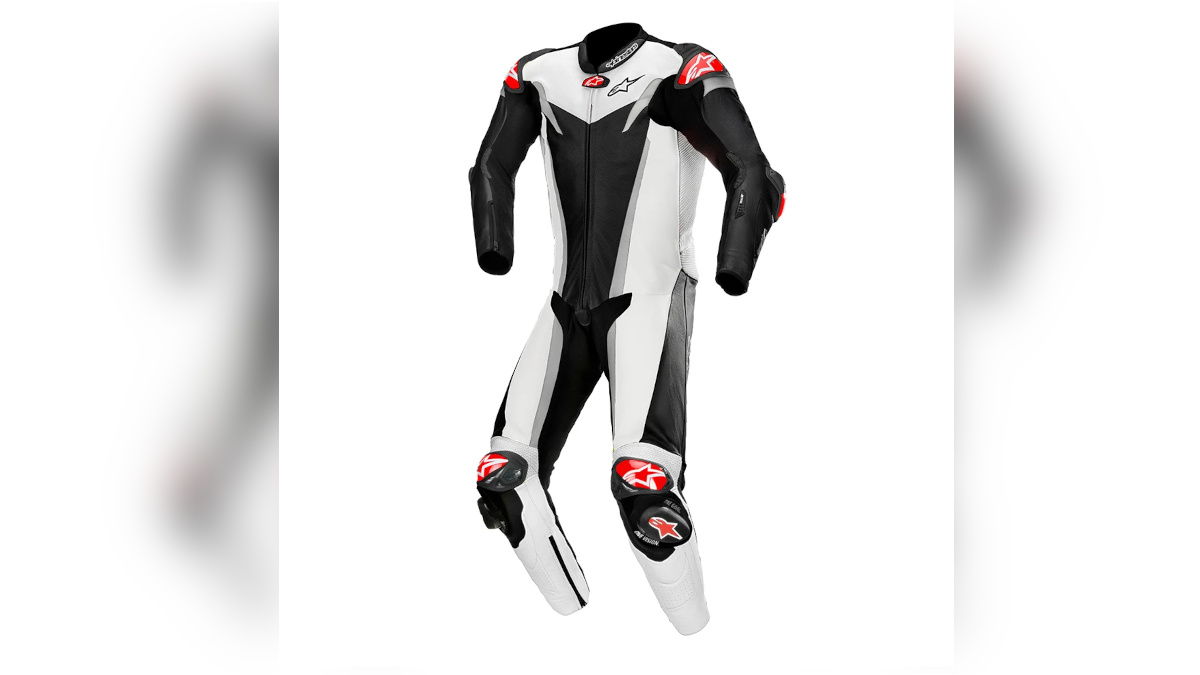 One-piece or two-piece?
Be it a one- or two-piece, the suit must fit you perfectly like a second skin for you to be properly sheltered. The 'perfect fit' may not necessarily feel that comfortable, though. Once you slip into a race suit, you may find that quite a few of your body movements become restricted. You may feel stiff like a robot, with your shoulders hunched forward, your arms and legs rigid, making it difficult to walk around.
One-piece racing leathers were designed specifically for the track. They're meant to be worn skin-tight to prevent any wind resistance as you try to wring out those seconds on the straights. When track riding, riders are susceptible to high-speed bail-outs or simply losing control, which can result in sliding across the tarmac, gravel, grass, barrier walls, or even colliding with another motorcycle.
So, a one-piece suit certainly is the best option. The likelihood of a two-piece suit coming apart is slim to none, but I personally feel more confident when I slip into a one-piece.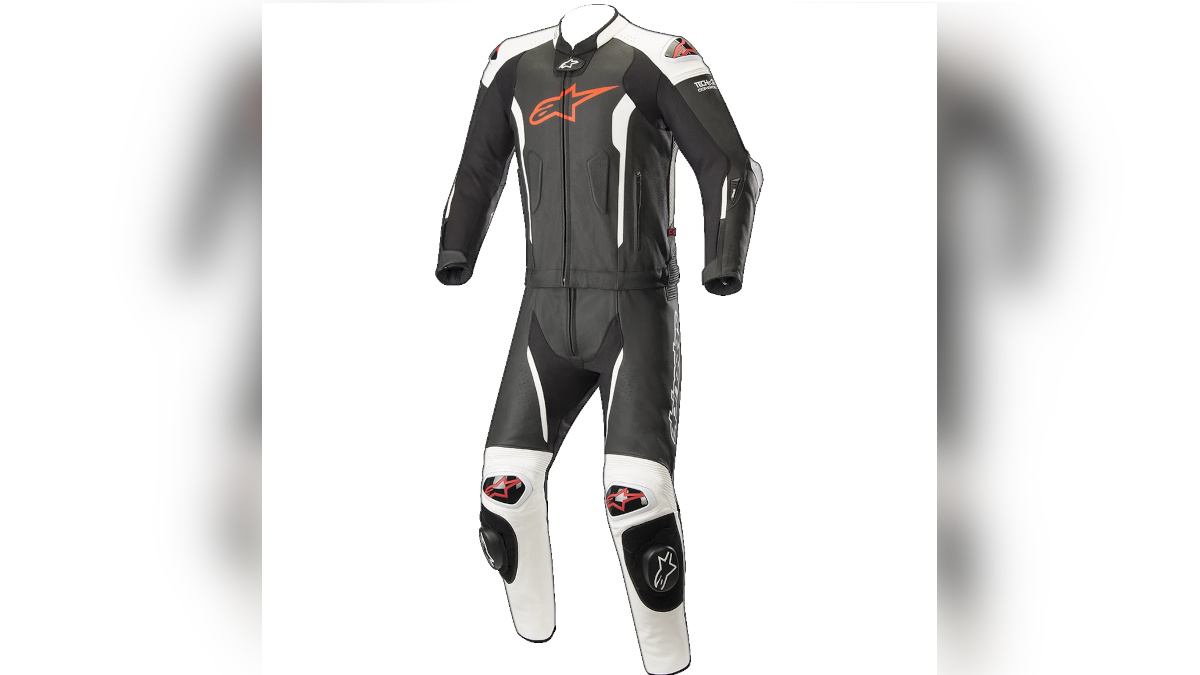 Fit is a big challenge
When I put on one-piece leathers, I can feel a change as it transforms my posture, confidence, and state of mind. In addition, they feel more comfortable to use, especially when I'm tucked in on the motorcycle. With a two-piece, you have about three inches of bulky material overlapping over your stomach and waist area because of the zippers and other attachment systems.
Even when traveling on ordinary roads, racing leathers are still advisable, more so if you're planning to ride quick around twisties. If you are more of a street rider, a two-piece suit will provide good protection on the road. Plus, the jackets and trousers can be worn independently from each other, which is more favorable for riders who want to purchase the leathers independently.
Which racing leathers should you buy?
The two biggest racing leather manufacturers are based in Italy: Alpinestars and Dainese. And lucky for us here in the Philippines, both brands have their own stores in Manila.
Other brand names to keep in mind that are readily available in the Philippines are RS Taichi and Komine, both originating from Japan and custom-fit for Asian frames. Macna is another good brand from the Netherlands, as well as Rev'it, a premium European brand originating from Holland.
Some of the suits available in the Philippines:
Alpinestars GP Tech V3 - P122,000
Dainese's D-Air Misano Perforated Race Suit - P112,000
Alpinestars Stella Missile 1 for women - P70,000.00