The motorcycle delivery industry has flourished during the lockdown. There's room enough for everybody. Kidlat, a small motorcycle delivery business with a modest fleet of 20 riders, delivers to customers in Bulacan and Valenzuela. The company's co-owner, Jojo Medina, shared some insights with us on what it takes to be a small but thriving motorcycle business.
If you've thought about setting up shop yourself, read the tips below to learn more.
1) Decide on your purpose
In business, making money helps. It keeps operations going and shows you're doing something right. But it shouldn't be your only goal. But what's more important for a business than money? For Medina, it's creating job opportunities for other people.
Continue reading below ↓
Recommended Videos
2) Identify your target market 
As a small business, it's important to know who you can cater to. Do your research.
Medina and his business partner did just that before they founded Kidlat. They found that "there's almost nothing in the provinces" in terms of motorcycle delivery services. Instead of competing in a tough market like Metro Manila with lots of big players, they chose an underserved area to test-drive their business.
3) Get ready for the initial expenses
Medina realized that running a delivery company was "harder than what (he) thought." Given the high demand, he expected profit to come quickly, but the costs of getting off the ground were more than anticipated. The initial capital for the business went to things like hiring staff, paying salaries, leasing an office, and marketing the brand. Lay out a budget for your business expenses, and expect some surprises along the way.
4) Expect long processing times
The pandemic has affected everyone's work habits — the government included. File the necessary papers early, and get ready to wait, because it will take longer than usual. In Kidlat's case, it took about 90 days to get the business permits approved. Focus on other preparations while you wait.
5) Hire the right people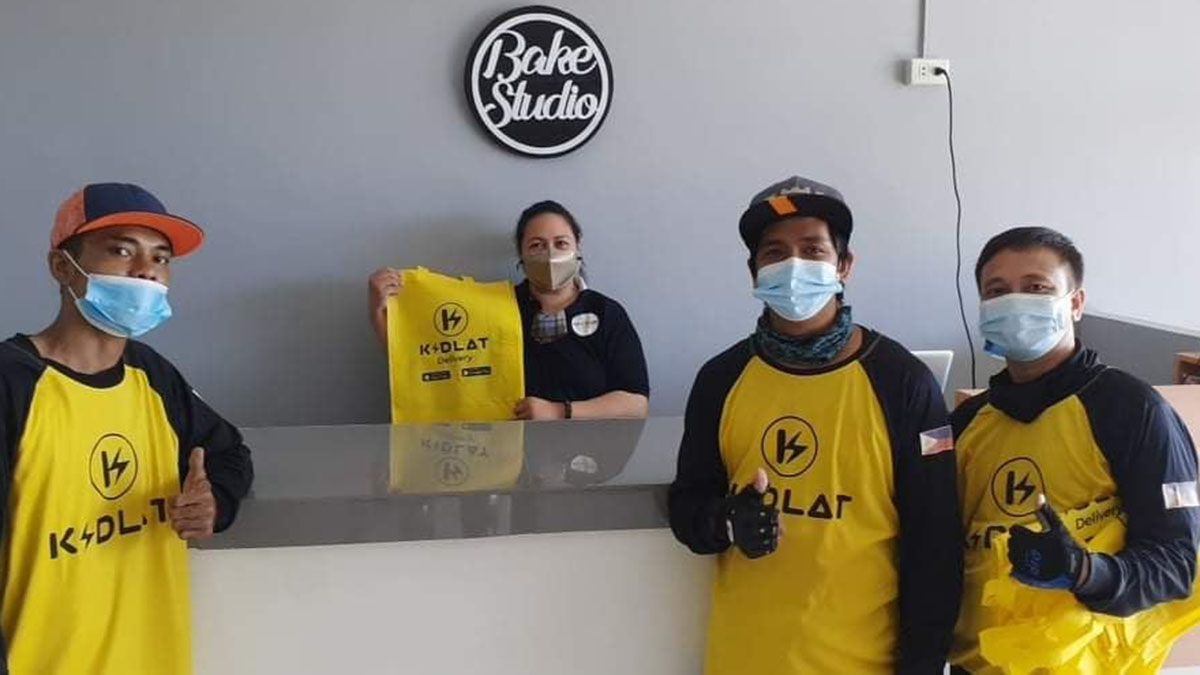 You don't want a great idea to fail because of poor execution. Hire capable or experienced riders. Look for proper qualifications (professional driver's license, NBI or police clearance), and run your own background checks. After hiring, train riders and regularly review their knowledge of the rules of the road.
6) Don't skimp on tech
You can have the best team yet still get nowhere. Reach is key for a motorcycle delivery business, and you won't get far without an online presence. Invest in a mobile app and a website.
You can hire an in-house web or app developer or go freelance. The final decision rests on your budget and needs. In-house developers cost more, but you get to supervise their work closely and approve code quicker. Freelance developers can offer quality at competitive prices, but they aren't always available to you because you're just one of many clients.
7) Negotiate with merchants early
This step is optional if you're sticking to just pabili/padala services. But if you have plans to get other businesses on your platform, Medina advises to get a head start on talking with merchants. Negotiations can take a long time, since you will be working closely with other business owners to come up with a deal that benefits both parties.
8) Maintain quality 
Online businesses live by their reputations. Deliver the same level of service for each transaction, and you'll guarantee customer loyalty. There are several ways to gain customers' trust: monitor your fleet of riders, get feedback, and offer support to customers, riders, and merchants.
9) Roll with the punches
All businesses go through good and bad times. The obstacles will vary from one business to another. If you've taken care at each stage, the profit will eventually come.
10) Expand with demand
Growing your business to reach more areas can mean more profit, but it can also strain your resources. Reach a comfortable stage before you think about expansion. Franchising is a way to expand without enormous costs and generates a great amount of interest, according to Medina.
Motorcycle delivery services will probably be going strong even post-pandemic. It's hard to beat the convenience of door-to-door service, where you don't need to worry about traffic, or wasting time. Have you considered joining the industry?