Harsh elements like wind, sun, and rain are the enemies of a motorcycle's paintwork. Unfortunately, extreme conditions are common in the Philippines. While you can't change the weather, you can minimize the damage it does to your bike.  
Kansai Paint Philippines has been producing quality car and motorcycle paint products in the country for more than two decades. Frederick Suarez, the company's quality assurance and process improvement section manager, shared with Top Bikes Philippines some tips on proper paint maintenance to keep your bike's finish shining for years to come.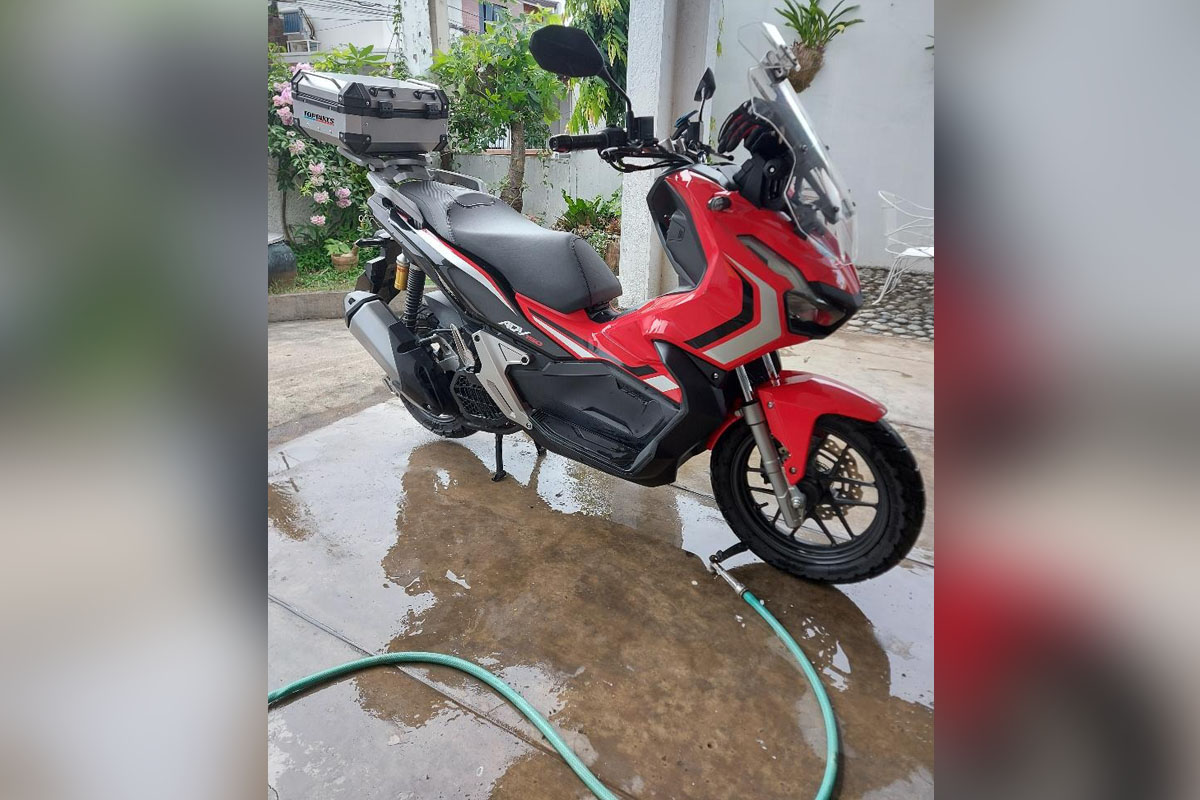 1) Wash your motorcycle
Make regular washes a habit. How often? If you're a daily commuter, once a week should be fine. Occasional rider? You can get away with wiping down and washing your bike every other ride. Regardless of which category you fall into, wash your bike as soon as possible if rain, dust, or mud are involved.
Continue reading below ↓
Recommended Videos
Through regular washing, you get rid of grime more often and catch paint scratches, chips, and other problems before they do damage. The key to washing is to do it properly. We suggest going for the manual approach. Set a garden hose to a gentle spray instead of blasting away with a high-pressure washer, and only use cleaning and detailing products made specifically for motorcycles.
When washing, park in a shady spot and only start wetting the bike only if the engine is cool. This helps prevent water spots from forming. Also, always wash your bike from top to bottom. This guarantees that you don't transfer dirt from the engine or wheels to your paint and scratch it.
2) Dry with a microfiber or chamois cloth
Dedicate several microfiber or chamois cloths for drying your motorcycle, because they're more absorbent and delicate than your run-of-the-mill rag. Even though drying by hand takes more time, it's the best approach for a consistent and quality shine. This way, you avoid forcing water into tight spaces or bearings like you would with compressed air.
If you drop the cleaning cloth on the ground, swap it with another one even if you've shaken it clean. Chances are there are still tiny particles of grit and dust on it that can scratch your bike's finish.
3) Apply a coat of paste wax
Using paste wax wax has several benefits for motorcycles:
It seals in the paint;
it creates a barrier that protects it from the weather;
and it gives your motorcycle that envious sparkle.
Dirt slips off a waxed motorcycle better than an unwaxed one. This leads to an additional benefit: you can go longer between washes and just wipe down your motorcycle after fair-weather rides.
To apply wax, use a clean cloth and work it into the motorcycle body one section at a time. Some wax polishes can be safely applied to the plastic and rubber parts of your motorcycle, so check if that's the case for the one you're using.
4) Cover your motorcycle
A motorcycle's paint can degrade even when it's parked. Direct sun and acid rain are harsh on paint. Invest in a high-quality cover that is not only waterproof, but also resistant to tears and UV damage.
Buy one even if you have indoor parking., because a cover protects your bike from falling debris and lessens dust buildup. It also keeps onlookers from getting too curious about it, deterring potential theft.
5) Sort out scratches
Scratches are unsightly things. But the more important reason to banish them from your bike is that they expose bare metal to air, eventually leading to rust.
Inspect your bike for scratches as you wash and dry it. Scratch removers will take care of most light scratches. Deeper or more persistent ones might need a rubbing compound—a more abrasive material that's best used for tackling swirl marks, oxidation, and paint transfer.
If a scratch is so bad that you see metal, take your motorcycle to a professional detailer for restoration. If you want more protection, check out paint protection films. The extra cost buys your paint better resistance from chips, stains, and scratches.
6) Keep gasoline, and brake fluid, and other harmful solvents away
While a gasoline droplet should be addressed, it usually won't harm your bike's paint. Still, it's a good idea to wipe it off with a soft cloth to avoid staining. Brake fluid and chemical solvents, however, do more significant damage. They will break down a bike's clear coat, often within minutes. Wash them off with soap and water immediately. Another thing you shouldn't ignore are the all-too-common bird droppings. It's important to get rid of them right away before they cause damage to the paintwork.
Riders should also consider the effect of the disinfectants they use on their hands, especially under this new normal. Alcohol and other hand sanitizers can easily make their way onto the fuel tank, handlebars, and other touch points. The verdict is still out on whether or not these compounds are harmful to your bike's paint, but it's better to be safe than sorry, right?