In April last year, the Yamaha Riding Academy (YRA) organized a riding clinic in Calamba, Laguna, for a three-day Revfest. The last hurrah to a long weekend of events, the one-day refresher course invited local Laguna riders to jog their memory on road safety and test out some bikes Yamaha provided for the event.
 This year, with coronavirus lockdowns and safety measures limiting such public gatherings, YRA decided to share the knowledge virtually. On September 17, 2020, it gave the media a preview of its new safety riding webinar—a digital info session fulfilling its goal to "give (riders) basic safe riding techniques."
 It's great to see big motorcycle brands like Yamaha create new, safe ways to continue educating riders on safety, despite the current restrictions. Here are our impressions of how it compares to an on-site event like last year's.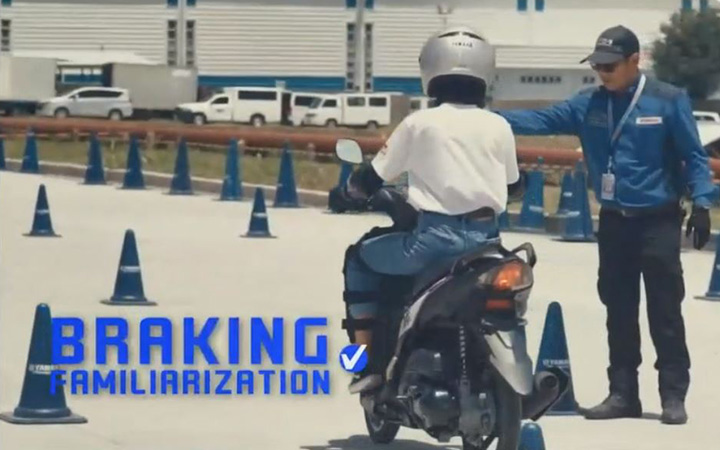 Continue reading below ↓
Recommended Videos
 1) The instructional materials are top-notch. 
Have you attended Yamaha riding clinics before? Then many of the videos Yamaha uses in the free webinar will be familiar to you. And even though I was viewing them for the second time, Yamaha's instructional videos still came across as engaging and rich in information. It's worth signing up for if you're stuck at home anyway.
As part of the program, the riding academy also sends each registered participant a copy of their rider's handbook—valuable reference riders can keep and read to review or relearn safe riding habits and road practices.
 2) There's still a balance between theory and practice.
Let's address the elephant in the room: No, this webinar won't capture the full riding clinic experience. But it's better than nothing, and knowledge is power however it's consumed.
The webinar still managed to cover the same topics a Yamaha riding clinic would:
How and when to inspect your motorcycle. 
What to look for in a proper helmet.
How to position yourself on the bike.
Which road hazards to watch out for.
How to see and be seen by other motorists.
How to shorten your braking distance.
And to compensate for the lack of in-person instruction, Yamaha showed a quick video of a female rider learning the ropes, as well as several training videos explaining the hows, whats, and whys of each topic.
3) The instructors are still as educating and approachable.
 Chief YRA Instructor Neil Hindang and certified YRA instructor Demetrio Guevarra hosted the whole session from the Yzone Flagship shop in Greenhills, supported by Ronnel Villaruel and Jeshrel Patic for participants joining in from Visayas and Mindanao, respectively.
Much like in the riding clinic last year, they used informal Taglish and filled their scripts with clear analogies and useful pointers. It made the webinar feel like a relaxed and informative chat among peers, with plenty of practical advice mixed in—like where to store a helmet and when to replace it.
4) Spontaneous interaction with participants doesn't transfer as well.
It would have been easy for Yamaha to line up their instructional videos, splice in PowerPoint slides, and call that a webinar. We're glad they didn't. Having two experienced instructors hosting the webinar gave it a dynamism that would be missing with one host or none.
They talked about each training video after it was shown, referring back to important parts and posing questions and scenarios that a physical audience would have asked if they were right there. And the program ran smoothly because of it. 
5) Technical difficulties are inevitable.
Going online takes out challenging logistics, only to introduce a new set of issues. While this Yamaha event ran pretty smoothly like most online events, there was a technical hiccup over video playback and setting up for the webinar. It's encouraging to see the instructors acknowledge these small awkward moments and still continue with the session.
6) The importance of safety is highlighted throughout.
 Yamaha believes in the many benefits of motorcycling, like mobility and eco-friendliness to mention two. But there's still the risk of getting into an accident. Luckily, safety is a thread that weaves itself all throughout the webinar. The instructors delved into many aspects of road safety, from interpreting and reacting to what you see and the proper way of braking in various situations.
 As they see it, riding safely makes the whole experience of riding a motorcycle more enjoyable. We can't help but agree.
 Yamaha Riding Academy's engagement doesn't stop with the media. If you feel like you could use a refresher, Yamaha will offer another free webinar for the riders and wannabe riders this coming Tuesday, September 22. Much like an on-site riding clinic, the webinar aims to reach riders who already know how to ride. But, complete beginners are welcome to register and get a headstart on their riding journey.
Check out Yamaha Philippines' website and socials to get more updates on the event.