First launched at the EICMA show in November 2019, the Vespa Primavera Sean Wotherspoon edition has finally made it here to entice hip scooteristas.
Willy Tee Ten, president and CEO of official Philippine distributor Moto Italia, led the unveiling of the Primavera Sean Wotherspoon powered by a 150cc single-cylinder, four-stroke engine. Nope, they're not bringing in the smaller 50cc and 125cc versions here.
In case you're not up to date with the fashion scene (like us), Sean Wotherspoon is a noted designer of American streetwear who was also behind the success of the colorful corduroy Nike Air Max 1/97 sneakers two years ago.
Continue reading below ↓
Recommended Videos
For this Primavera, Wotherspoon collaborated with Vespa in creating this unique variant that mixes the Italian scooter company's rich and colorful heritage with the designer's fun, irreverent, and flamboyant styling motif.
For this special edition Primavera, Sean Wotherspoon used a "kaleidoscopic mix and match approach rooted in the '80s and '90s."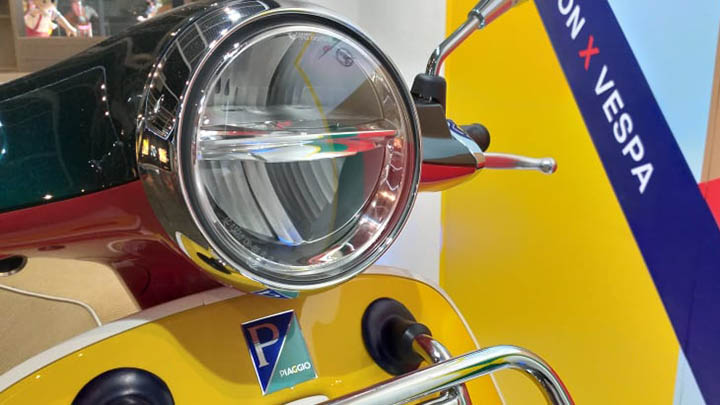 This is how Vespa described Wotherspoon's latest creation: "The livery of Vespa Primavera Sean Wotherspoon stands out for its explosion of '80s-style color, showcased with flamboyant irreverence. Yellow, red, dark green, and aquamarine envelop the entire vehicle, embellished with white inserts such as the front tie, the profiling of the Vespa silhouette and the wheel rims, the edges of which feature a replication of the contrasting Vespa logo. The design is completed with chrome finishes for the headlight frame, luggage rack and passenger handle, and black details such as the handgrips and silencer cover."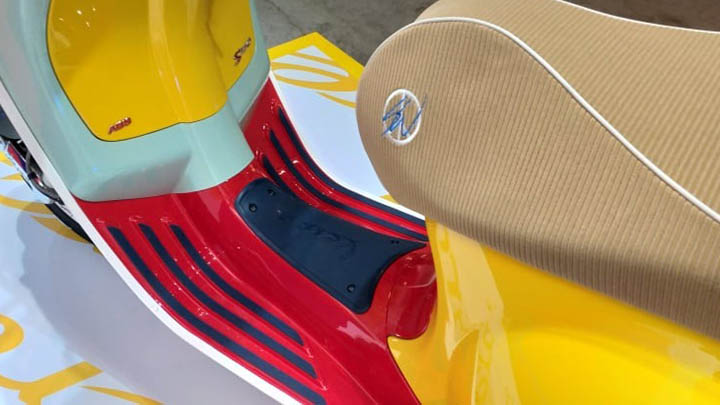 While most of this Primavera is covered in Candy Yellow, Wotherspoon threw out its traditional black rubber footboard and replaced it with a red-colored matting to match the highlighted portion of the front cowl and shock absorbers to create a stark contrast of the scooter's different bright colors.
To preserve the old-school look, Wotherspoon chose the light brown ribbed velvet for the saddle to complement the white mag wheels and rows of "Primavera" markings on the Vespa's shapely rear fenders.  A white-colored Vespa badge alongside Sean Wotherspoon's signature is prominently placed on the right portion of the leg shield.
All the other features and specs are shared with the regular Primavera S variant priced at a cheaper P195,000.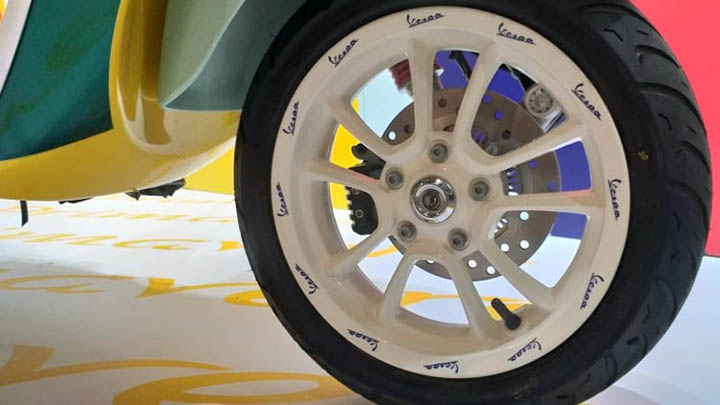 If you're worried about the clothes to match the Primavera's lively demeanor, don't fret, as Moto Italia will have a special line of helmet and accessories in perfect Wotherspoon style.
The standard retail price of this limited edition Primavera is at P308,000, and that comes with a free original Vespa top box and rear luggage rack that cost P33,000.