The Department of Transportation (DOTr) has issued a memorandum order setting a limit on the number of vehicles that can undergo smoke level checks at private emission testing centers (PETC).
"In the exigency and best interest of the public, and with the imposition of less stringent community quarantine measures and the gradual resumption of operations of the Land Transportation Office (LTO) and emission testing sites, Section 6.6 of the Department Order 2012-10 is reinstated effectively immediately," according to the document signed by DOTr undersecretary Atty. Reiner Paul Yebra.
The DOTr is referring to the gradual return of normal operations at LTO field offices, and the PETCs that were previously plagued with huge backlogs resulting from the series of lockdowns and the imposition of strict health protocols.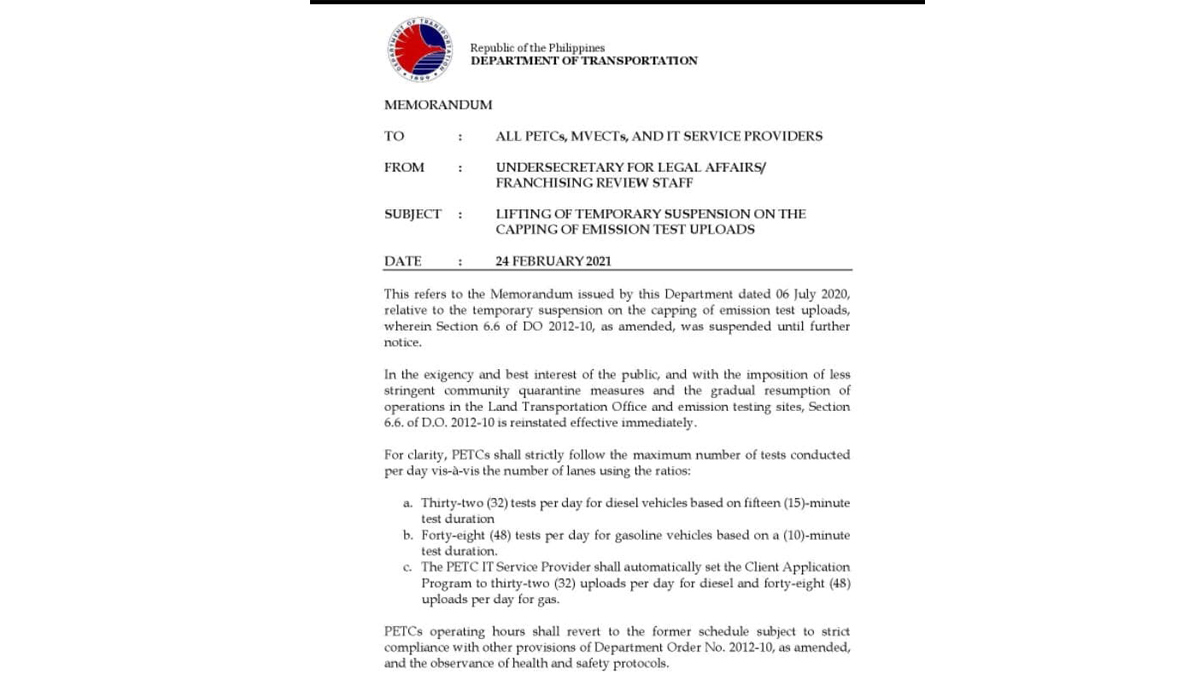 Continue reading below ↓
Recommended Videos
The latest order by the DOTr reinstates the existing Section 6.6 of Department Order No. 2012-10, which was temporarily suspended on July 6, 2020, to reduce the backlog.
According to our sources, the number of vehicles subjected to emission testing used to average between 150 to 180 units per day while the testing cap was suspended. The DOTr now wants that number limited to just 80 per day—to be specific, 32 diesel-powered vehicles and 48 gasoline-fed units. The DOTr has also instructed the PETCs to revert to their original business hours of 7am to 5pm, Monday to Friday.
Currently, there are still many PETCs dealing with long queues. Some motorists argue that this cap by the government is an opportunity to convince motorists to avail of the services of private motor vehicle inspection centers. Do you think so, too?