With the dramatic upsurge in the number of motorbikes plying EDSA, the Philippine National Police–Highway Patrol Group (PNP-HPG) has come up with new recommendations that it hopes will reduce the number of motorcycle-related accidents and ease traffic on this major thoroughfare.
PNP-HPG director Brig. Gen. Eliseo Cruz says the previous motorcycle lane set up by the Metropolitan Manila Development Authority (MMDA) on EDSA seems inadequate to maintain a smooth flow of traffic and prevent accidents. "Ang naging problema na napansin ko is that four-wheeled vehicles are allowed to occupy the motorcycle lane while motorcycles are required to stay in that area," remarks Cruz, an avid rider himself. "And tuwing pumapasok ang mga kotse sa exclusive motorcycle lane, napupuwersa ang mga motorsiklo na lumabas dun sa lane kaya nagkakagulo lang."
Cruz estimates that 20% of the total vehicles now passing through EDSA are two-wheelers, and considering the continuous upward trend of motorbike sales in the country, he believes it won't take long for bikes to dominate this 23km stretch that traverses six cities.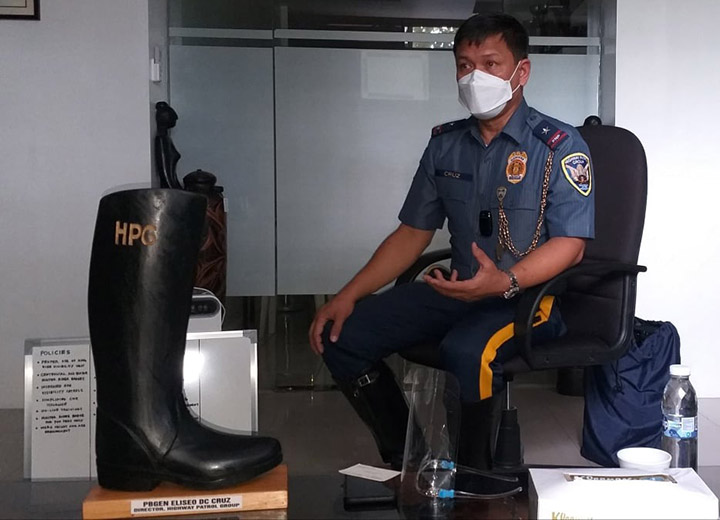 Continue reading below ↓
Recommended Videos
In fact, Cruz says the number of newly purchased motorcycles applying for HPG vehicle clearance at Camp Crame can reach 10,000 per day, while for newly acquired vehicles, the average is 500 to 1,000 units. He expects the numbers to grow even further after the government recommended the use of motorcycles and bicycles in line with the policy of social distancing.
To refresh your memory, the MMDA revived the EDSA motorcycle lane in November 2017 to curb the increasing number of accidents triggered by the frequent lane-changing not only of two-wheelers, but of cars and buses as well. Under this renewed campaign that originally started sometime in 2016, the MMDA allowed four-wheeled vehicles to occupy this so-called 'exclusive' motorcycle lane, too, although it emphasized that motorcycles have the priority to use this road section. The same setup was adopted on C5 and Commonwealth Avenue, but the policy apparently faded into oblivion after a few months.
Fast-forward to July 2020, and the EDSA motorcycle lane was temporarily discarded by the MMDA when it established an exclusive lane for passenger buses transporting medical frontlines and essential workers under the prevailing health crisis.
Based on Cruz's suggestion, if a new motorcycle lane were to be put up, no four-wheeled vehicles would be allowed to stray into this lane. Motorcycles would also be confined to this area.
Whether you're a car guy or a motorcycle rider, feel free to comment on the matter here.