Before his official return to a MotoGP racetrack at the Grande Prémio 888 de Portugal, Marc Marquez of Repsol Honda Team had a chance to give reporters an update about his condition. The eight-time world champion spent the past nine months recuperating from a broken arm that he suffered during a crash in last year's Spanish Grand Prix. Now, he is raring to go.
Marquez was quoted by MotoGP: "First of all, I am happy to be with you, with the whole MotoGP family in general, happy with butterflies in my stomach. I was aware that it was a normal weekend... when FP1 passes, it will be more normal.
"I am also uncertain about what it will be like after nine months to ride a MotoGP bike. We come here without an objective at the level of results."
Continue reading below ↓
Recommended Videos
While he admitted that he's not yet 100% physically, the youngest MotoGP champ knows the importance of "(being) a rider again (and returning) to competition" for his recovery. According to Marquez, the bone is already consolidated, and his doctors had also cleared him. The next step is getting ready physically and mentally to go at 300kph and have his first crash after so long.
"Logically, you perceive and in the end you feel it that in the media there is great expectation, but you must know how to isolate yourself, focus with your team and not feel more pressure than there should be. There should be none, there will be time, I myself am the one who demands myself to be at the top," he said.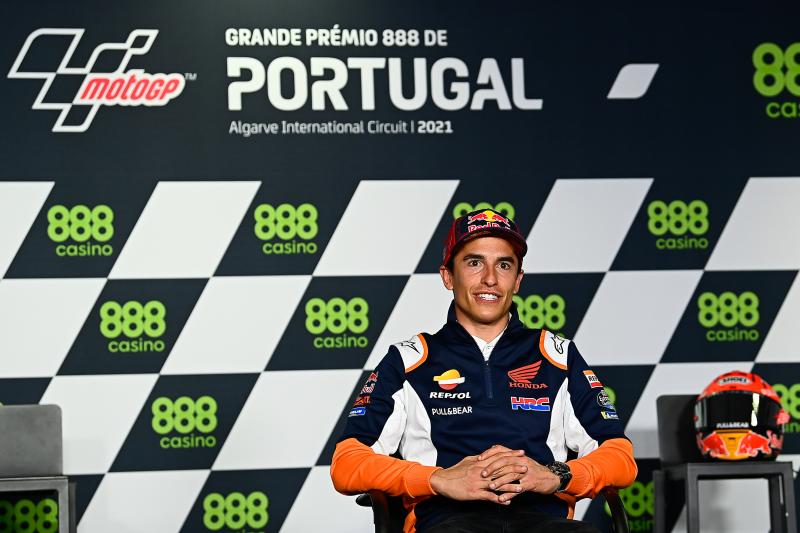 Marquez revealed that anxiety hit him when he thought of coming back and the uncertain future. He learned to trust the process and not rush things when it came to his rehabilitation. This was also why he did not return to the Qatar GP.
"Now it is simply going out, feeling it and taking little steps during the weekend. This part of the season is my pre-season and from there we will see."