We've previously had the chance to try out CFMoto's middleweight sport tourer, the 650GT. This bike was comfy, capable, decently stocked with features, and most of all, affordable. As a result, we found the 650GT to be a pretty good option for budget-conscious riders looking at a touring machine.
This time, we got to take the 650GT's naked counterpart, the 650NK, out for a spin. The NK presents itself as a more stripped-back experience free of things like fairings and wind protection.
How did CFMoto's 650cc naked fare in our time with it? Find out in our review below:
Styling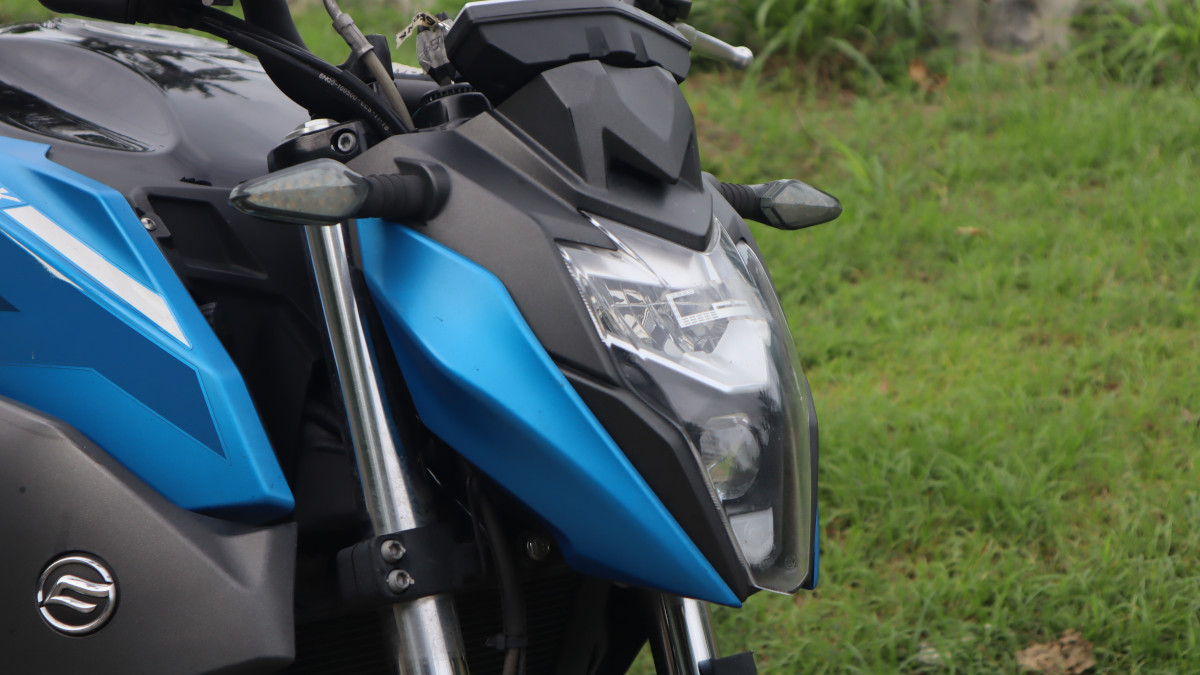 Continue reading below ↓
Recommended Videos
As the 'naked bike' designation implies, the 650NK has very minimal bodywork, baring its engine and other mechanical bits for the world to see. The few plastics present on the motorcycle serve to make it look sharp and sporty, which only makes sense as the bike was designed by Kiska, the design firm behind many of KTM's striking motorcycles. 
The 650NK's mass-forward design and compact tail give it a macho stance, which earned it several looks and questions during my time with it. The bright blue shade that the bike comes painted in is quite nice, and helps it stand out in a sea of more conventionally colored vehicles. 
Build quality is decent all around, but rust on some of the bolts is concerning for a year-old motorcycle.
The saddle
When compared to its sport-touring sibling, the 650NK's ergonomics are decidedly sporty. The firm seat is canted a bit forward, causing your crotch to rest against the sizable tank. The handlebar is a bit narrow and the footpegs are ever so slightly moved back, giving the impression of a sportbike position. Compared to an actual sportbike, however, the 650NK is comfortable enough for longer rides and even as a daily ride. 
Engine heat is present but mild. What heat I do feel is aimed at my right knee when riding for extended periods of time. The 32-inch high seat is narrow, so the typical Filipino rider should be able to comfortably reach the ground with at least one foot. 
Engine performance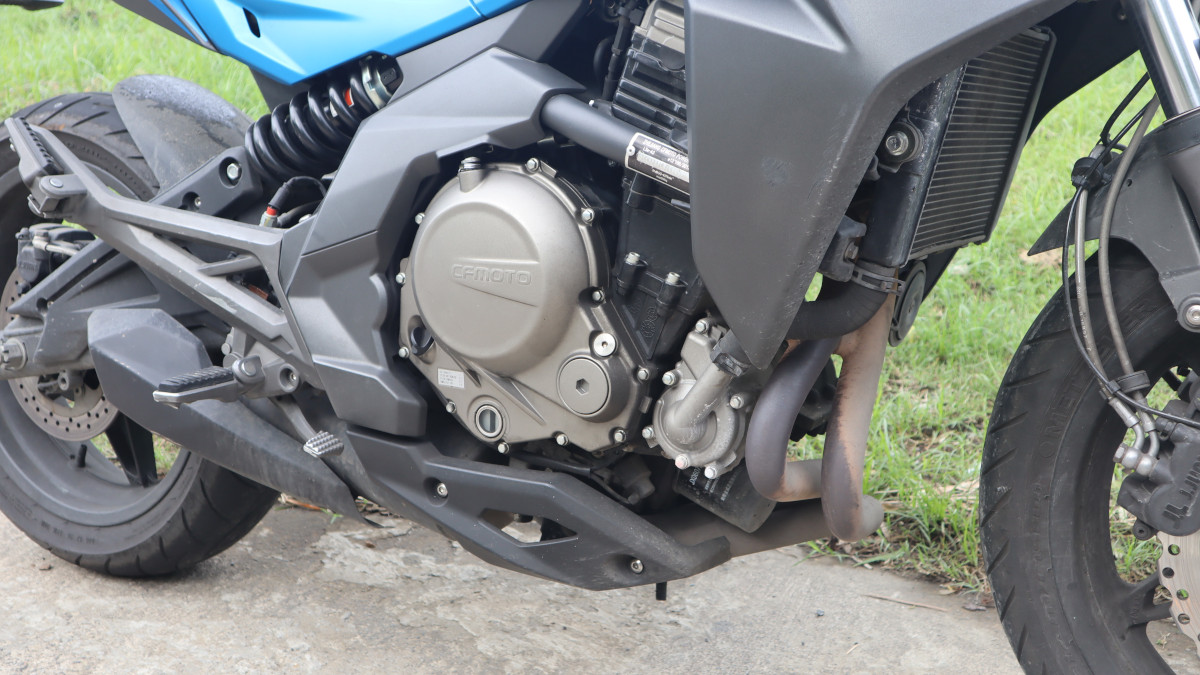 At the 650NK's heart is a 649.3cc in-line-two-cylinder engine with about 60hp at 9,000rpm and 56Nm of torque at 7,000rpm. This parallel-twin does not disappoint when it comes to performance, as twisting the throttle will result in satisfying pull even higher up in the rev range. 
The sound produced by the underbelly exhaust is nothing to write home about, but that can be forgiven thanks to the tractable motor. Other things that are not so stellar are the clutch and gearbox. Aside from being a bit heavier than I'd prefer, the clutch has an odd bite point that's really close to the handlebar, making it difficult to wade through traffic with just two fingers on the lever. 
Another challenge is finding neutral. At a stop, shifting the lever into neutral is a chore. Even when blipping the throttle, it typically takes a few tries to get the shifter into the right position. When moving, it's not uncommon to end up in neutral when shifting between first and second gear, even with the lever pulled in all the way. This issue might be exclusive to the demo unit we borrowed, but it's still strange that shifting to neutral is difficult on a bike with under 6,000km on the odo.
Ride and handling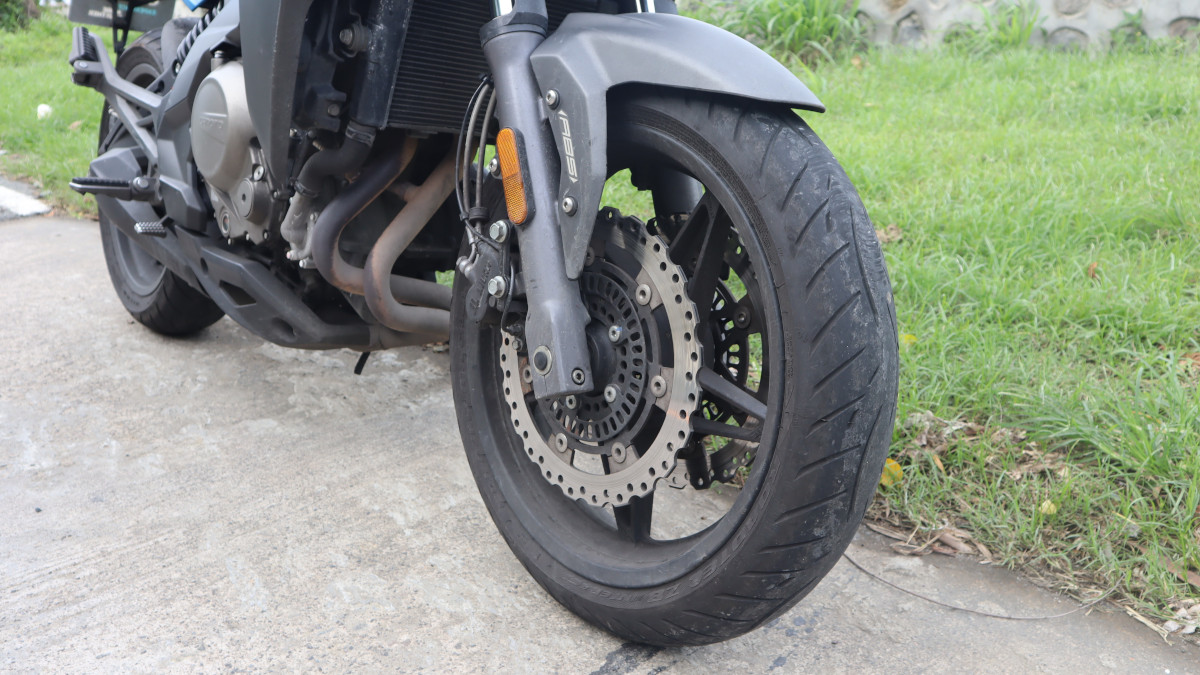 At slow speeds, the 650NK feels a bit front-heavy and requires some effort to steer accurately through packed traffic. Luckily, this heavy feeling goes away after getting used to the bike. While still not quite nimble, the 650NK handles itself quite well on twisty roads.
The 650NK will gladly keep pace if you decide to take it through the consecutive turns on a zig-zag road. It won't offer the razor sharpness of a sportier machine, but it will carry its weight with poise around corners. 
At either end of the bike are Metzeler Roadtec Z8 Interact tires, which provide a good amount of grip and allow you to lean the bike a bit even on wet surfaces. Stopping power comes courtesy of J.Juan calipers front and rear. The dual-disc front and single-disc rear setup has good bite, but lever feel can be a bit vague sometimes. Dual-channel ABS comes as standard and can save your hide in a pinch, but the rear will intervene a bit early if you push the bike. 
Suspension-wise, the KYB combo does well enough on smoother surfaces. But don't expect the dampening quality of more premium componentry when going over Metro Manila's numerous potholes and bumps. 
Extra features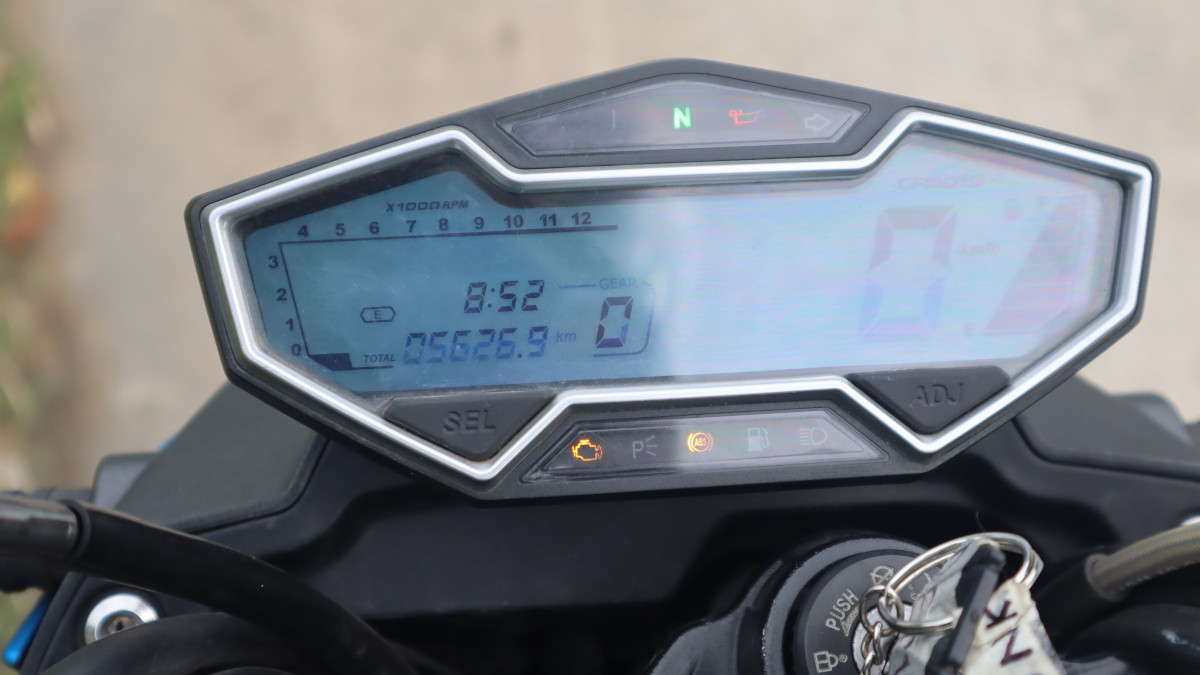 At its price point, the 650NK can't really be expected to offer much in the way of features. Electronic goodies like cruise control or adjustable engine braking won't be found on a bike like this, but it does come with a ride mode selector. There's not much of a difference between S and E (presumably Sport and Eco) modes aside from different throttle response, but it's neat to have the option on a bike this affordable. 
Since the demo unit we used is a 2020 model, it lacks the brilliant TFT screen we enjoyed on the 2021 650GT. The LCD dash we got instead contains all the necessary info, but is a bit cramped and hard to read under direct sunlight. 
Verdict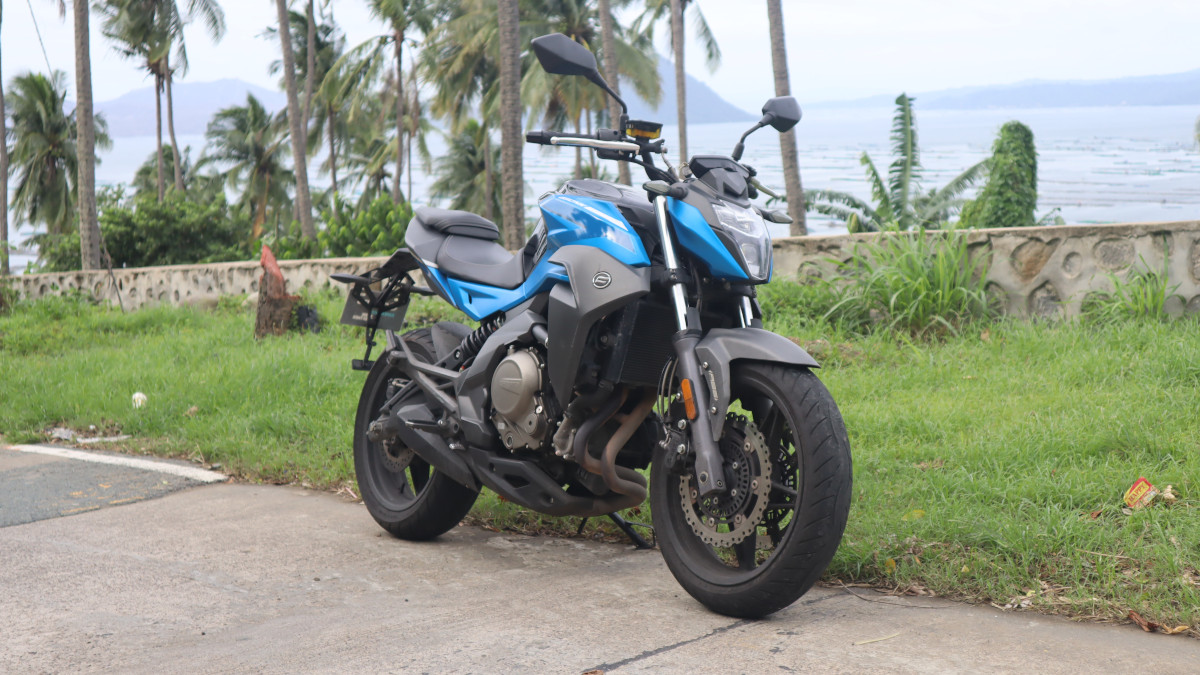 This bike isn't too much for inexperienced riders, but it's got enough performance that newbies won't outgrow it too quickly. If a smorgasbord of features and electronic niceties isn't your main concern when looking for a bike, then the 650NK—with its more barebones riding experience, peppy engine, and big bike stance—might be right for you. 
Specifications: 2020 CFMoto 650NK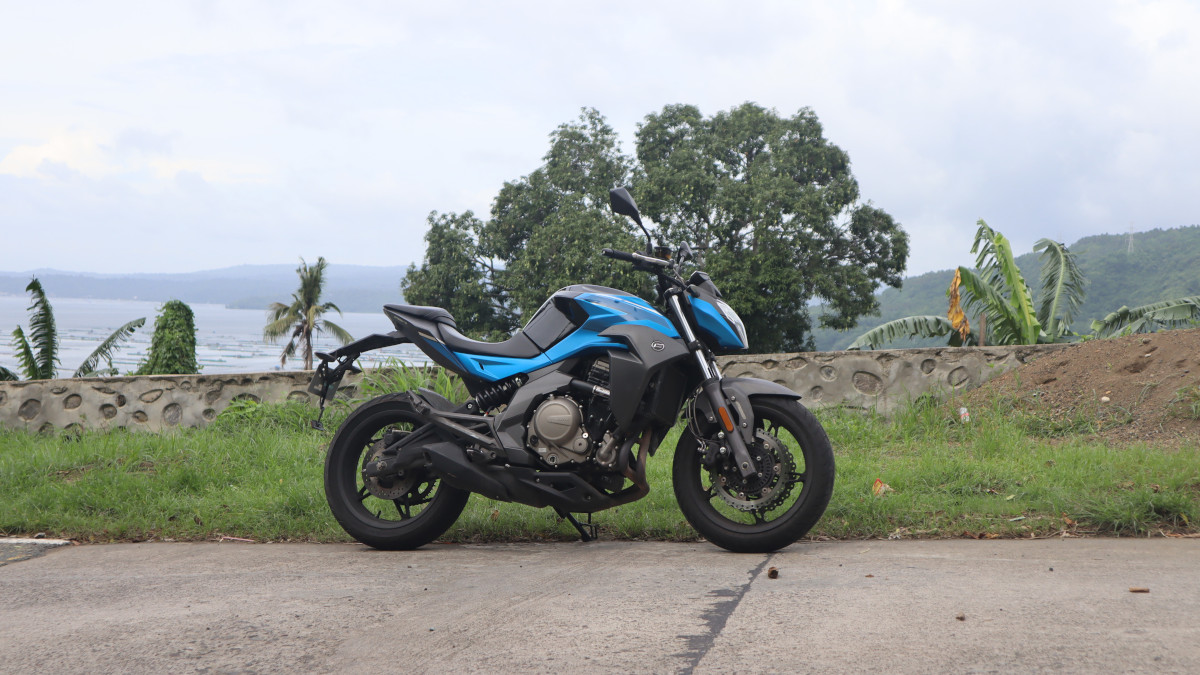 Price: P295,000
Engine: 649.3cc parallel-twin
Power: 60hp @9,000rpm
Torque: 56Nm @7,000rpm
Transmission: Six-speed manual
Seat height: 32 inches
Score: 15/20
Top Bikes Philippines is now on Quento! Click here to download the app and enjoy more articles and videos from Top Bikes Philippines and your favorite websites.