Honda Philippines made waves late last year when it released the new Supra GTR150, dubbed the 'Street Aggressor.' This racy machine was aimed right at the top of the 'hyper underbone' hierarchy, seeing as both a former MotoGP rider and a promising local racer were present at the launch. At the time, we were given a little taste of the Supra GTR150, but while it was enough to form some first impressions, the teaser ride didn't let us stretch the bike's legs to the fullest—or, more practically, see how the bike fares on daily errands.
Now, Honda has allowed us to take the Supra GTR150 home for a couple of weeks to really live with it. The last time we swung a leg over this bike, we couldn't even get it out of third gear. Maybe this time, the Supra GTR150 can show us if it really has what it takes to compete with the hotshots of the sport underbone segment.
Styling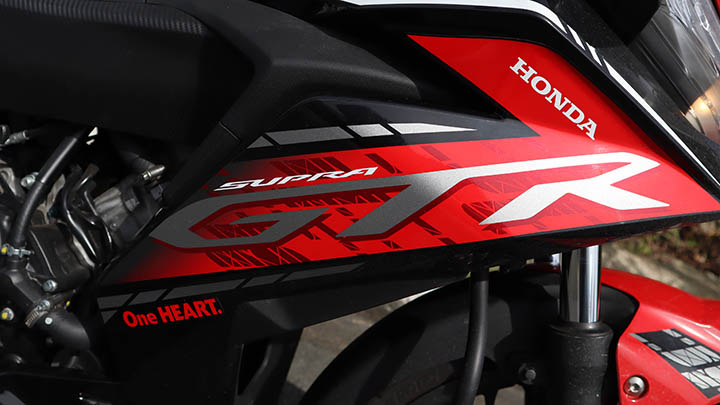 True to its nickname, the Supra GTR150 is an aggressive-looking street bike. Up front, two sharp LED position lights frame a faux air intake reminiscent of Honda's Fireblade sport bike. This striking front fascia is adorned with a weave-like texture similar to carbon fiber, adding to the racy feel.
Above the position lights is a more conventional headlight mounted to the handlebars. The fairings prominently display the Supra GTR150's name, along with Honda's racing slogan 'One Heart' on the right side, with the same phrase in Indonesian, 'Satu Hati,' on the left. Both the seat and the tail reflect the bike's sharp design sense, ending with a simple yet cool-looking single taillight. 
Even just standing still, the Supra GTR looks like it's going fast. For a bike that prides itself on its racing DNA and sporty character, this 'hyper underbone' certainly looks every bit as sporting as the competition, especially with its aluminum-tipped muffler and full-size 17-inch wheels.
The saddle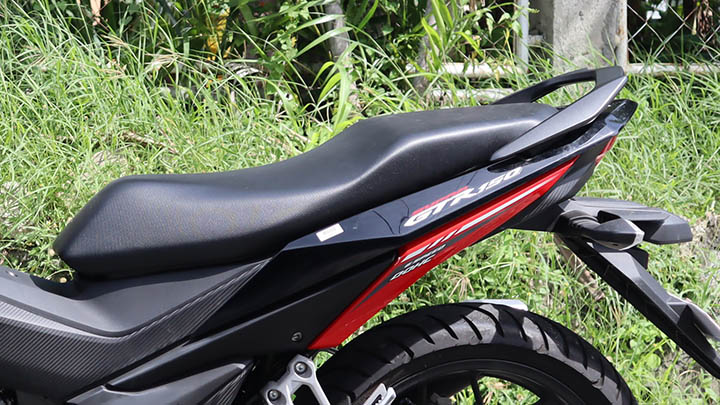 Like most underbone-type motorcycles, the Supra GTR150 has a small and narrow seat to go along with the slim body. While perfectly adequate for rides around town or on the track, it doesn't offer enough real estate or cushioning for longer rides or larger butts. The contoured shape, however, makes it easy for you to get both feet down on the ground. Also good for the vertically challenged is the 30.94-inch seat height and the 121kg curb weight.
The riding position is comfortable for day-to-day activities thanks to well-placed foot pegs and handlebars. In between the narrow handlebars is a no-nonsense digital display with the essentials you need to see on a small street bike: speedometer, bar tachometer, fuel gauge, odometer, gear-position indicator, neutral indicator, and the usual warning/signal lights. While nothing to write home about, this simple display is indicative of how Honda wanted this bike to be a 'serious' sport underbone without any extra frills.
Engine performance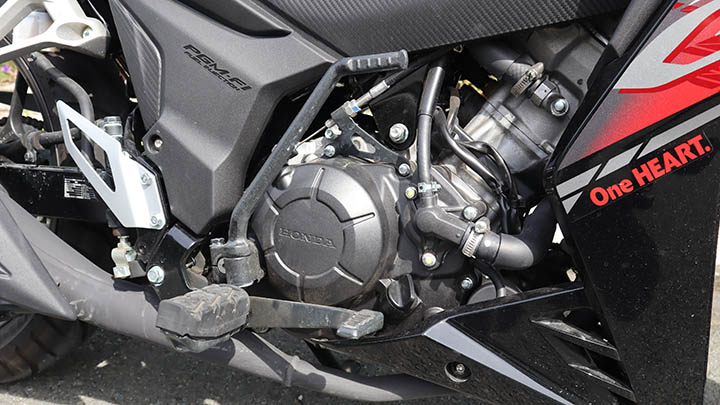 The 150cc DOHC single-cylinder engine powering the Supra GTR150 produces 15.4hp at 9,000rpm, with 13.6Nm of torque coming in at 6,500rpm. This rev-happy mill, once given room to breathe, is very engaging and responsive—qualities I wasn't able to truly appreciate during the constricted test ride at the bike's launch. While capable even if you don't shift it like you're trying to set lap times, it performs at its best when you shift higher up in the rev range, with the torque becoming more usable at around 5,000rpm.
Honda estimates this bike's fuel economy to be around 42km/L, which is pretty good considering how fun and responsive the engine can be when revved up. However, this responsiveness comes at a bit of a price, as the throttle can feel a bit twitchy or jerky at times.
Shifting on the Supra GTR150 is perfectly decent thanks to a light clutch pull and a solid-feeling shifter. Riders used to the shifters on rotary-style-transmission underbones will be pleased to find a rear shifter pedal present on the bike's traditional 1-down, 5-up transmission.
Ride and handling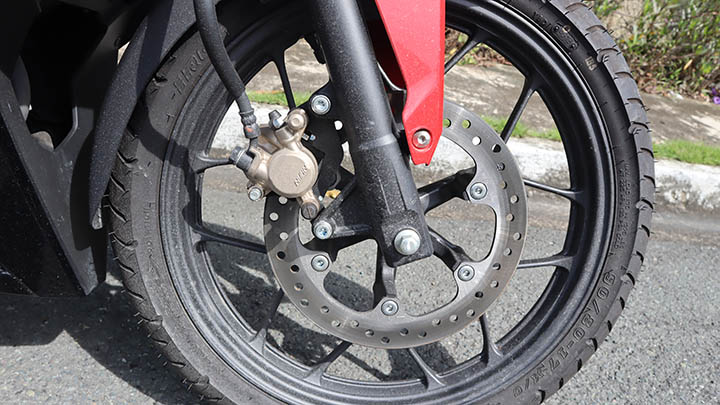 The suspension comprises properly sporty pieces of kit—a 31mm telescopic fork up front, and a monoshock in the rear. This setup makes for agile, zippy handling as well as enough damping for local road conditions. Bringing the bike to a stop are front and rear disc brakes that not only deliver more than enough stopping power, but also show that Honda really cares about this underbone's sporting performance and looks. The grip afforded by the 90/80 front and 120/70 rear tires is adequate, providing a planted feel down straights and around corners.
Out on the streets, the Supra GTR150 is perhaps the sportiest underbone I've ridden yet. With sharp handling and a very slim body, it's perfect for filtering and maneuvering into narrow spaces.
Extra features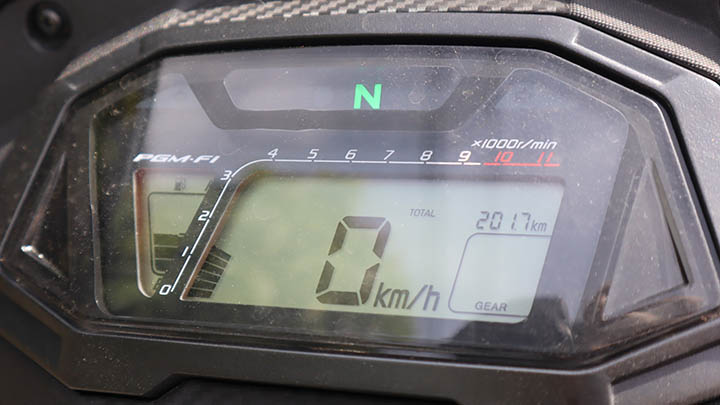 As a sport-oriented underbone, the Supra GTR150 doesn't really get much in the way of extra features, save for a kickstarter, a center stand, an ignition key shutter security system, and a solidly mounted passenger grab handle. The lack of extra doodads can be seen as a feature itself, as it makes the bike a little bit sportier. That said, a couple of extra creature comforts would have been appreciated, like a pass light switch or maybe a clock on the digital display.
One thing the bike really lacks is under-seat storage. At most, you can fit the bike's papers and some emergency gas money under the seat next to the 4.5-liter fuel tank. If you plan on carrying anything at all, you'd best have a bag or install a top box.
Verdict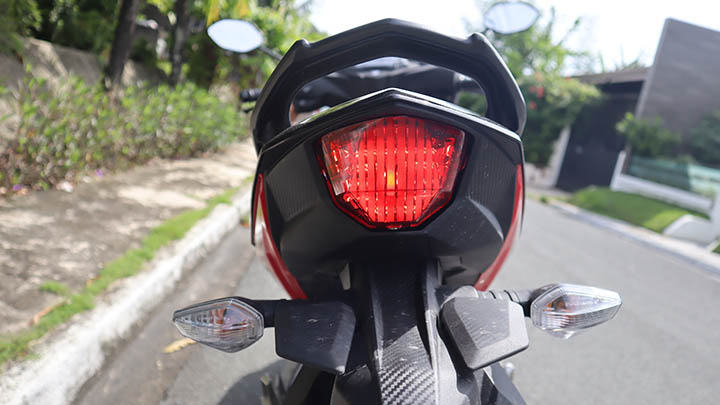 With a price tag of just P102,900, the Supra GTR150 really gives you your money's worth. Packing a lively engine, capable brakes and suspension, and just enough features for daily street use, Honda's newest underbone proves itself a worthy choice for anyone looking for a daily ride with underbone practicality and sport-bike character.
SPECS: Honda Supra GTR150
Price: P102,900
Engine: 150cc DOHC single-cylinder
Power: 15.4hp @ 9,000rpm
Torque: 13.6Nm @ 6,500rpm
Transmission: 6-speed constant-mesh manual
Seat height: 30.94 inches
Score: 18/20