Electric scooters have really grown in popularity in recent years. Since they're efficient and extremely fun to ride, these gadgets have become a viable alternative to public transportation. After experiencing it ourselves, we also reckon they're pretty safe ss long as you wear proper riding gear, ride it responsibly, and use it only along designated lanes and alleys.
The biggest appeal of e-scooters is their gift of options. We see an increasing number of cool-looking people with backpacks riding them at a fast clip, walking them on sidewalks, or actually folding them up and slipping them into the trunk of a car. Others who have the smaller versions even bring them on the train on their way to the office or school. Naturally, this saves them quite a bit of money. 
For this feature, we explored one of the most powerful offerings on the electric scooter market: the Mercane WideWheel Pro. It's a beast of a machine, and trying it out for a few days gave us a new understanding of why these rides are so popular. 
Styling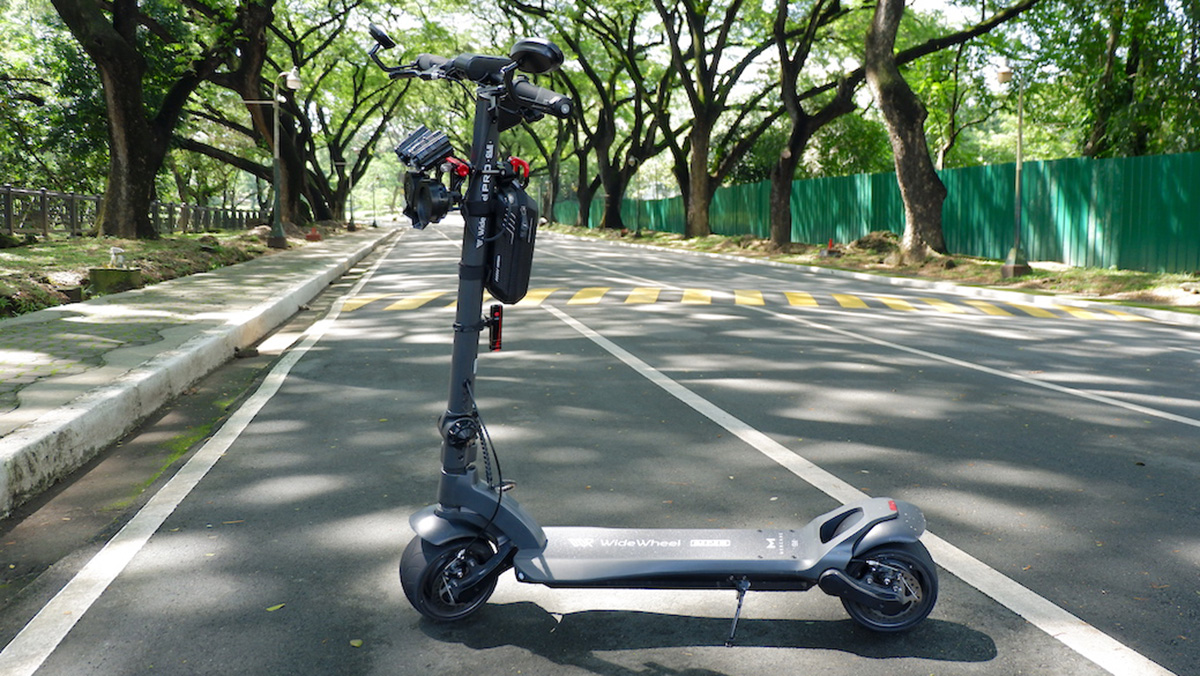 Continue reading below ↓
Recommended Videos
Anyone who has ever owned a kick scooter will see the Mercane WideWheel Pro as the bigger, beefier brother of their childhood ride. It looks like a scooter that tried to be a longboard, or vice versa.
Frankenstein references aside, the WideWheel Pro looks ready for rugged streets. Its body is finished in battleship gray with a satin finish, giving it a stealthy look. Its 8in x 4in wheels are wide and large enough to handle little road cracks and shallow potholes, which make the scooter a lot safer to ride than the non-electric ones we had in grade school.  
Setting the scooter up is a snap. Just loosen the steering column's locking nut, swing it upright, re-tighten the nut, snap the folding handlebar open, press the start button on the right handle grip, and you're ready to go.
Electric motor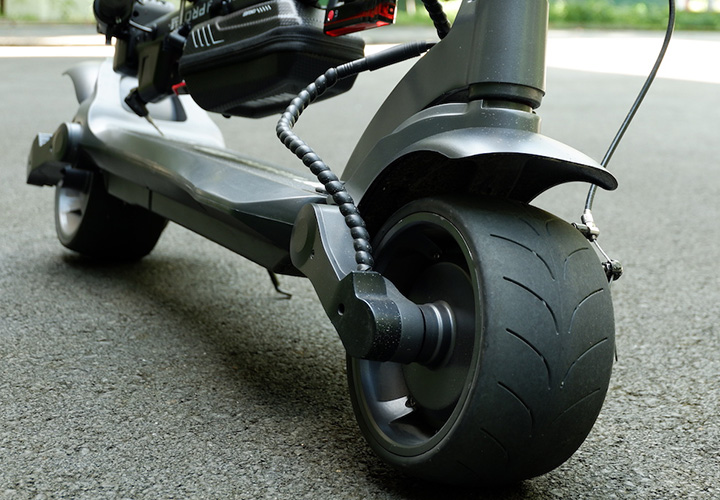 The WideWheel Pro we tested is a powerhouse. It runs on a 48v, 20ah battery that delivers 1,000 watts of power—500 to each wheel. Theoretically speaking, it can reach a top speed of 50kph and travel 70km on a single full charge. With so much power available at your right index finger, the electric scooter comes alive when you kick off the ground and gently thumb the throttle trigger. That's a much-needed safety feature, especially for beginner riders.
Like all electric vehicles, the WideWheel's torque is available all at once, and it is strong enough to pitch you backwards if you accelrate aggressively. To help with power control, there are Eco and Power riding modes available. Eco mode tames the scooter's power and supplies it smoothly. It gives the best riding range and is ideal for a relaxed commute. With the scooter's built-in cruise control, you can cover long, quiet stretches of road easily without cramping your thumb.
Power mode unlocks the scooter's breakneck character and justifies why there's a 'Pro' in the WideWheel's name. Compared to Eco mode, there's much more torque, faster acceleration, and quicker motor response. We topped out at 38kph in this mode, but only because we ran out of courage and straight road.
Ride and handling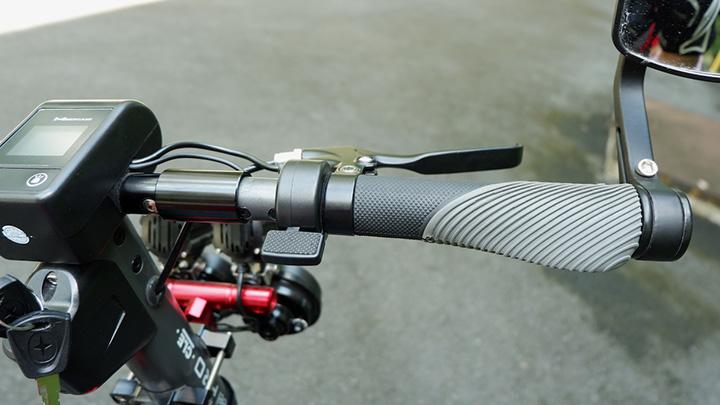 A scooter that goes this fast needs stopping power to match. So we really appreciated this its dual mechanical disc brakes. Yup, that's a disc brake for each wheel that's nearly as big as the wheel itself. The braking prowess is impressive on both gradual and emergency stops.
Since e-scooters run on batteries rather than gasoline, battery life and range are just as important as speed. This scooter has a claimed range of 40 to 70km, which will vary depending on rider weight, riding style, and terrain. 
This e-scooter gets its name from its four-inch-wide, foam-filled wheels. Apart from a sense of invulnerability, these wheels also give the rider a lot of grip, especially on corners and under heavy braking. Paired with a wide, grippy deck and handlebar, the scooter offers plenty of stability, too.
Hate rumble strips? So do we. Which is why we're surprised with how much rattle the WideWheel's tires and suspension could soak up. It's by no means flawless, but with yours knees bent for backup suspension, riding over those strips feels way better on the e-scooter than it does on a bicycle.
Depending on your riding style and comfort, there are two ways of taking off on the WideWheel: kick-and-go or throttle input. Kick-and-go is set as a default, which is the safest option at the beginning. With more practice, riders can switch to a throttle start. We found this way of rolling quite useful for riding through traffic. You don't have to worry about slippery roads or finding a good spot to launch your foot from to power the scooter.
Extra features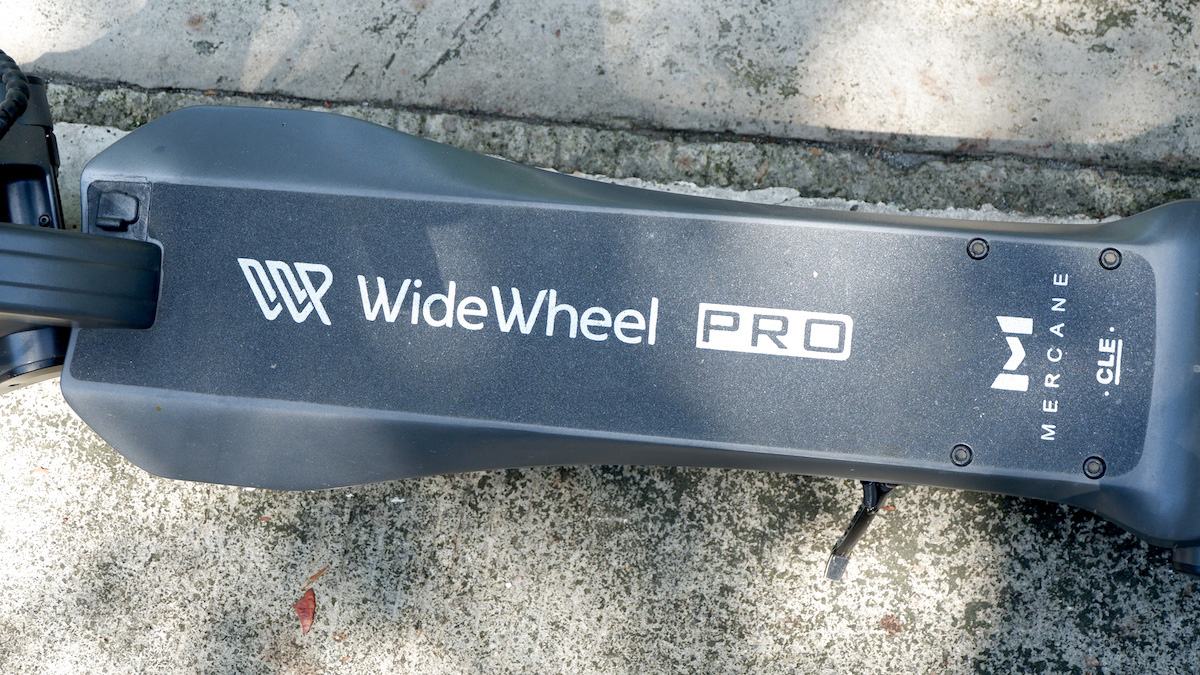 Unfolded, the WideWheel looks large and imposing. But once you fold and lock it into itself, it's easy to stow away. However, there is a caveat: it weighs 27kg. My weak quarantine arms couldn't lift all that power and performance into the trunk of a car. It's not a deal-breaker if you're strong enough, but it is something to think about if any part of your commute forces you to go on foot or up a flight of stairs.
As far as aftermarkets options, sky's the limit. While the scooter has its own front and rear brake lights, it's advisable to invest in a few safety upgrades. If your budget permits, get a bicycle bell or horn, and turn signals.
Verdict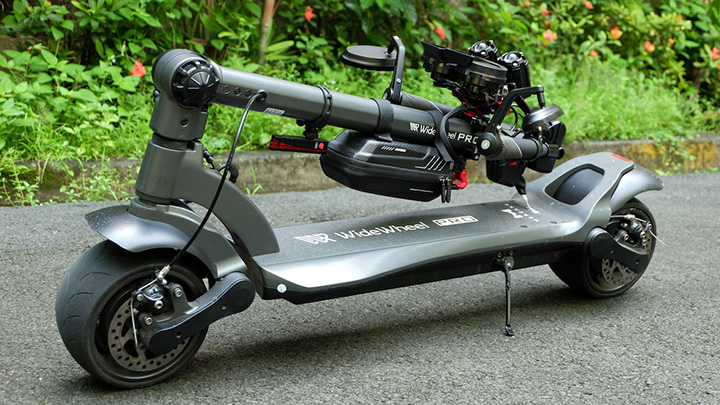 The Mercane WideWheel Pro is a fun (and powerful) dive into the world of electric scooters. Its torquey motor and premium features make it a realistic alternative to a motorcycle or a car. The only thing left to ask yourself is: is P65,000 a price you can agree with?
SPECS: Mercane WideWheel Pro
Price: P65,000
Motor: 1000-watt double hub
Battery capacity: 48v 15Ah
Range: 70km 
Top speed: 50kph
Score: 17/20