If you've seen a TVS bike on the road, chances are it's one of the brand's venerable 'pantra' motorcycles attached to a sidecar, or the dependable XL100 business moped. Known for its affordable and reliable workhorses, this Indian manufacturer is targeting a new set of motorcycle users: young riders. With more people commuting by motorcycle these days, young and inexperienced riders who just need a bike to get around are a viable part of the market.
This is where the Dazz Prime, which TVS calls its 'street stunner,' comes in. Improving upon the standard Dazz's formula of affordability and ease of use, it comes with a stylish new look and modern creature comforts. It offers a complete automatic scooter experience, with a couple bells and whistles too, all for less than the price of a top-end smartphone.
Is this economical bike aimed at yuppies and students any good? To find out, I used the Dazz Prime as my errand bike during the quarantine. Read on to see how it did.
Styling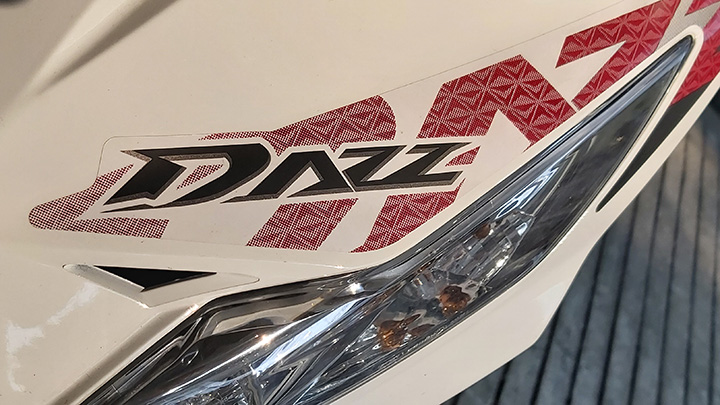 Continue reading below ↓
Recommended Videos
Unlike some other affordable models on the market, the Dazz Prime certainly doesn't look cheaply made. One of the first things to catch my eye was the body panels fully molded in color—they're even more distinct on the white/red model. It's interesting to see that TVS has employed this styling move here, whereas some manufacturers have scooters twice the price, but still sporting body panels that are either bare or wearing a thin layer of paint.
This bike looks a bit sleeker and sportier than you'd expect of a basic two-wheeler built for commuting. Sharp lines and neat decals adorn the pointed and angular bodywork, which is accented by mixed matte, gloss, and faux-carbon-fiber finishes. 
One thing that might look a bit off with the Dazz Prime's otherwise appealing design is the front license-plate mount that comes standard. It's not a gesture of compliance with a controversial local bill; rather, it's because our units are of the same spec as the Indian-market model. There, front license-plate mounts are the norm. But then again, it really isn't all that big. Let's just hope you won't have to use it.
The saddle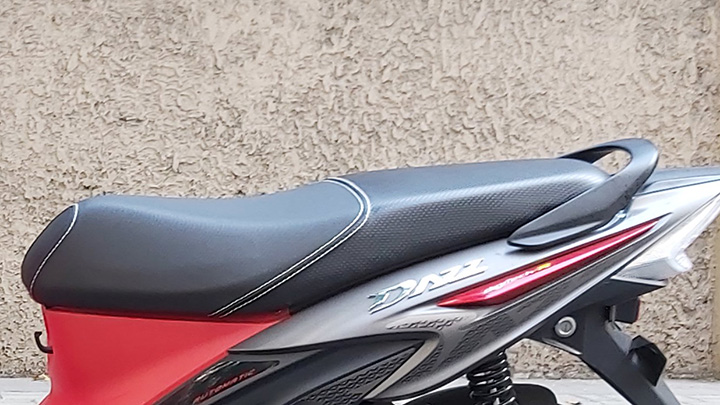 If it isn't obvious enough already, the Dazz Prime is a pretty small bike, in regards to both engine displacement and dimensions. This becomes more apparent once you're on; riders of larger build and stature might not be as comfortable on something this small.
You'll find that the seat height is very accomodating for most Filipino adults. The seat itself is comfortable enough for city use, and the ergonomics is relaxed, as is typical of scooters. What isn't so relaxed is the step board: It barely fits a pair of adult feet. It might get a bit cramped, especially if your shoe size is on the larger end of the chart. 
In between the handlebars is an analog gauge cluster, which is pretty much what you'd expect from a scooter at this price point. This display is at an easy-enough angle to read when riding, though direct sunlight might compromise the legibility of certain parts of the gauge.
Engine performance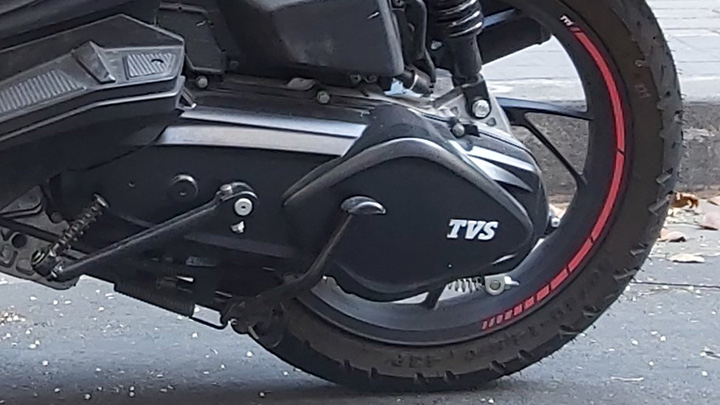 With its 110cc single-cylinder engine, this little scoot will get you to around 90kph in an unhurried but not agonizingly slow manner. With 8.34hp and 8.3Nm of torque between your legs, it's a good thing the Dazz Prime is light, because the power it has is just enough to transport you, the bike, and whatever/whoever else you're carrying at reasonable speeds.
Twisting the throttle does draw out a bit of enthusiasm from the motor, though you'll have to keep it twisted for a good while before the bike picks up speed. A bit more twist to the throttle will allow you to overtake cars moving at a regular city-driving pace.
The Dazz Prime performs equally well whether I'm riding without any other load or carrying a backpack full of groceries. It chugs along with some encouragement, and has no trouble ascending my building's steep parking ramp. The single-cylinder mill is quite efficient, too, as I managed to clock in over 120km on the odometer on a single tank of gas. 
Ride and handling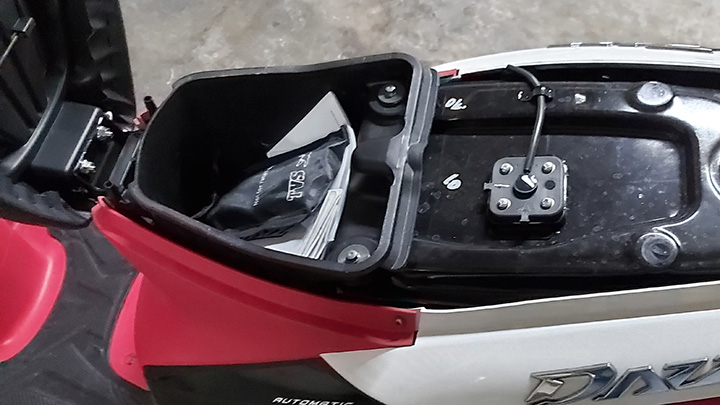 Small, low-displacement scooters are almost always trivially easy to ride, and the Dazz Prime is no different. With its very light dry weight of around 93kg, it's the kind of scooter you can flick side to side with little effort and throw around a corner with ease. The narrow front tire responds quickly to bar input, and the rear will stay planted without much squirming as long as you stay on level ground and avoid playing with sport-bike-level lean angles.
The conventional suspension setup is just that—nothing to write home about, but also decent enough for pockmarked Philippine roads. I will give the shocks props for supporting me and a week's worth of food without bottoming out on speed bumps.
Braking is taken care of by a single hydraulic disc up front and a mechanical drum unit in the rear. This is more than powerful enough to bring the Dazz Prime to a stop from whatever speeds the engine is capable of. While having a front disc from the factory is good for now, it would be even better if ABS became an available option, if not standard.
Extra features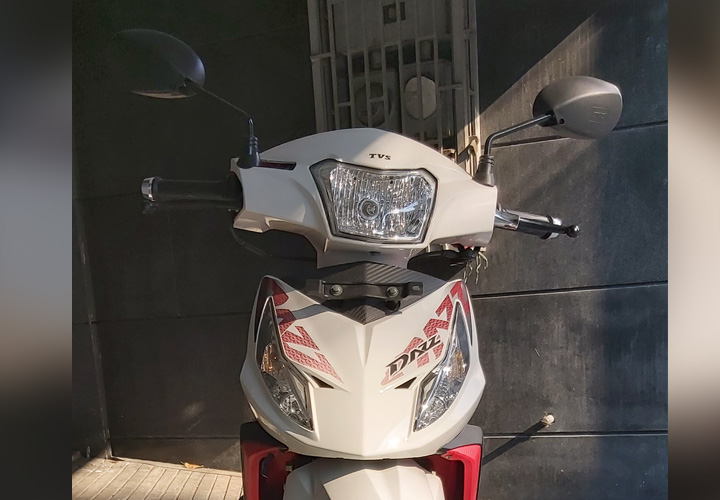 For less than P60,000, you can't really expect much from the Dazz Prime in the way of features, right? Well, you can, because this affordably priced scooter comes with a few bells and whistles. Creature comforts include a bag hook for your groceries, an under-seat storage box (but not a very big one), a kickstarter in addition to the electric starter, a plastic front storage pocket deep enough to lose small items in, and a weather-shielded charging socket already equipped with a USB port, unlike other outlet-equipped scooters that necessitate a USB adapter to use.
The verdict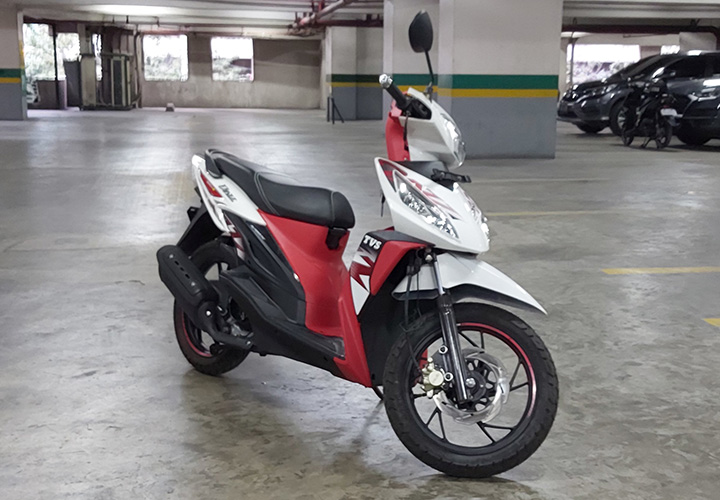 In times like these when weekend leisure rides aren't as safe and advisable as they used to be, a reliable, no-nonsense ride with a capable and efficient engine is going to be substantially more useful than a 600cc super sport bike. For that role, the TVS Dazz Prime is an excellent choice not just for its affordability and practicality, but also for its youthful style and useful features.
SPECIFICATIONS: TVS Dazz Prime
Price: P59,900
Engine: 110cc SOHC single-cylinderPower: 8.34hp
Torque: 8.3Nm
Transmission: automatic
Score: 17/20