Chinese manufacturer CFMoto has been gradually carving out space in the Philippine market with the promise of affordable price tags and a slew of features. The 300SR is its contender in the entry-level sportbike segment. With a retail price of P165,000, it's the most affordable model in the 300cc category. We tested it out to see how else it delivers on CFMoto's promise.
Styling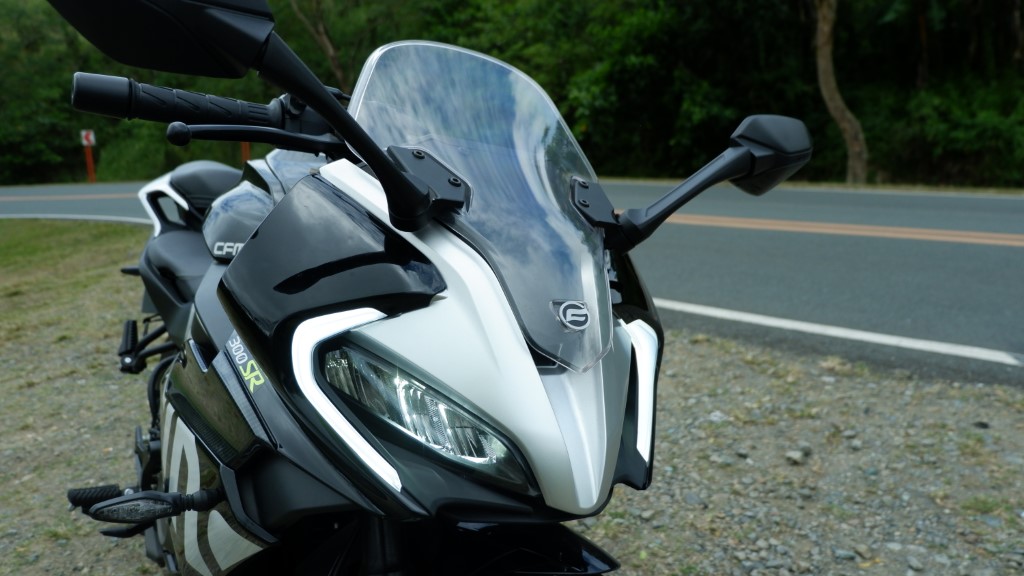 This particuclar 300SR comes in Nebula Black, which is more toned-down than the Turquoise Blue version. It doesn't come with the race-ready graphics and logos, either.
Instead, it settles for full fairings with a mirror finish and large CFMoto prints on both sides. Neon stripes on the wheels and the edge of the fairings pop with contrast. Viewed from the front, the 300SR glares with arrow-like headlights. From the side, the bike looks larger than the average 300cc. The tank rises up from the low seat at a steep angle, adding bulk to the bike's front half.
Continue reading below ↓
Recommended Videos
The rear completes the bike's sharp, stylish look with a futuristic taillight and a fender that's barely there.
The saddle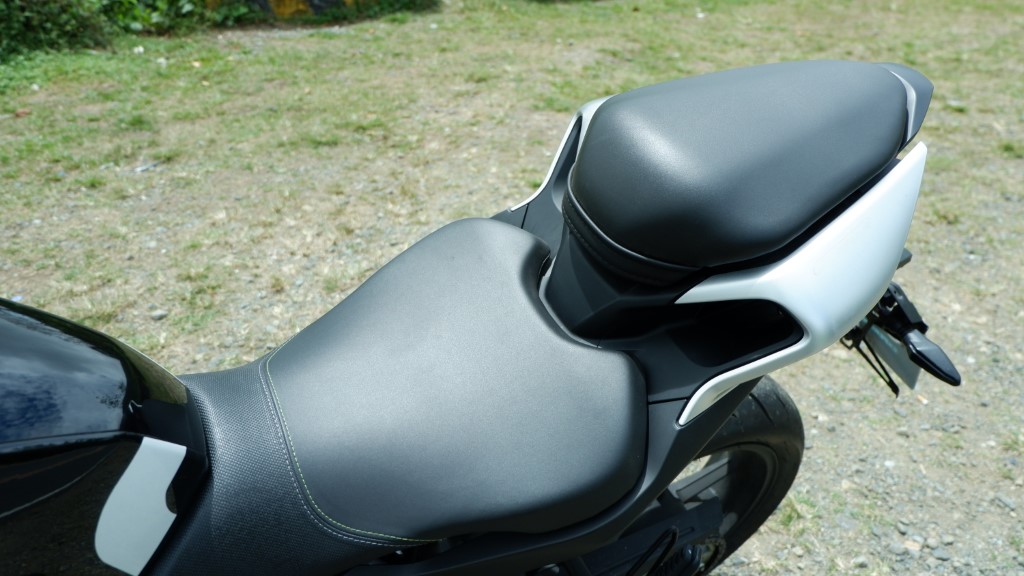 Many of CFMoto's bikes look taller than they are—a plus for the average Filipino rider. The 300SR has a narrow 30.7in split seat that mounts the pillion rider high. The rider's saddle is thinly padded, but feels medium-firm instead of rock hard.
And as someone who's 5'1", I can switch between tiptoeing on both feet and using one fully planted foot, not a terrible compromise once you get used to it. Since it's a commuter sportbike, the riding position is slightly aggressive. The pegs are mounted rearwards, and the clip-ons are semi-low, so you can aero tuck when you want to or ride high to check traffic.
The further the distance, the more uncomfortable the seat gets. But it is a bike meant for both on the track and public roads. A seat cushion upgrade might be necessary if you want to tour with this bike.
Engine performance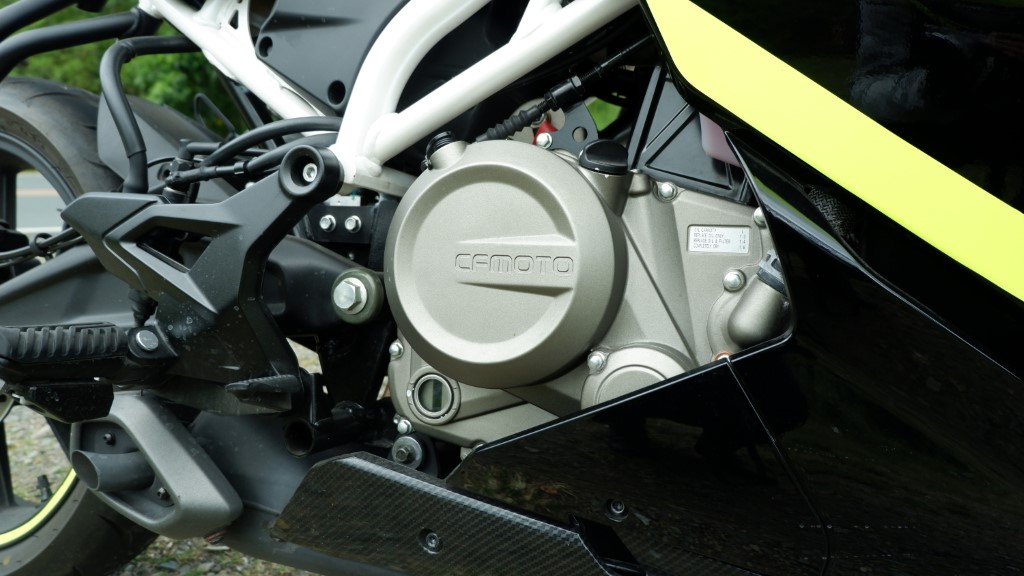 The entry-level 300 draws its punchy power from a 292.4cc single-cylinder, liquid-cooled engine. Its tuning is sporty, which means high revs are welcome. But for this same reason, it also kicks up a fuss in the low revs and isn't stellar in traffic.
The fuel-injected, four-valve DOHC powertrain really perks up in the mid-to-high rev ranges. It maxes out at 28.7hp at 8,750rpm, while torque peaks at 25.3Nm at 7,250rpm. The exhaust emits low, rumbling notes on idle, getting more shrill as you pick up speed. The sound is not bad.
Because it's a single-cylinder, you can't avoid some engine vibration. The good thing is it eventually becomes the background. What's more distracting — at least in city traffic — is the engine heat. It leaks out of the fairings, hits your inner thighs, and only goes away at speeds above 40 kph. The heat isn't searing, but it does feel toasty.
Ride and handling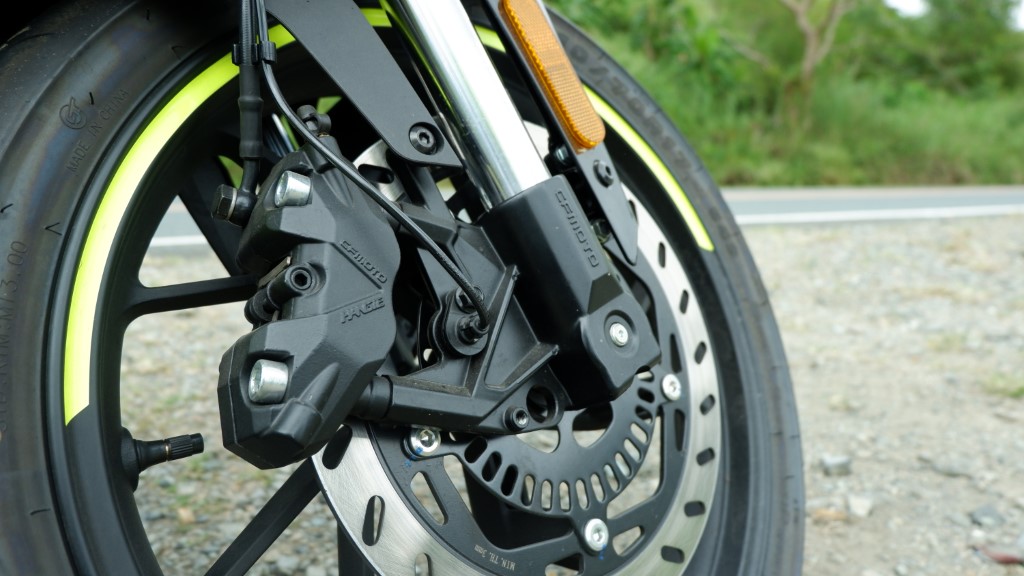 Because of its aggressive position, riding the 300SR for more than an hour is a workout. But to be fair, the stance it demands is not as punishing as riding a pure race bike. Uncomfortable ergonomics aside, this bike is a responsive and punchy ride that deserves to be taken to a track at least once. It handled superbly on Marilaque's tightly winding roads.
The wide CST tires offer plenty of grip and don't break traction even on slick, wet roads. The bike's 165kg stays low and centered, so you can keep your hands light on the grips.
Suspension from the 37mm USD forks and the rear mono-shock is stiff, but not jarring. They provide great road feel, especially in turns. It stands up to rough roads pretty well, too. The 300SR is no dirt or naked bike, but riding it over roughs and bumps never made me feel like I would get bucked off the seat.
In terms of stopping power, the front four-piston caliper provides massive amounts of it. A floating single-piston at the rear gives plenty of support. To top things off, Continent dual-channel ABS adds confidence under heavy braking.
The 300SR's rich package also sports two riding modes: Eco and Sport. Eco mode tames the engine on purpose, but maybe a little too much. Sport mode is where it's at. Here, the bike feels alert and ready to do your bidding.
Extra features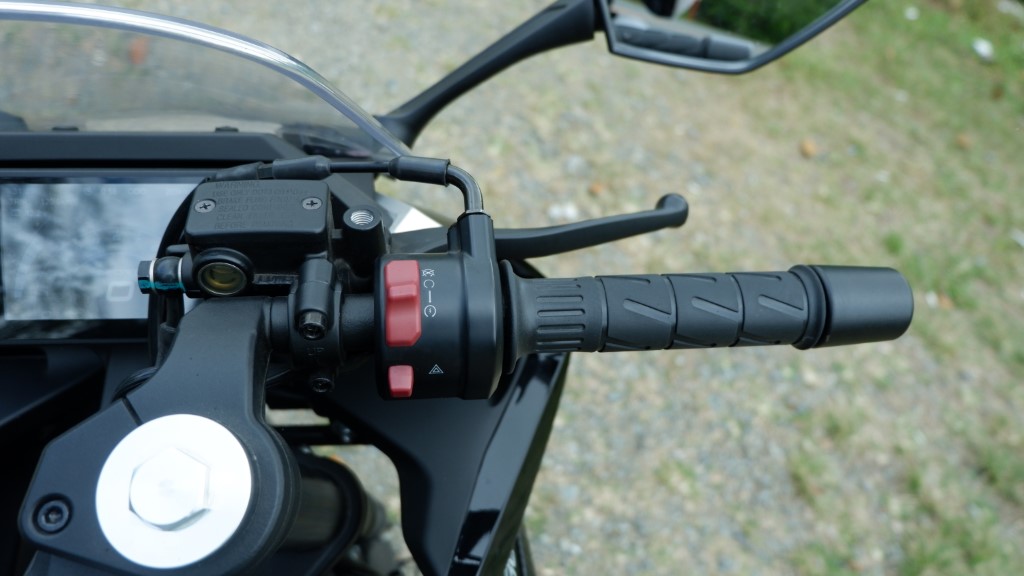 This sportbike is loaded with premium features. For starters, it has carbon-fiber trim on the tank, a slipper clutch, Bluetooth connectivity, and a full-color TFT display. Press a button, and the display changes mode and layout from Eco to Sport and back.
In Sport mode, the speedometer and tachometer dominate the screen, making it easy to watch your speed and time your shifts better. On Eco, the screen splits into the fuel gauge and speedo, so you can focus on fuel consumption instead.
Other minor but still premium features are a side stand kill switch, backlit control symbols, and a full-LED light treatment.
Verdict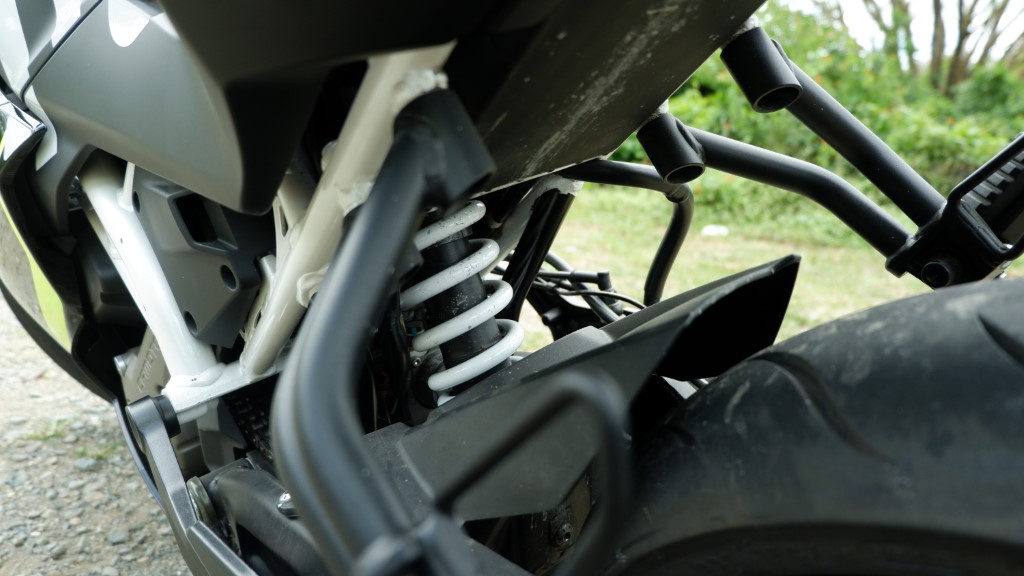 CFMoto is a new manufacturer on the scene, so it follows that the 300SR doesn't enjoy the same fame and reputation as other entry-level bikes in the same class. But, true to CFMoto's promise, it goes toe-to-toe with its features and offers great value for money.
If you're planning to get into track riding, the 300SR is a solid choice.
It offers the right amount of power and nimbleness that won't scare off someone who's still new to the track, and it's not so expensive that parts and repairs won't send your budget into orbit.
Are there better track bikes out there? Yeah, but be prepared to pay more and lose some features.
Specifications: CFMoto 300SR
Price: P165,000
Engine: 292.4cc single-cylinder, liquid-cooled
Transmission: Six-speed manual
Power: 28.7hp @8,750rpm
Torque: 25.3Nm @ 7,250rpm
Seat height: 30.7in
Score: 17/20