If you haven't heard of Husqvarna, you'd be forgiven. While the Swedish manufacturer has been around since 1903, it has only recently entered the Philippine market.
Now that it's here, we couldn't pass up the opportunity to try out its latest street bike offerings: the Vitpilen and Svartpilen, Swedish for white arrow and black arrow, respectively. Both models are proudly built at the Ayala-owned Adventure Cycle Philippines (ACPI) plant in Laguna, alongside the locally produced KTM units.
The first Husky that ACPI has lent us is the Vitpilen 401, a futuristic-looking cafe racer powered by the KTM 390 Duke's engine. Featuring avant-garde looks, cafe-racer ergonomics, and a compact yet potent engine, we find out what this big bike has to offer.
Styling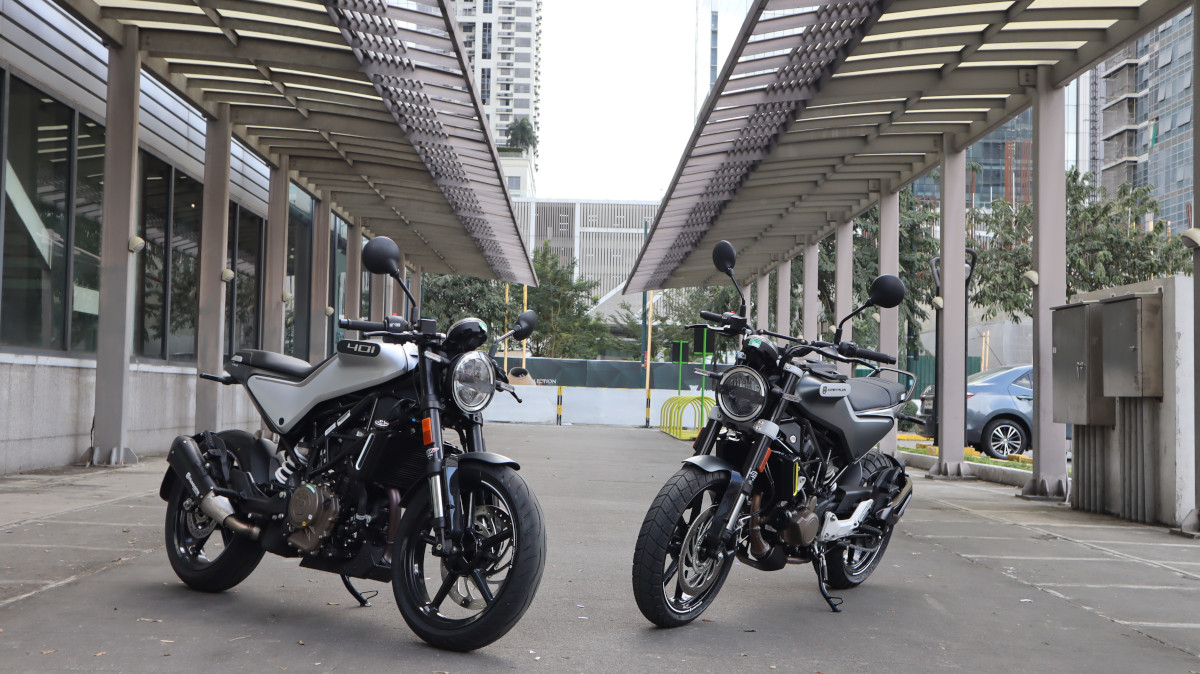 Continue reading below ↓
Recommended Videos
Have you ever seen a motorcycle that looked almost too pretty to ride? Well, that was our feeling when we first saw the Vitpilen in photos. The minimalist design highlights the engine and other components, yet the bike has a certain retro-futuristic character with its round headlight, sculpted tank, and straight sea. All these come together to form one continuous line from head to taillight.
There was always someone gawking at the Vitpilen whenever we rode it—at stoplights, gas stations, and parking lots. We practice our pronounciation a lot since many commented and asked questions about the bike, whether it was "Anong bike yan boss?" or "Ilang CC yan?" or the classic "Nice bike, bro!"
The Vitpilen—with its meticulous aesthetics, cafe racer-style clip-on handlebars, and clutter-free exterior—is the kind of bike that makes its rider look and feel good about themselves. You just can't help but admire your reflection as you pass by storefronts and shiny cars. With a bike this suave and eye-catching between your legs, it doesn't really matter if you put on some weight over the pandemic, because you'll be pogi no matter what.
The saddle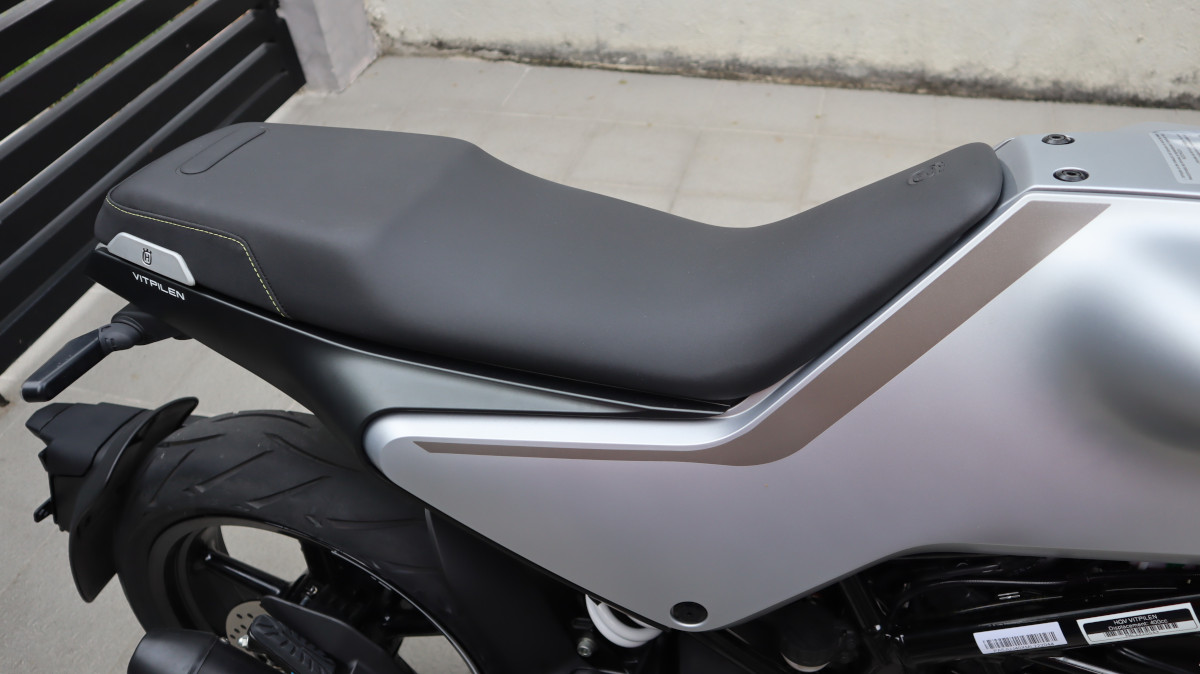 On the Vitpilen, the riding triangle (or the three points where the rider comes in contact with the bike) is essentially the same as on a sport bike. The clip-on handlebars are mounted low to line up just right with the fuel tank, while the seat is high and flat to preserve the designers' vision of a line cutting straight through the bike. The footpegs are high and placed towards the rear to allow for a more sport bike-like control. Oddly enough, the riding position feels even more hunched over than some fully faired sport bikes we've ridden.
While bearable for younger riders, the ergonomics of the Vitpilen are quite unkind to anyone not used to sport bikes, so it takes a certain amount of dedication to ride this thing for long distances. Personally, I enjoy sport bikes, so I could live with the Vitpilen as a daily ride. On long journeys, however, we'd suggest stopping to stretch every couple of hours to avoid muscle cramps and sore wrists.
Between the legs, the Vitpilen is slim, offsetting the relatively high 32.9in seat height. Thanks to this, we can easily get one foot flat on the ground, allowing for comfortable riding in stop-and-go city conditions. What isn't so comfy is how the edges of the fuel tank dig into the thighs. It doesn't hurt per se, but but it's uncomfortable enough to be noticeable.
Engine performance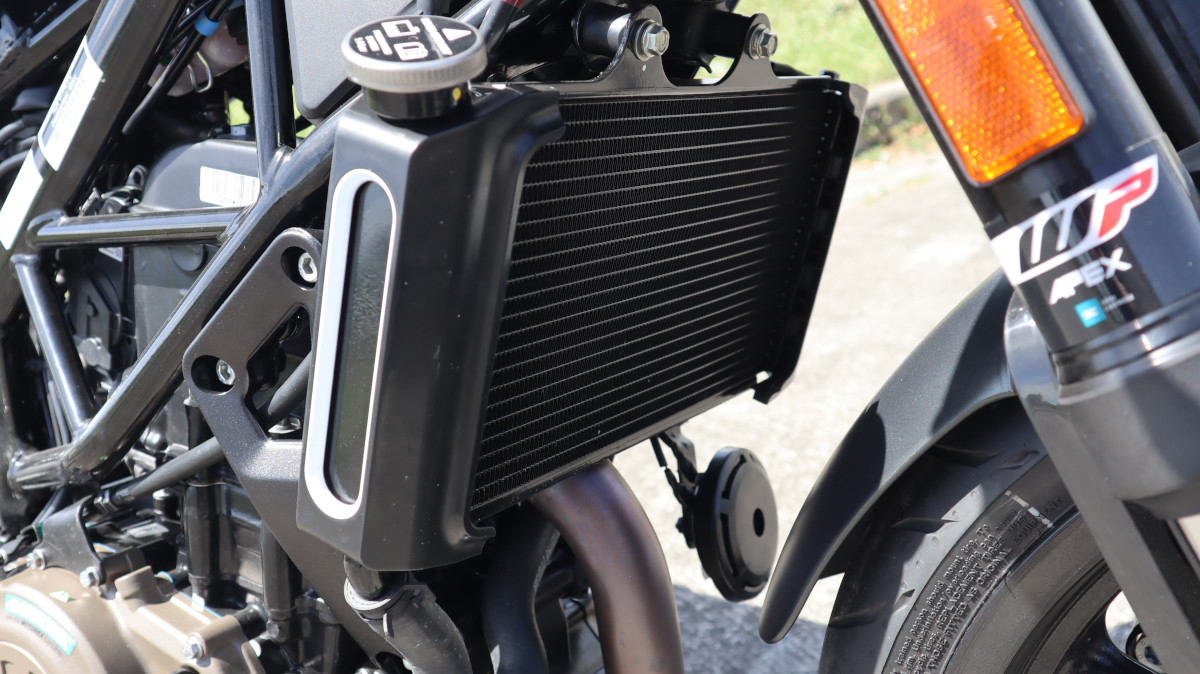 Husqvarna and KTM are sister companies, so it makes sense that the two brands share their tech. The Vitpilen 401 is powered by the same 373cc liquid-cooled, single-cylinder engine as KTM's 390 series. In Vitpilen spec, the KTM thumper is good for 43hp at 9,000rpm and 37Nm of torque at 7,000rpm.
Like the 390 Duke, the Vitpilen is torquey and responsive throughout the rev range, capable of overtaking at highway speeds with little effort. Where it's different is in the power delivery and throttle feel. Where the Duke feels a bit twitchy and constantly chomping at the bit, the Vitpilen is more smooth and refined, similar to the relaxed nature of the 390 Adventure. In terms of top-end power, the Vitpilen is as sporty as its ergonomics would suggest, with its top speed mainly limited by gearing.
This demo unit was essentially brand new, so it's forgivable that we had a tough time finding neutral in the bike's six-speed gearbox. Aside from that, shifting is smooth and dependable—the experience made even easier by the shift indicator in the gauge.
Ride and handling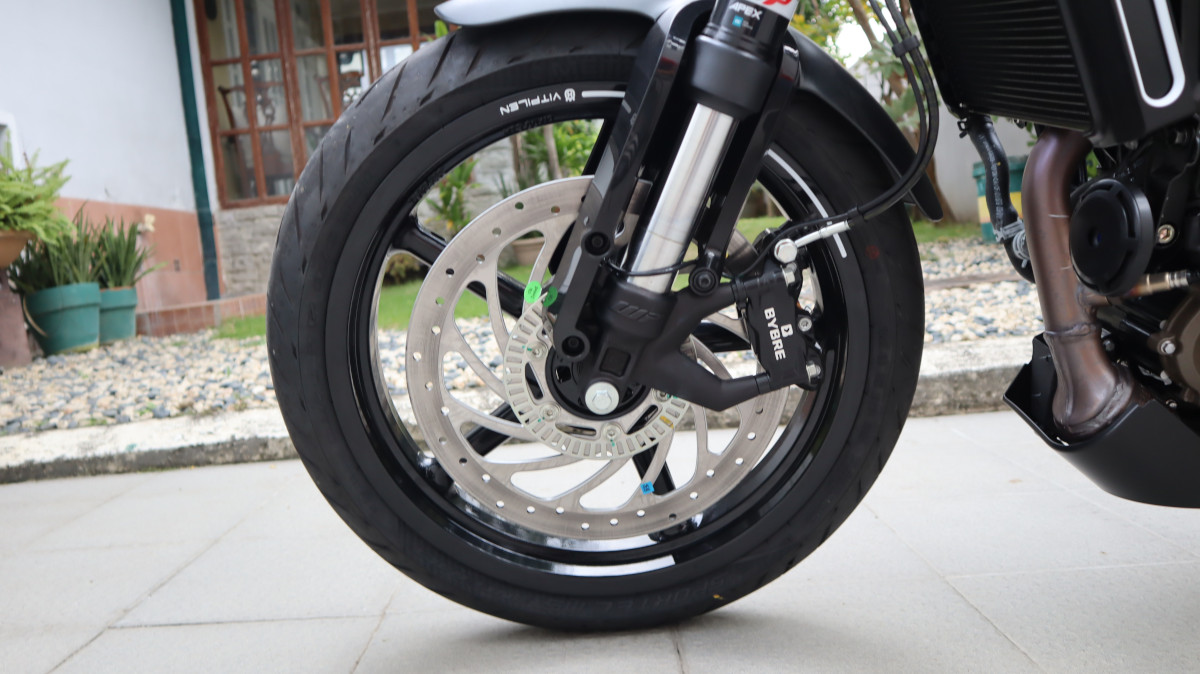 With a WP Apex inverted fork up front and a WP rear monoshock, Metzeler Sportec M5 tires, ByBre brakes, clip-on handlebars, and rearset pegs, it's no wonder the Vitpilen handles and feels like a sport bike. Taking corners is a breeze with this little cafe racer, as it just falls into whatever line you pick and stays there, thanks to the well-specced suspension and tires. With a similar engine, ergonomics, and components, the Vitpilen could be likened to a retro-naked version of KTM's race-proven RC 390.
Braking is more than sufficient, thanks to the Vitpilen's ByBre calipers, and the ABS does its job with no fuss or excessive feedback. One thing we noticed was the tendency of the front end to dip under heavy braking, which could be attributed to the rider's weight being shifted forward by the aggressive riding position.
Extra features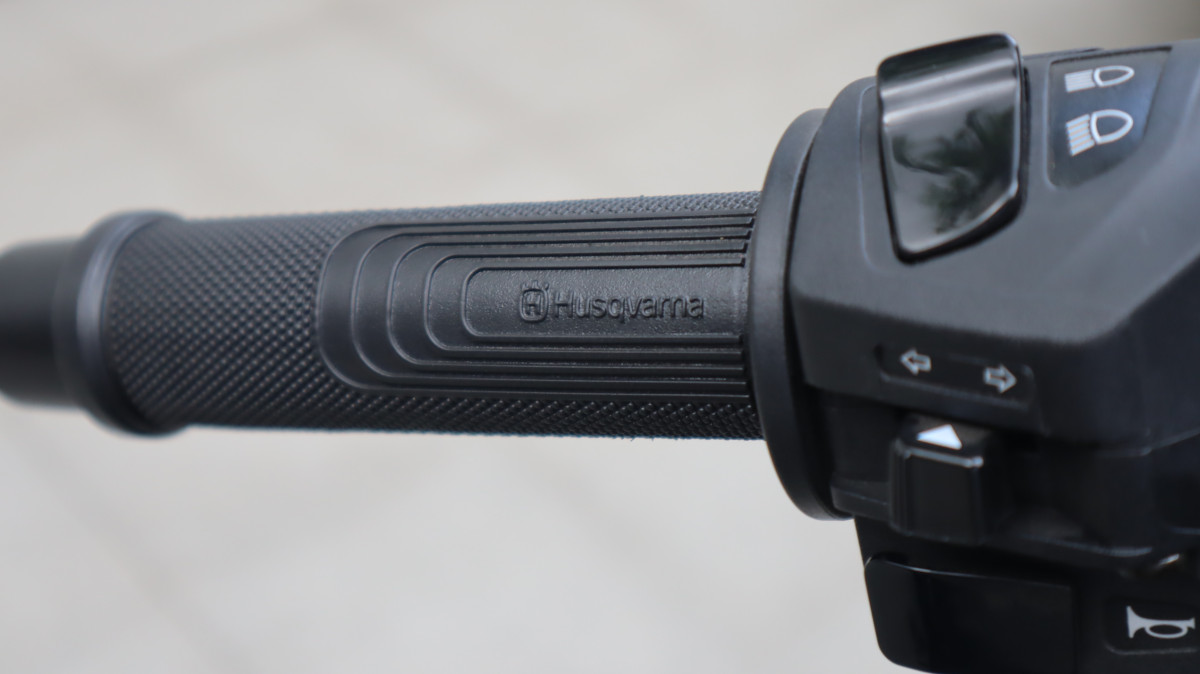 The Vitpilen's primary features are its eye-catching looks and capable performance, so it's understandable that it isn't packed with features. What it does have is just enough bits and pieces to make the riding experience a little more convenient.
The digital instrument cluster is a single round LCD unit, with a speedometer, tachometer, odometer, clock, trip meters, and fuel gauge. Additional niceties include a fuel range indicator (more of an estimate than an accurate calculation), shift light, and gear position indicator. Unlike the 390 Duke, the Vitpilen doesn't receive a full-color TFT display with phone connectivity. That's alright, though, since a display the size and shape of a tablet wouldn't work well with the Vitpilen's design anyway.
There's not a lot of room for storage under the seat, but you do get a set of tools in a Husqvarna-branded bag. Also bearing the brand name is the muffler, which looks quite nice for a stock can. You'll find branding on the grips,too,  which have been custom-molded to read the manufacturer's name.
Verdict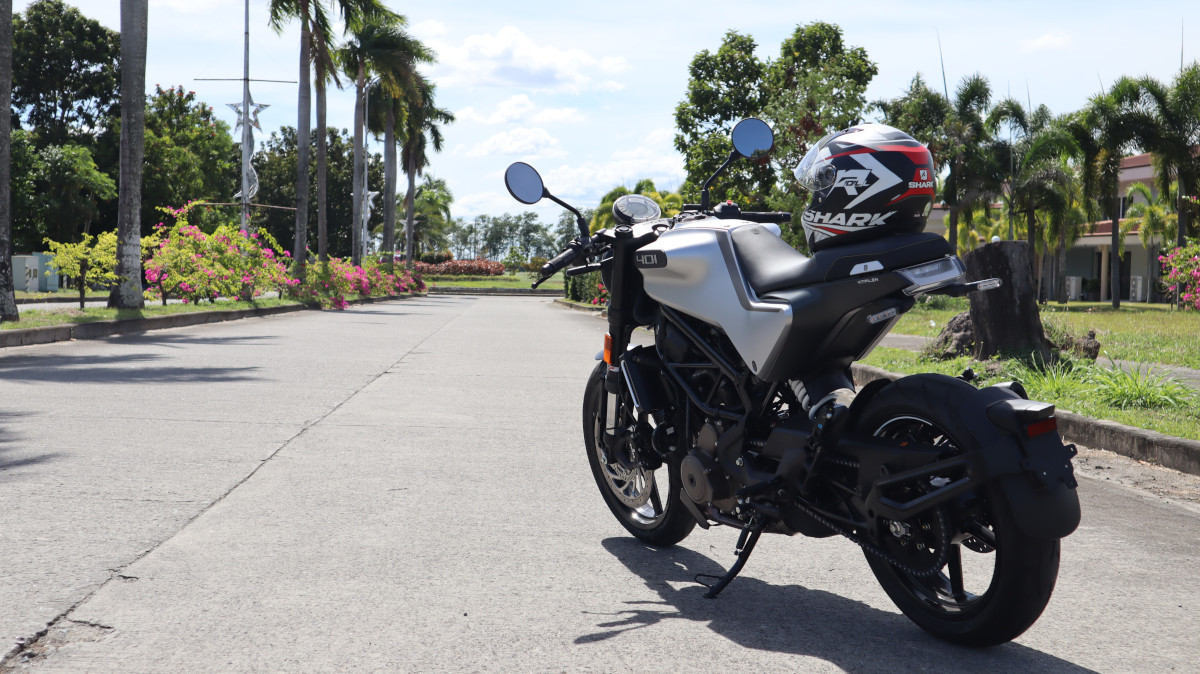 If you can handle the sporty riding position, the Vitpilen 401 is quite a well-rounded package: enjoyable performance, dashing good looks, the pedigree of an established European brand, everyday usability, and tollway legality—all at a reasonable price.
As one of Husqvarna's first official offerings in the local market, the Vitpilen 401 is a great way to get a taste of what the Swedish manufacturer has to offer. Plus, you'll look good riding it, too.
Specifications: 2021 Husqvarna Vitpilen 401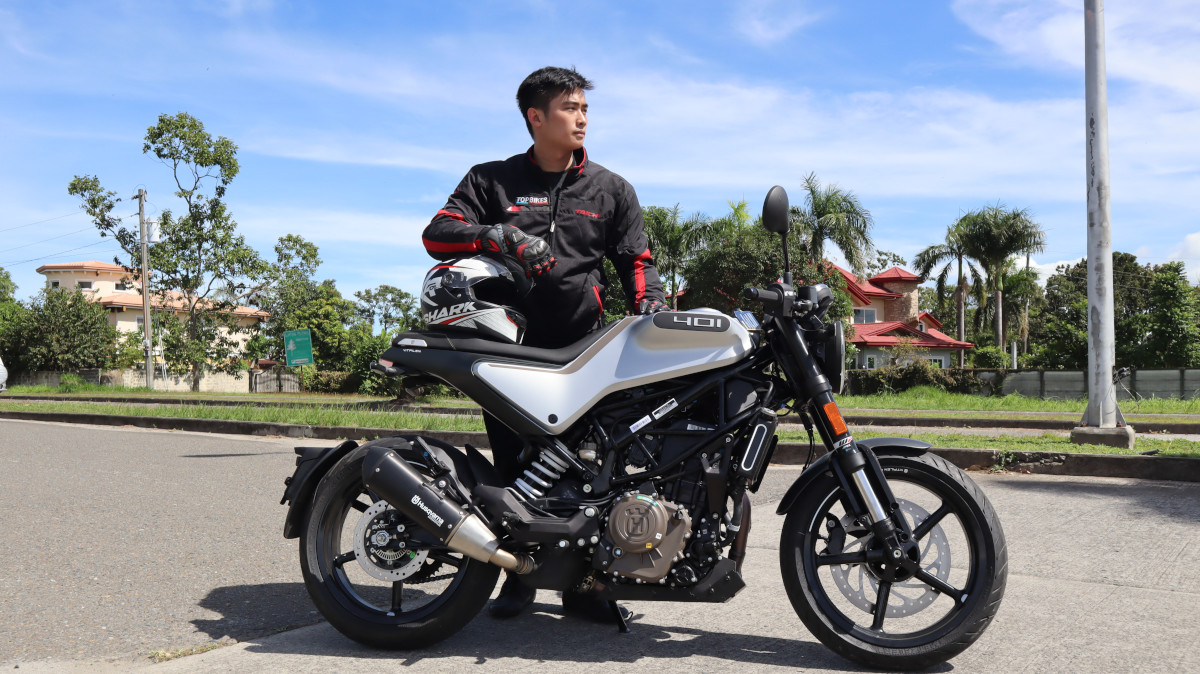 Price: P315,000
Engine: 373cc single-cylinder
Power: 43hp at 9,000rpm
Torque: 37Nm at 7,000rpm
Seat height: 32.9in
Score: 19/20