The Kayo MR150 MiniGP is a half-size sportbike manufactured in China. Its engine is built by Zongshen—one of the largest motorcycle engine builders in the world—which has produced over a million powerplants for bikes across the world. This fast-growing company also supplies engines to other known brands like Piaggio and Harley-Davidson. Zongshen specializes in producing 50cc to 250cc engines.
This is just one reason why Kayo motorbikes quickly gained popularity in other countries like Europe, the UK, and Malaysia, even if they're designed only for track sessions.
What's good about the Kayo MR150 MiniGP?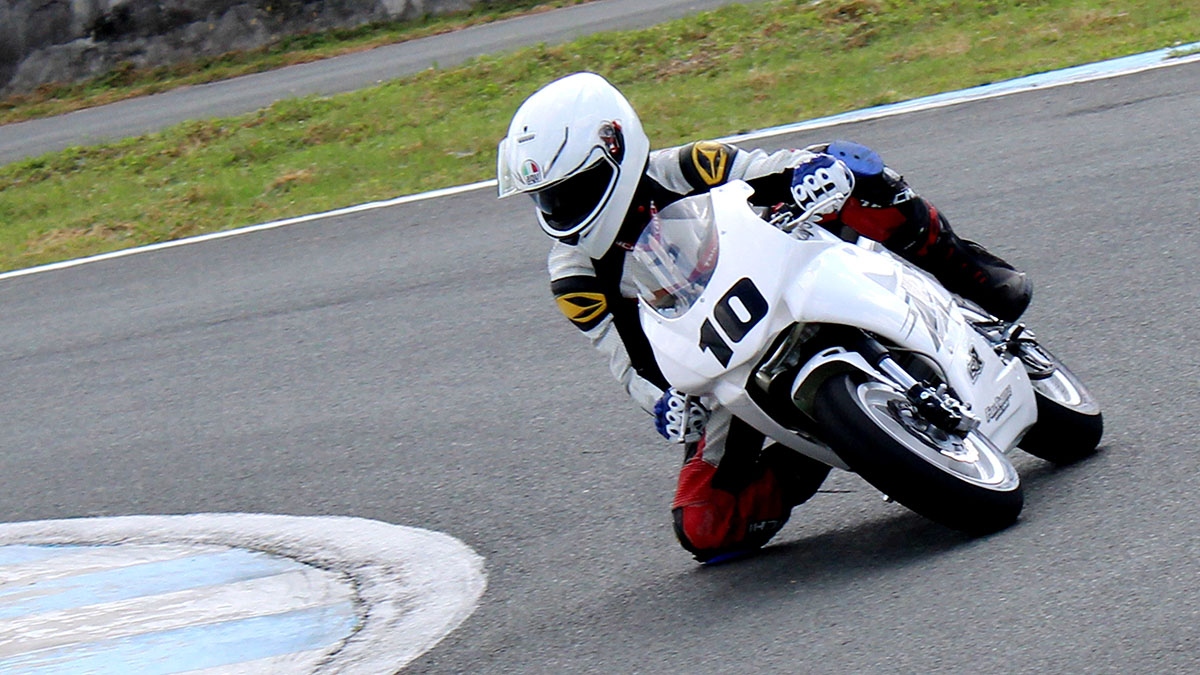 Continue reading below ↓
Recommended Videos
As a regular fixture on racetracks, I always thought of owning a mini bike because of the thrill and fun it gives. Here in the Philippines, we have more kart tracks than big racing circuits.
If you research how racers hone their skills around the world, you'll find that training on kart tracks is more popular because it provides riders an extremely good platform in terms of cornering and racing techniques.
Going back to the MR150, I got to test this bike at the kart track of Clark International Speedway. The Kayo MR150 MiniGP is small, and yet, its overall styling and design are just as intimidating as a big sportbike. The full fairings come in immaculate white, but they also look awesome in race paint, slightly resembling the Yamaha and Ducati racing machines.
The MR150's styling offers ample cockpit room for smaller riders, for whom it was primarily designed for. With the growth of road racing here in the Philippines, the Kayo MiniGP is the perfect machine to give budding junior racers a head start towards a racing career, as well as give enthusiasts an affordable chance to ride for fun on the track..
How does the ride feel?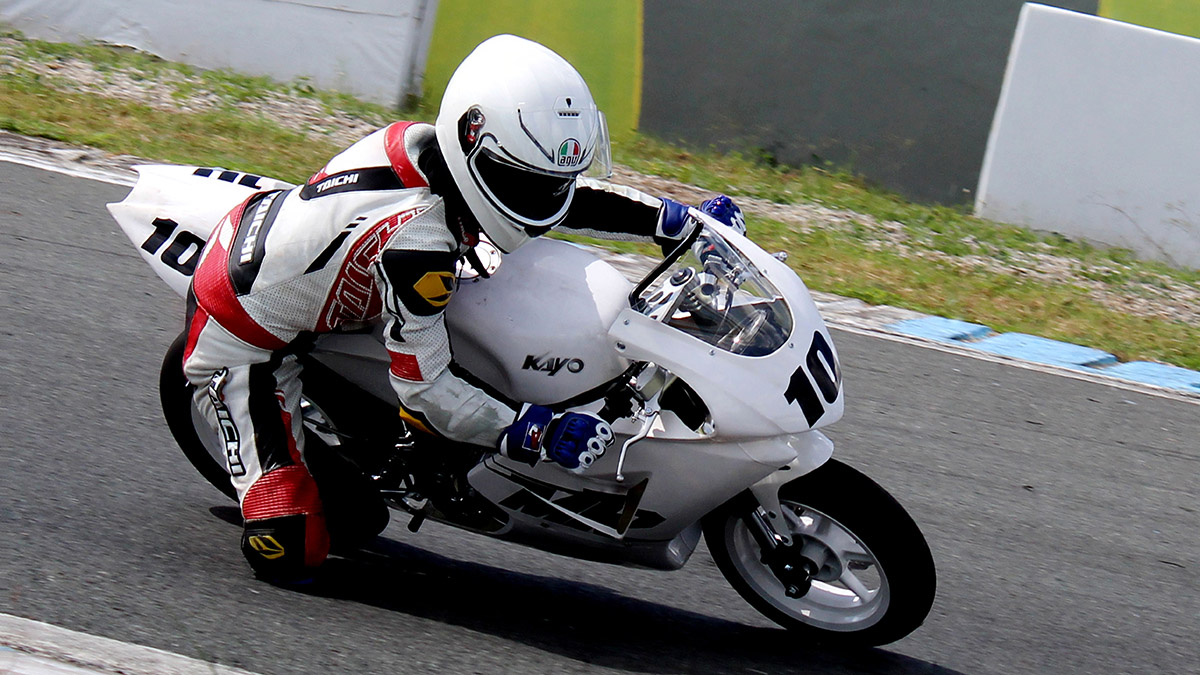 The Kayo MR150 MiniGP is built with front and single disc brakes—enough to slow down the bike in its tracks. It's equipped with inverted forks and a mono-shock absorber. Having a wet weight of 86kgs and a seat height of 26.3 inches, the MR150 is an excellent training bike for kids aged seven and above.
Getting acquainted with the MR150 for the first time wasn't that difficult. I was able to adapt myself quickly to the bike with ease, and sit comfortably on its spacious seat. Also, the tank is big enough to clip my legs on for maximum control.
It might be a bit unusual for much taller and bigger riders to get used to being folded up into this tiny bike, though. Good thing the handlebars and rearsets are adjustable to fit the rider's size.
What's the engine like?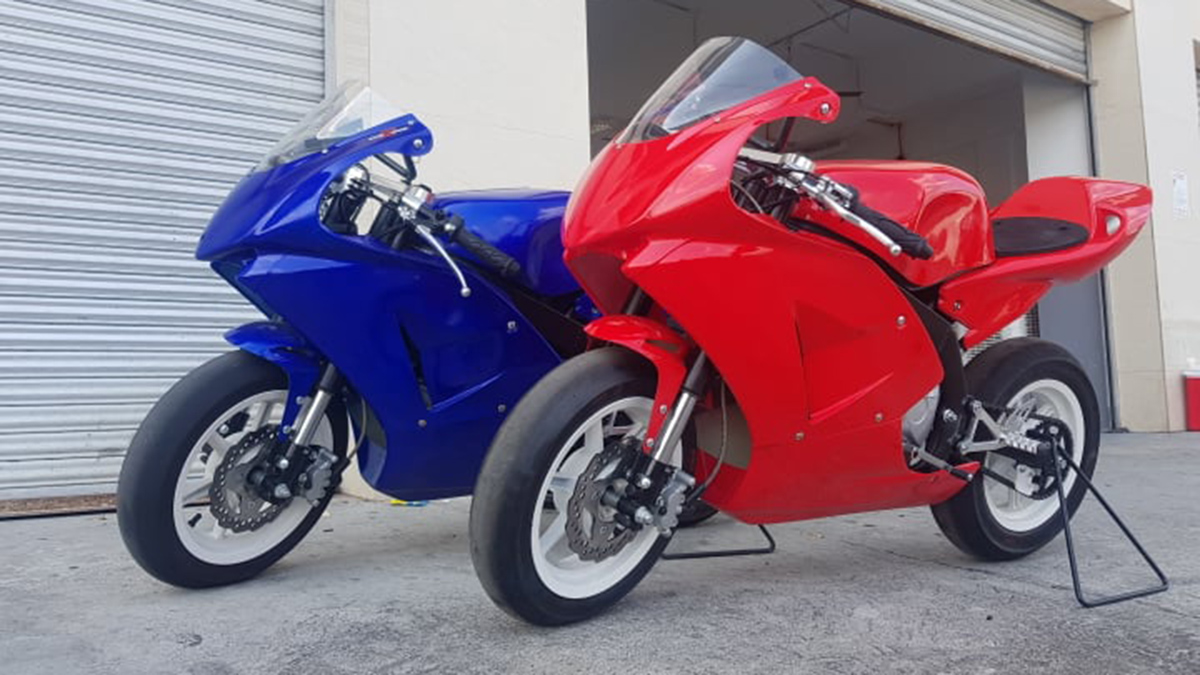 This small bike is powered by a 150cc air-cooled, single-cylinder, carburated engine that generates 11hp at 7,700rpm and 12Nm of torque at 5,500rpm. This tiny mill is paired with a five-speed manual transmission. Surprisingly, this bike has more than enough torque despite the single-cylinder mill.
Normally, I ride motorbikes with the standard gear shifting pattern of one-down, four/five-up. This time, I was a bit confused ith the MR150's layout  (one-up, four-down). Still, this kind of gear shift pattern prepares riders for full-size track-use-only bikes.
Does it behave well on corners?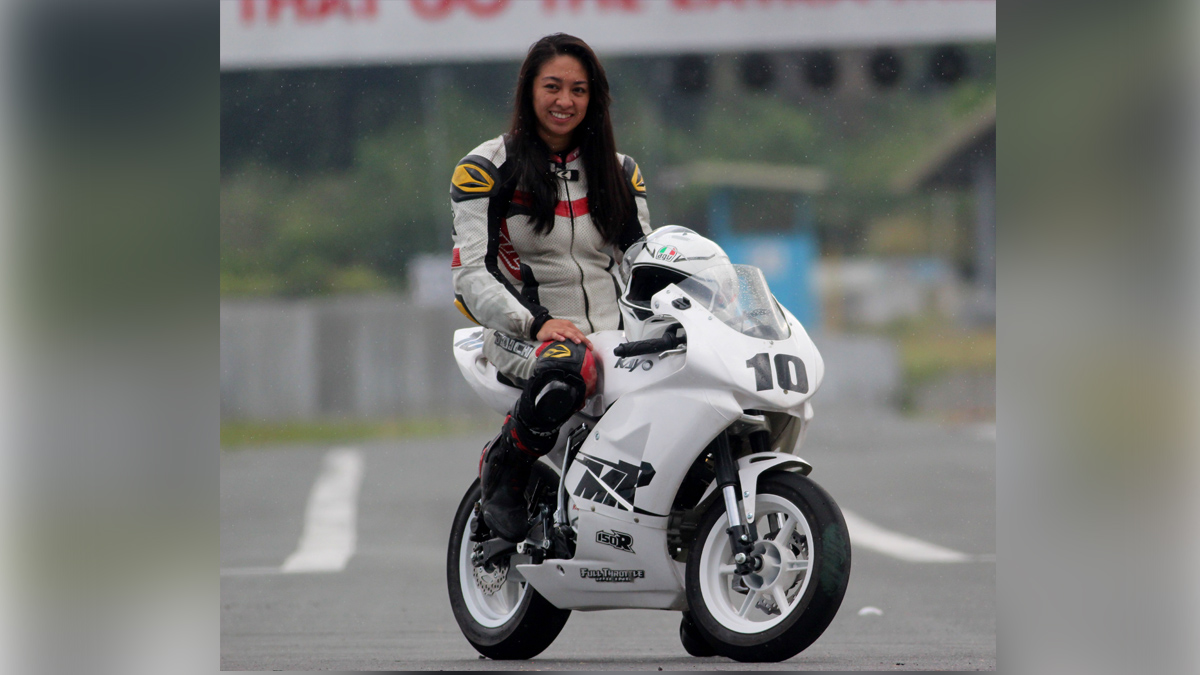 There's no doubt this motorcycle is an awesome training machine for those aiming to become superbike racers because of its impressive engine response. It taught me to be as smooth as possible in attacking sweeping turns, as it responds instantly even to the tiniest inputs and movements. The MR150 is fitted with sleek 12-inch tires that are very sticky and great for cornering. I made sure to do a few rounds to warm them up before going full throttle.
Unfortunately, I was caught by the rain while in the middle of the track session. I had to slow down a bit and became more cautious in taking corners when I felt the sleek tires starting to slide a bit in the wet.
The bike adapts well on small karting tracks because of its low top speed. This encouraged me to push both my riding skills and the bike to the limit, helping improve my lap time as I went along.
How much?
For P199,000, you'll get twice the fun for half the size. This little sportbike truly offers a balance of performance, fun, and affordability. Come to think of it, the Kayo MR150 MiniGP can also be a powerful bonding tool for parents and their kids on weekends, too.
The local distributor of Kayo MR150 MiniGP is Ride Republic.