When my boss gave me the opportunity to review the new 2021 Suzuki V-Strom 1050XT, I asked myself if I was ready to crawl that big bike through traffic. At 5'7"-ish, it would be quite a challenge. 
Nearly losing my balance the first time I climbed onto it, I took the V-Strom home and spent the next few days taking it around town, up and down expressways, and generally learning how to not just survive, but also to have fun as a not-so-tall guy on a tall, heavy bike.
Read our review below to see what we think of Suzuki's newest V-Strom:
Styling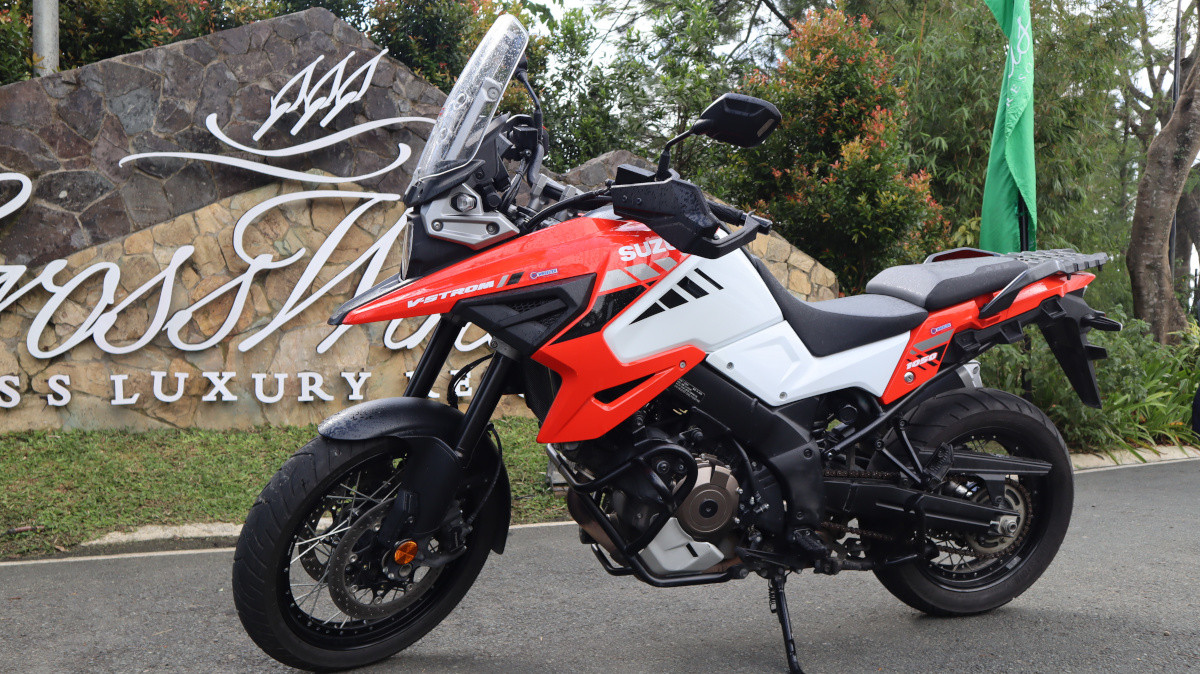 Continue reading below ↓
Recommended Videos
Back in 1988, Ichiro Miyata designed a single-cylinder dual sport bike for Suzuki called the DR Big. Over three decades later, the same man came up with this V-Strom 1050XT. See the resemblance?
Much like with the Katana, Suzuki decided to go with a neo-retro approach when they designed the new V-Strom. Where the previous generation V-Strom 1000 looked like a one-eyed bird, the current 1050 model is a modernized DR Big complete with color options that harken back to the days when cigarette-branded liveries were still a thing.
Personally, I love how the V-Strom 1050XT looks. It has a similar square headlight to the new Katana, coupled with rugged adventure bike aesthetics, and an old-school dual-sport style that looks like Miyata-san used nothing but a ruler to design the bodywork. In this Pearl Brilliant White/Glass Blaze Orange color, the V-Strom 1050XT is a definite eye-catcher and will stand out no matter where you park it.
The saddle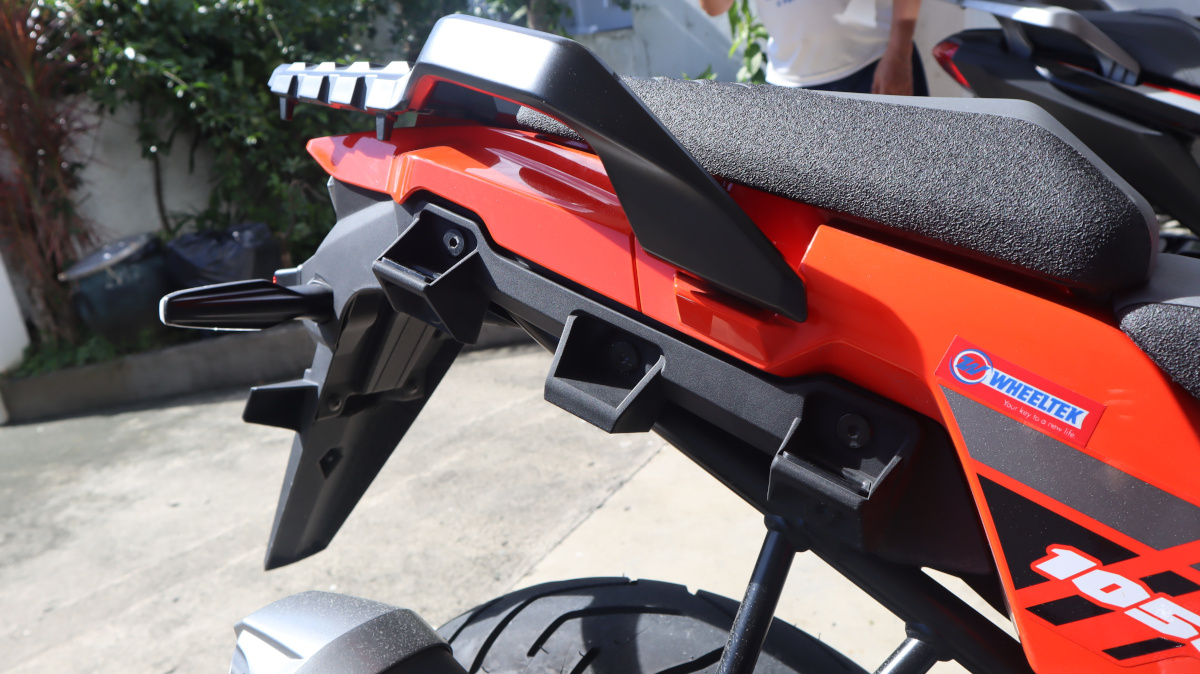 With a towering 33.5-inch seat height and a hefty 545lb (247kg) curb weight, the V-Strom 1050XT is far from beginner-friendly. With enough effort and stretching, I managed to climb onto the saddle, which is actually quite a nice place to be.
The V-Strom is quite narrow between the legs by adventure bike standards, so while I still can't plant both feet flat on the ground while idling, I can at least put one foot down if I hang off the side. The firm yet comfortable two-piece seat is ideal for long rides, where the the bike feels like it's in its element.
Out on the highway, the V-Strom is both a comfortable and exciting steed to be on, with well-proportioned adventure bike ergonomics, a decently sized seat, and an adjustable windscreen. In heavy traffic, however, riding it is a totally different experience. Stopping requires a whole butt-shifting dance so my foot could reach down far enough to hold the bike up in traffic, and making singit is nowhere near as easy as on a more reasonably-sized ride.
The heat that the big V-twin engine gives off is also a bit worrying, as it happens to sit on the bit of my leg showing between my mid-cut riding sneakers and my pants. To prevent questions about weird red marks near my ankles, I used the engine crash guards (standard on the XT trim) as makeshift footrests, allowing me to both stretch and avoid the heat.
Rider accomodations on the V-Strom 1050XT are pretty good, with solidly mounted footpegs with rubber insets, wide side mirrors, handguards, a tool-free adjustable windscreen, a fuel tank large enough to easily grip onto with your legs, a plethora of premium-feeling buttons on the handlebars, and a decently sized LCD screen. However, the side mirrors aren't that easy to maneuver, the windscreen can only be adjusted if you get off the bike, and the display looks a bit last-gen, especially when competitors have actual colors on their TFT displays.
Passenger accommodations aren't too bad, either, with decent legroom, very sturdy grab handles, and a commanding position with lots of visibility. However, my passenger did complain that it's pretty challenging to get onto the tall pillion seat.
Engine performance
Contrary to what the new 1050XT model name implies, the new V-Strom does not get a bump up in displacement. It still utilizes the same 1,037cc 90-degree V-twin engine derived from the decades-old TL1000S sportbike. This mill does, however, get some adjustments that not only comply with Euro 5 regulations, but also make a little more power and torque than last year's model—106hp and 100Nm, to be exact.
While it's old hat at this point, the V-twin powertrain is still quite potent. Even while pulling a heavy bit of kit, the engine responds without hesitation and has plenty of oomph for overtaking, plowing down the highway, or launching away from a stoplight. How it responds to your input can be changed with three throttle response modes. The one I used the most was B, which is crisp and responsive without being too jerky and abrupt like mode A. Mode C, on the other hand, provides a more laid-back response for relaxed riding.
The V-Strom's engine is paired with a slick six-speed manual transmission with a slipper clutch, which not only makes shifting a breeze, but also makes crawling through traffic a bit more bearable thanks to the light clutch lever.
Ride and handling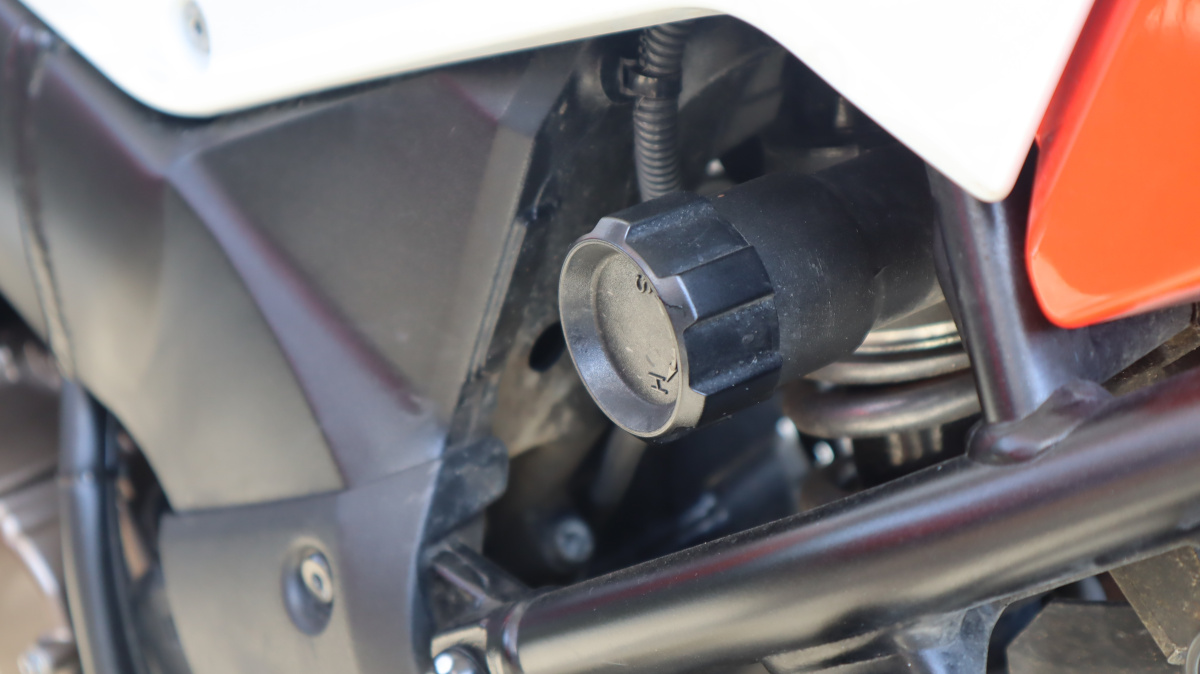 Keeping the bike aloft is an adjustable inverted KYB fork up front and a bottom link-type mono-shock in the rear. This suspension setup is noticeably street-biased and feels great when taking corners at speed, so long as the surface remains smoother than the majority of Philippine roads. Going over bumps, potholes, and what gravel paths I could find feels a bit harsh. This is likely due to the knobless Bridgestone tires that come as standard.
Tokico monoblock calipers pinch onto 310mm floating discs at the front, and a Nissin caliper hugs a 260mm disc in the rear. While the brakes are more than adequate to bring the hefty V-Strom to a stop, braking in the front is a bit too aggressive initially, causing the front end to dip a little if you don't know how to properly finesse the brake lever.
Going around corners and paved roads, the V-Strom feels like a particularly tall, yet still-agile sport tourer. When the paved roads end, the V-Strom might not quite feel like a hardcore off-roader, but it is still plenty capable. As long as you don't take it out on really harsh terrain, it'll serve you more than well enough.
Extra features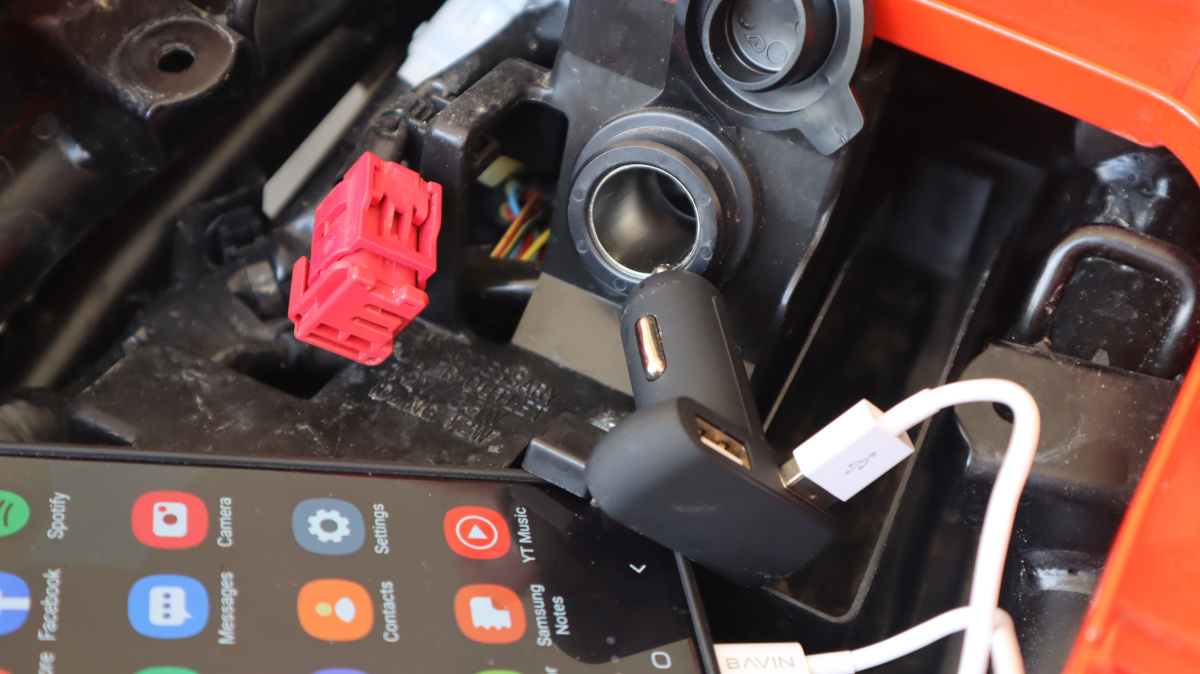 As a top-of-the-line adventure bike, the V-Strom 1050XT has no shortage of features. Included in the lineup is the Suzuki Intelligent Ride System, which refers to the electronic package featuring the Motion Track Brake System, Hill Hold Control System, Slope Dependent Control System, Load Dependent Control System, Cruise Control System, Suzuki Drive Mode Selector System, adjustable ABS (that sadly can't be turned off), and Traction Control System. This whole package is linked to a six-direction, three-axis inertial measurement unit, and all the systems work as advertised, helping the V-Strom keep up with its tech-savvy competitors.
What I found really neat is Suzuki's Low RPM Assist feature, which keeps the bike from stalling in traffic by revving the engine a bit when the revs are low. Thanks to this feature, executing slow speed maneuvers and using just the clutch to crawl along in heavy traffic is a lot more doable, making commuting with the V-Strom a whole lot easier.
Exclusive to the XT trim are engine crash guards, the full electronics package, the adjustable windscreen, LED turn signals, handguards, an aluminum under cowling, spoked wheels, an adjustable seat, center stand, and two power sockets.
Verdict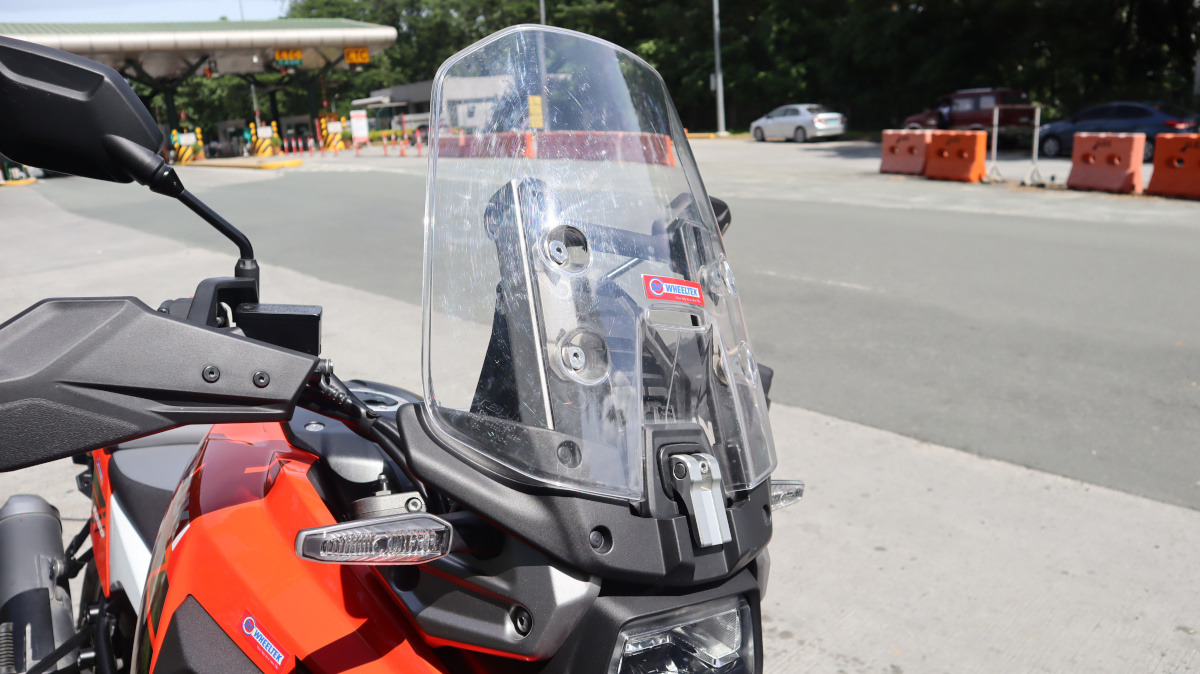 As an adventure touring machine, the Suzuki V-Strom 1050XT offers great value for money. For under P1 million, you get a sporty, capable, and comfortable 1,000cc + touring bike that can also dabble in off-road activities every now and then. In comparison to its competitors, however, the V-Strom is a step or two behind with its aging engine design, outdated display, and decidedly road-biased sensibilities.
But then again, given how most people use adventure bikes, the V-Strom 1050XT will do all that's asked of it and more. While it won't slide around off-road or jump sand dunes as well as some of the competition, it'll cover long distances and take you to your favorite spots just as well, if not better.
SPECS: 2021 Suzuki V-Strom 1050XT
Price: P859,000
Engine: 1,037cc DOHC V-twin
Power: 106hp @8,500rpm
Torque: 100Nm @ 6,000rpm
Transmission: Six-speed manual
Score: 18/20