Manila-based manufacturer Bristol Motorcycles decided to end 2020 with a bang by introducing the newest member of its modern classic lineup, the Veloce 500. This dashingly handsome bike not only comes with promising componentry and performance figures, but is very competitively priced as well.
At P348,000, it's almost hard to believe that the Bristol Veloce 500 comes with Nissin brakes, a Bosch ECU, KYB suspension, and more straight out of the factory. Obviously, this combo of high-spec kit and reasonable pricing had us wondering if this bike was just too good to be true. Read our review below to see if this scrambler lives up to its potential.
Styling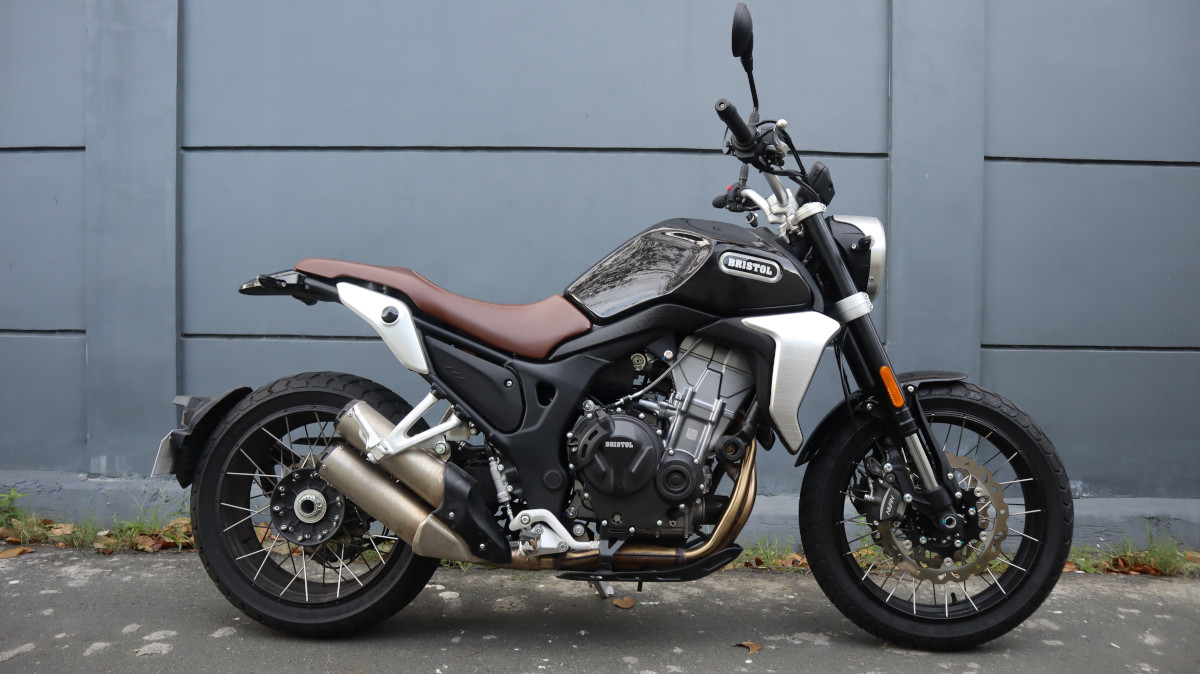 Continue reading below ↓
Recommended Videos
At a glance, the Veloce 500 can easily be mistaken for certain Japanese and Italian retro bikes. It sports timeless styling blended with modern components and design cues, making it look as premium as other motorcycles twice the price. 
The classic round headlight integrates the Bristol logo into the center for a modern and understated form of badging, while the metal gas tank looks sleek and muscular with lines flowing smoothly into the beautiful leather seat. The brushed metal details add a shiny chrome-like pop to the chassis, and the tubeless spoked wheels and scrambler-appropriate Pirelli MT 60 RS tires give the bike an off-road-ready character. The inverted KYB fork and single-sided swingarm further add to the Veloce 500's credibility as a premium bike with the handling to match.
Perhaps the only blemishes on the Veloce 500's well-groomed exterior are the Bristol logo stickers on the side of the tank and the thin plastic used for the handlebar controls. Bristol says the stickers were originally intended to be metal decals, but the materials weren't ready in time for the bike's launch.
The saddle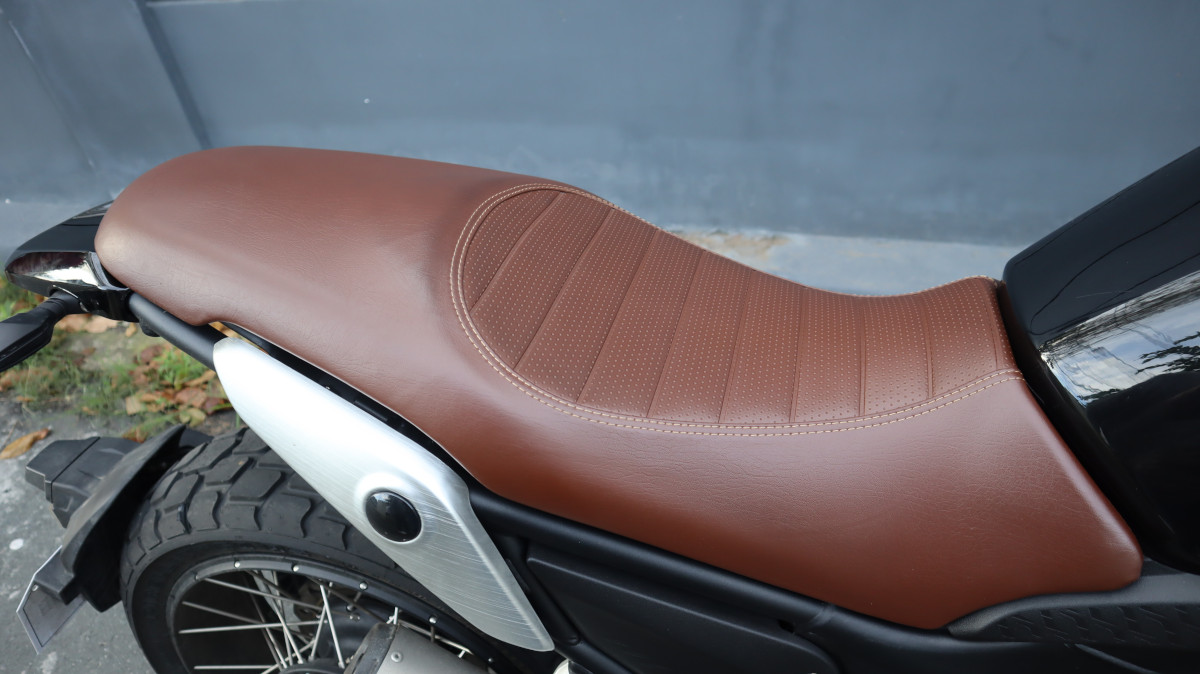 As a bike aimed at Filipino riders, it only makes sense that the Veloce 500 has a low seat height. At 29.9 inches high, the seat is accessible to pretty much any adult Filipino rider. The bike itself has a low curb weight of 173kg.
The seat is made of stitched leather, which is not only nice to look at but is decently cushioned as well. Passenger accommodations are equally as comfortable, with solid foot pegs, enough space for most body types, and grab rails hidden away under the bike's tail. 
Aside from the low seat, manageable weight, and comfortable seat, another thing that makes the Veloce 500 a viable daily ride is how narrow it is, which allows for hassle-free lane filtering. While there is a bit of engine heat present, it's nowhere near as bad as other big bikes.
Engine performance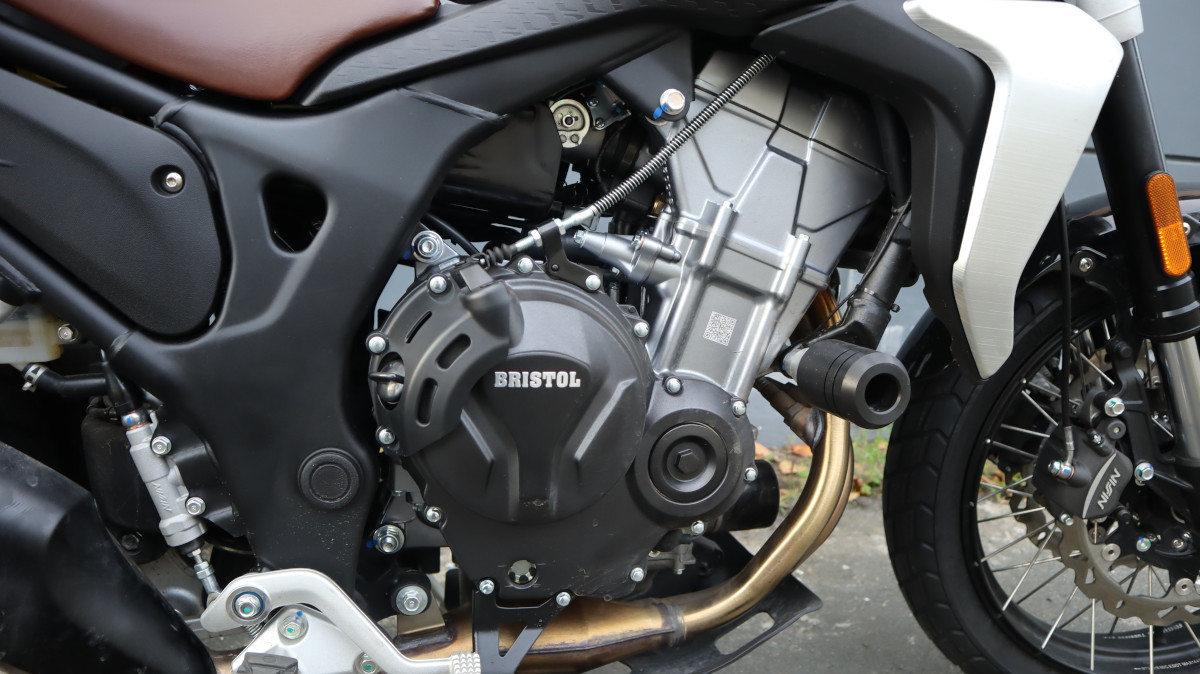 Powering the Veloce 500 is a 471cc, parallel-twin, liquid-cooled engine good for 46.9hp at 8,500rpm and 43Nm of torque at 6,500rpm. For such a lightweight bike, an engine this peppy makes for a satisfying and sporty riding experience without being overwhelming for new riders to handle. 
Twist the throttle and torque surges through the Veloce 500's chassis into the rear wheel, even causing it to break traction if you rev with too much gusto from standstill. Such throttle response might be a bit jerky for inexperienced riders, but isn't difficult to get used to, and will put a smile on your face each time. 
Expressway runs pose no problem to the Veloce 500's twin-cylinder powerplant, which is capable of pushing the bike to cruising speeds on par with higher-displacement motorcycles. The exhaust note doesn't sound half bad, either, as a slick twin-exit pipe allows the engine to produce a meaty growl during revs and even pops and bangs on deceleration. 
Ride and handling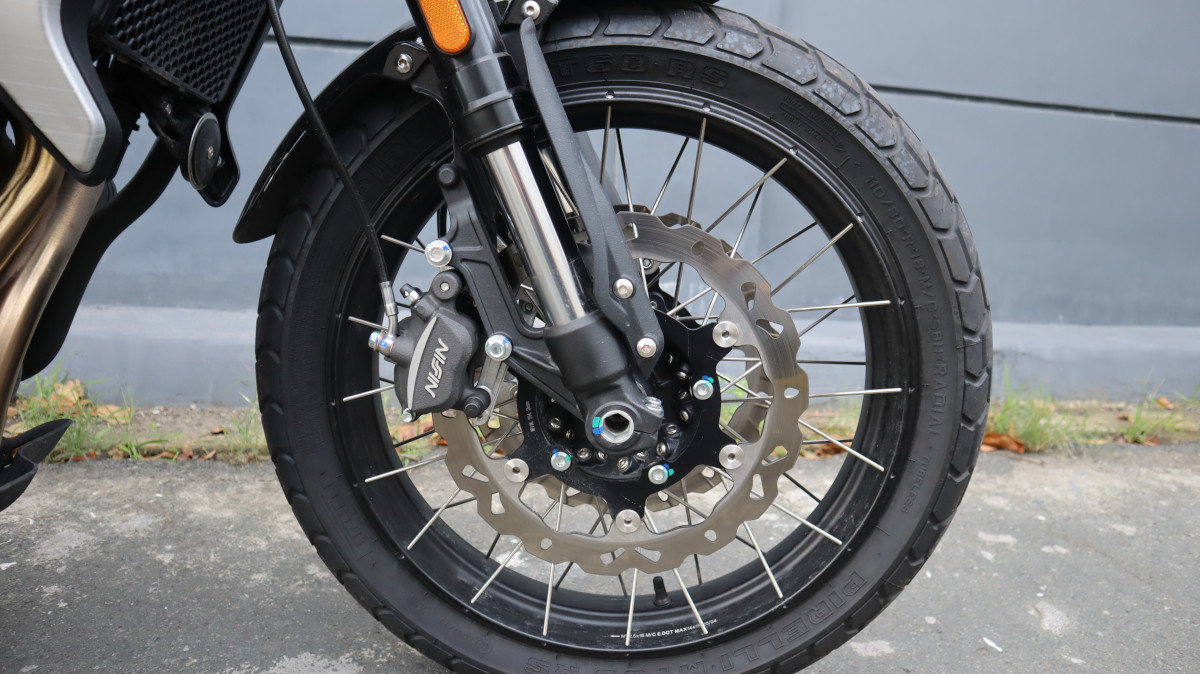 If the inverted KYB fork and rear monoshock are any indication, the Veloce 500 should handle pretty well. And as we put it through its paces, it did indeed handle as well as it should, taking corners with ease and soaking up bumps and rough roads with little issue. 
With its scrambler stance and setup, it's no surprise that the Veloce 500 can hold its own on light stints off-road. The Pirelli MT 60 RS tires easily find grip on asphalt and packed dirt alike, and the well-sprung suspension can take on simple bumps and divots without bottoming out. 
One of the Veloce 500's selling points is its Nissin brakes, with dual 300mm rotors in the front and a single 240mm rotor in the rear. Equipped with two-channel ABS, these calipers do the Nissin name well, bringing the bike to a stop without breaking a sweat. The ABS works well even on wet roads, and can be turned off for the front and rear when it's time to hit the trail.
Extra features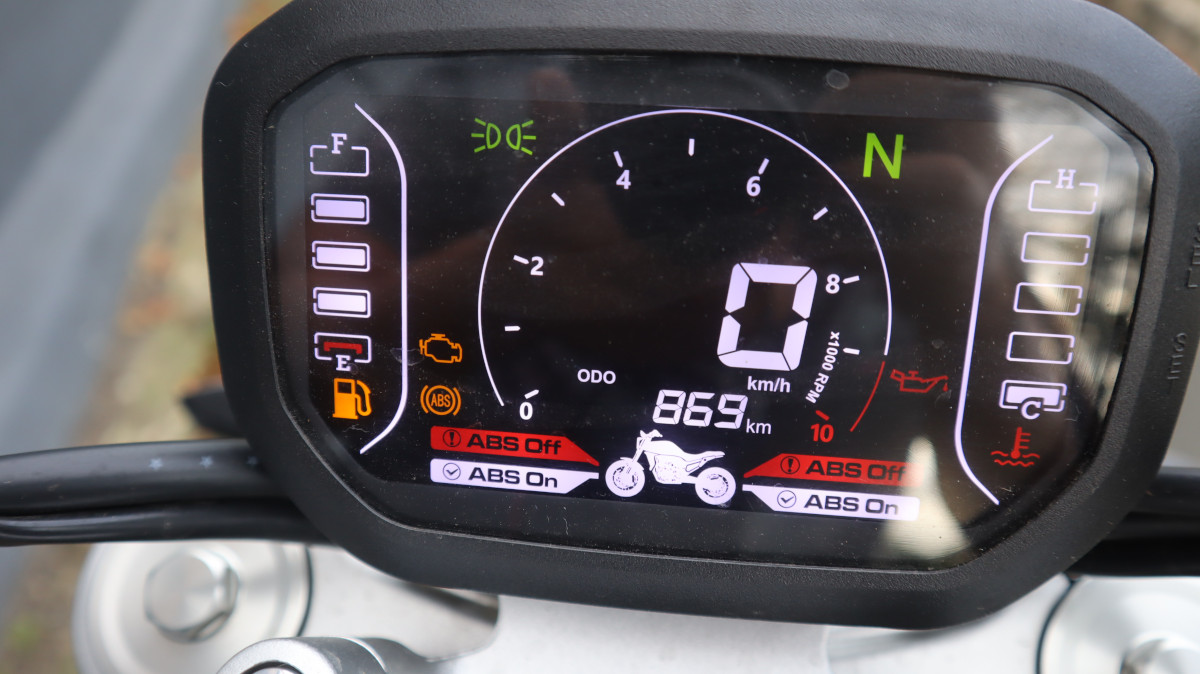 At its price point, one could forgive the Veloce 500 for being sparsely equipped. But Bristol gave its scrambler a couple of bits and pieces to help it punch above its weight class. One of these features is the full-color TFT display, which shows useful info like speed, rpm, engine temperature, fuel level, an odometer with a couple of trip meters, gear position, and warning indicators. Also on the TFT screen is an image of the Veloce 500 displaying the ABS status for the front and rear tires
Another nice feature straight out of the factory is the engine skid plate, which protects the engine and exhaust pipes from rocks and other debris when hustling off-road. Completing the scrambler look is the rear tire hugger with plate holder, which eliminates the need for a tail tidy and reduces the amount of mud and water that can splatter onto the rider's back.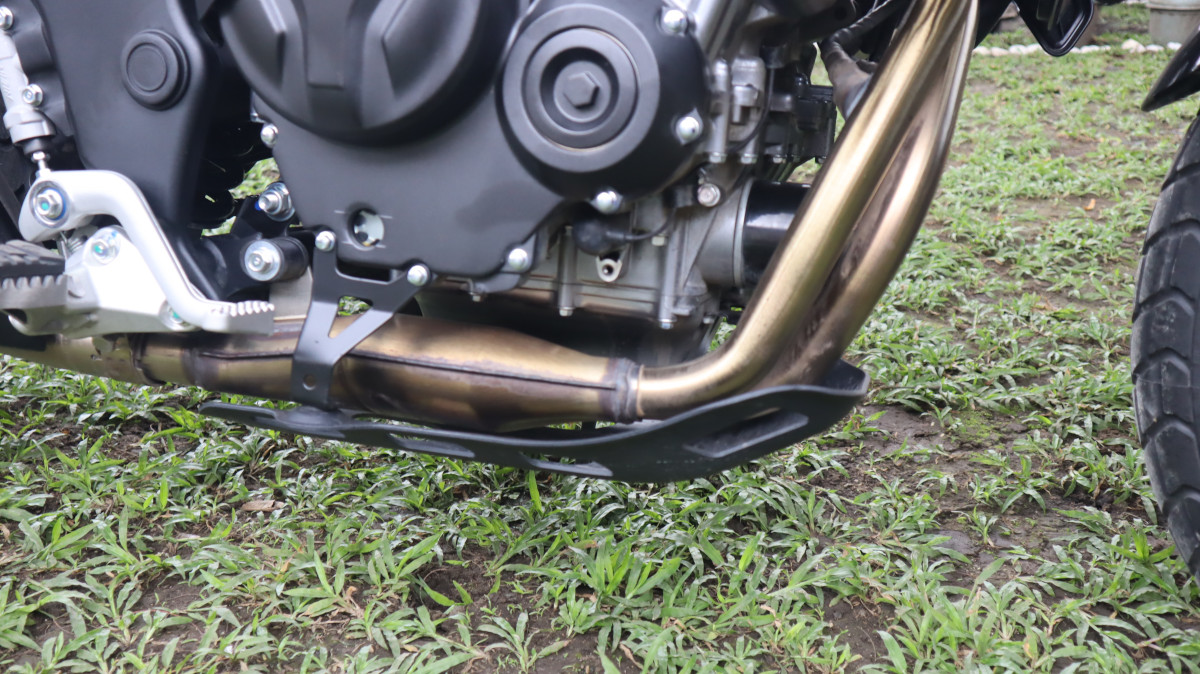 Verdict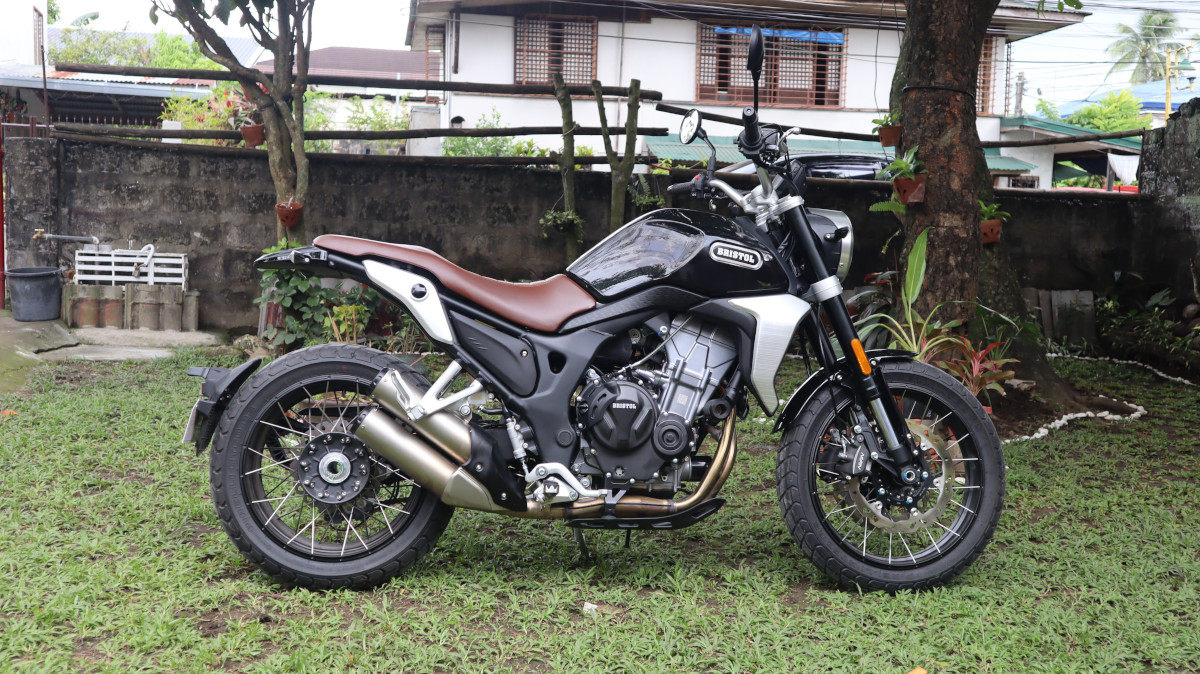 If you could only have one bike in your garage, the Veloce 500 is a safe bet. It's well above the minimum engine displacement for expressway use, capable enough both on- and off-road, tame enough not to get new riders into too much trouble, light and low enough for everyday commuting, and handsome enough to turn heads—all while staying reasonably priced. 

While there's still a couple of kinks to iron out, the Veloce 500 demonstrates how far Bristol has come in terms of design, manufacturing, and overall quality. With this level of performance and workmanship, we can't help but be excited to see more big bikes assembled here in the Philippines.
Specifications: 2021 Bristol Veloce 500
Price: P348,000
Engine: 471cc parallel-twin
Transmission: 6-speed manual
Power: 46.9hp @ 8,500rpm
Torque: 43Nm @ 6,500rpm
Score: 19/20