Tall, large, and expensive—these traits put adventure bikes out of many Filipino riders' reach. KTM's latest offering, however, is only one of those three things. Meet the 2021 390 Adventure, a sister unit of the hot-selling 390 Duke and a body double of the 790 Adventure. This new, so-called entry-level bike from the Austrian manufacturer is anything but.
Priced at under P1,000 per cubic centimeter of displacement, this tollway-legal, full-featured bike sounds a bit too good to be true. To find out if it is, we borrowed a demo unit from KTM Philippines and put it through its paces.
Styling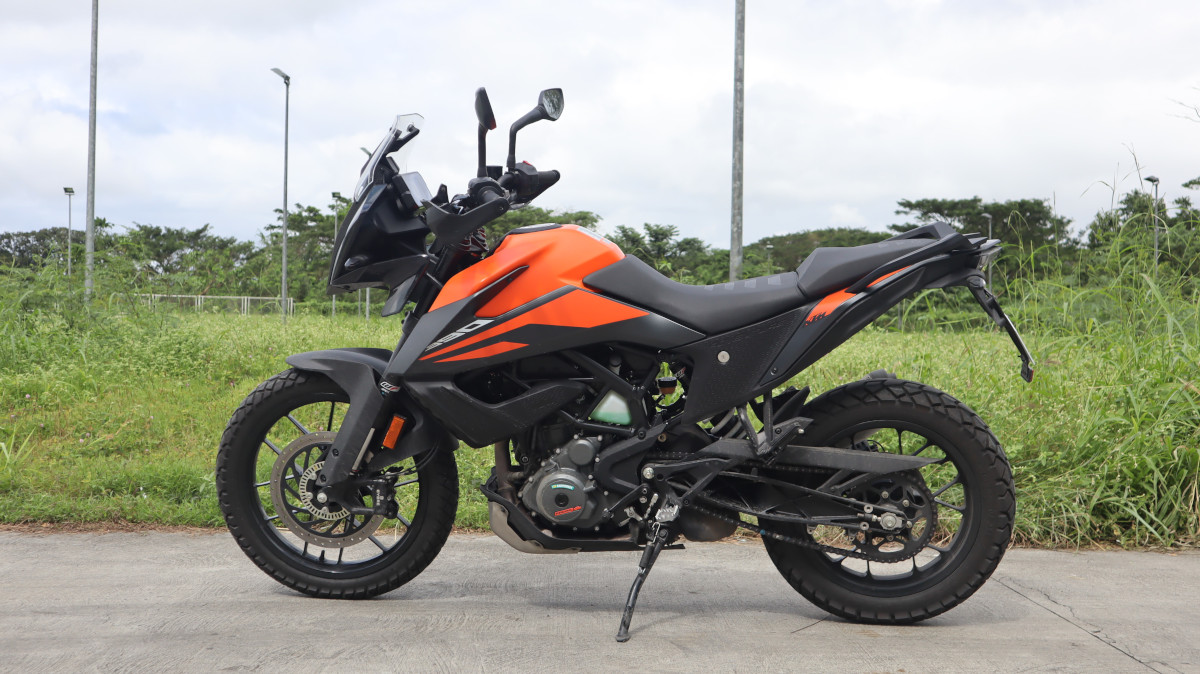 Continue reading below ↓
Recommended Videos
KTM's signature style is angular and alien-ish, and it shows in the 390 Adventure. While it shares an engine and other components with the 390 Duke, the Adventure model still manages to set itself apart.
This demo unit sports a premium lava-like orange color scheme with a matte finish, in contrast to the 390 Duke's glossy-ish orange. Seeing as how the 390 Adventure is built for getting down and dirty, the matte finish was the right call. The tires, meanwhile, are blocky enough to look off-road capable yet have enough tread surface area for on-road grip. The Continental rubbber works with the tall suspension and 19-inch front and 17-inch rear wheels to create a proper adventure-bike look.
We also noticed that the build quality is quite good, especially at this price point. The parts fit well with each other, nothing rattles unnecessarily, and the materials are quite premium, save for a couple of plastic bits and fasteners. Such quality is expected of a big-name European brand, and is something to be proud of since the 390 Adventure is Filipino-made.
The saddle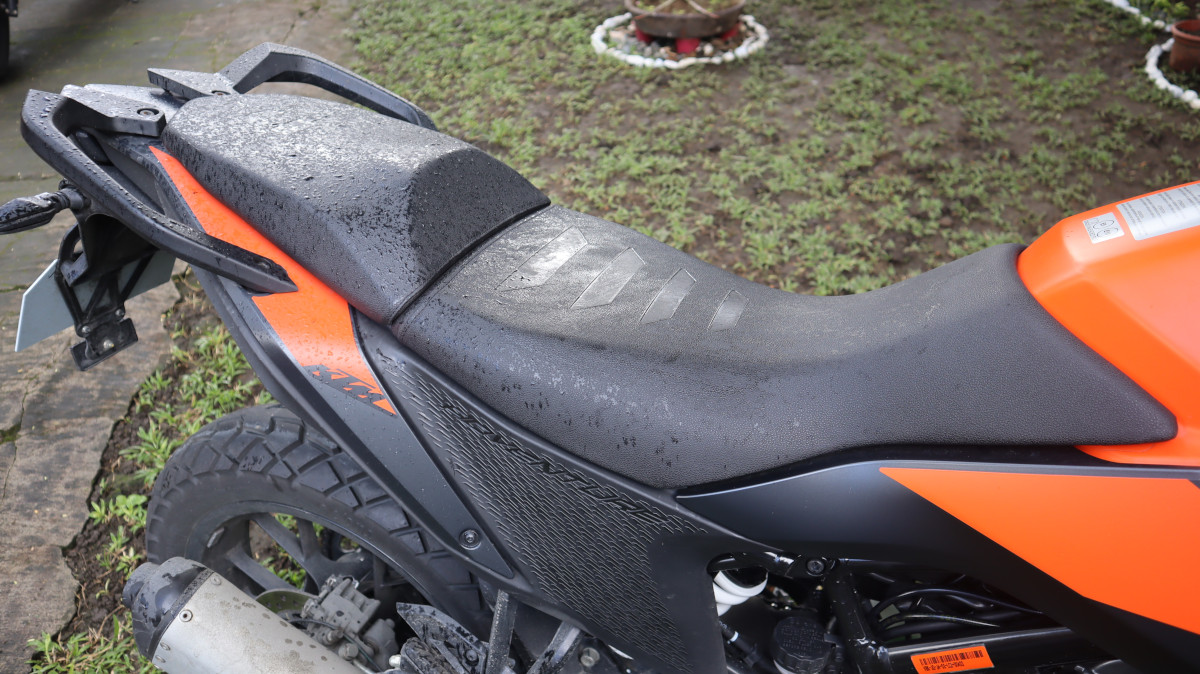 Despite being a fairly compact bike compared to other 1,000cc+ adventure models, the 390 Adventure feels almost as challenging in traffic, despite being a fraction of the size, weight, and power.
Part of what makes it challenging is the seat, which is not only as tall as those on bigger adventure bikes, but also a bit wider. On long rides, the 390 Adventure's seat is very comfortable and fully supports my backside. On the street and in traffic, its width makes getting a foot down on the ground challenging, which can be stressful for riders 5'7" or below. While bearable, the seat height and width make the 390 Adventure a suboptimal choice for a not-so-tall rider's daily ride. If you're above 5'9", or otherwise unbothered by tall seats, then this shouldn't be much of an issue.
Aside from the seat, rider accommodations on the 390 Adventure are remarkably nice. The handlebar is wide and comfortable whether seated or standing up, the pretty TFT display is legible and full of useful info, and the metal footpegs feel solid and grippy. One thing we didn't like so much is the windshield. Even at its highest adjustment, I still got a whole lot of air hitting my chest and stomach at highway speeds. Sure, you can get get a taller windshield from the KTM Powerparts catalog, but a more functional one straight out of the factory would have been nice. 
Engine performance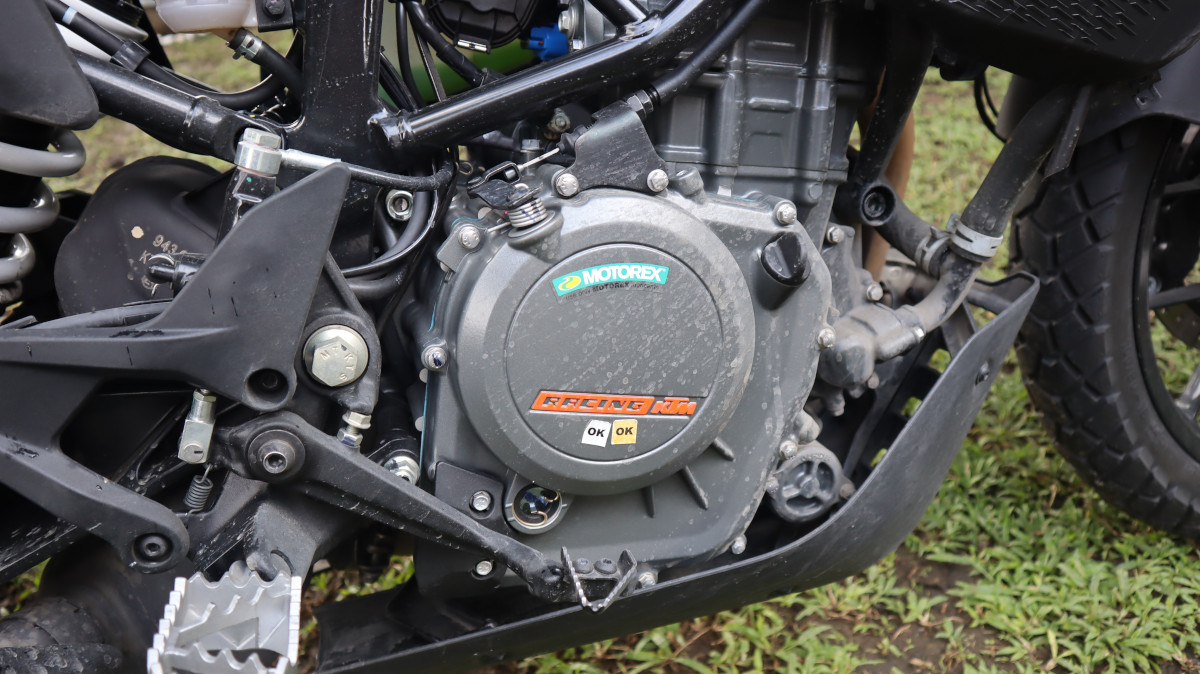 To save costs and to simplify manufacturing, the 390 Duke and 390 Adventure share the same 373cc, DOHC, single-cylinder, four-stroke engine. While this move might seem like a cost-cutting measure, it actually works out quite well. This thumper of an engine, tuned a bit differently for better off-road capability, produces a healthy 43hp and 37Nm of torque.
While not quite knock-your-socks-off fast, the 390 Adventure is plenty powerful for what it sets out to do and feels very substantial for something touted as an entry-level motorcycle. The torque might not be as immediate as on the sportier 390 Duke, but is still enough to confidently break away from the pack at a stop light. On the highway, the 390 Adventure can comfortably cruise at the speed limit. However, you will feel vibrations from the single-cylinder engine after long hours of cruising at triple-digit speeds, especially in the handlebars and mirrors.
In true modern adventure bike fashion, the 390 Adventure comes with traction control which can be toggled on or off.  The unit we were lent was also equipped with the optional bi-directional quickshifter package, which makes for effortless shifting and a sportier experience. If you'd rather not splurge on the quickshifter, the six-speed transmission on the 390 Adventure is pretty nice on its own. The clutch lever is light, and the gearbox itself is smooth and satisfying to shift through.
Ride and handling
To qualify as a worthy adventure machine, a bike needs capable long-travel suspension, and the 390 Adventure's WP Apex setup is more than sufficient. KTM's in-house suspension affords the 390 Adventure nearly seven inches of suspension travel, allowing it to do a great job of soaking up whatever bumps you may come across. The bike handles well, too.

What's more, the inverted fork is hand-adjustable for compression and rebound with a clicker system on top of either fork leg. For street use and light off-roading, the basic setting on the fork is adequate, even for a 180-ish pound rider. The front, though, tends to dive a bit more than we'd like under heavy braking. For more substantial off-road activities or heavier loads, the suspension adjustments are just a couple of clicks away. The rear mono-shock is also adjustable for spring preload and rebound damping.
Stopping power on the 390 Adventure comes courtesy of a ByBre four-piston caliper and 320mm rotor up front, and a two-piston caliper and 230mm rotor combo in the rear. The setup has a good amount of bite and isn't too pricey. These brakes also happen to be fitted with Bosch two-channel cornering-sensitive ABS. A great thing to have on the street, but not so much off-road. The ABS can be turned off, thankfully, but only in the rear. 
The Continental TKC 70 tires perform well on- and off-road, though anyone looking to go on serious expeditions will be better served by buying more capable rubber.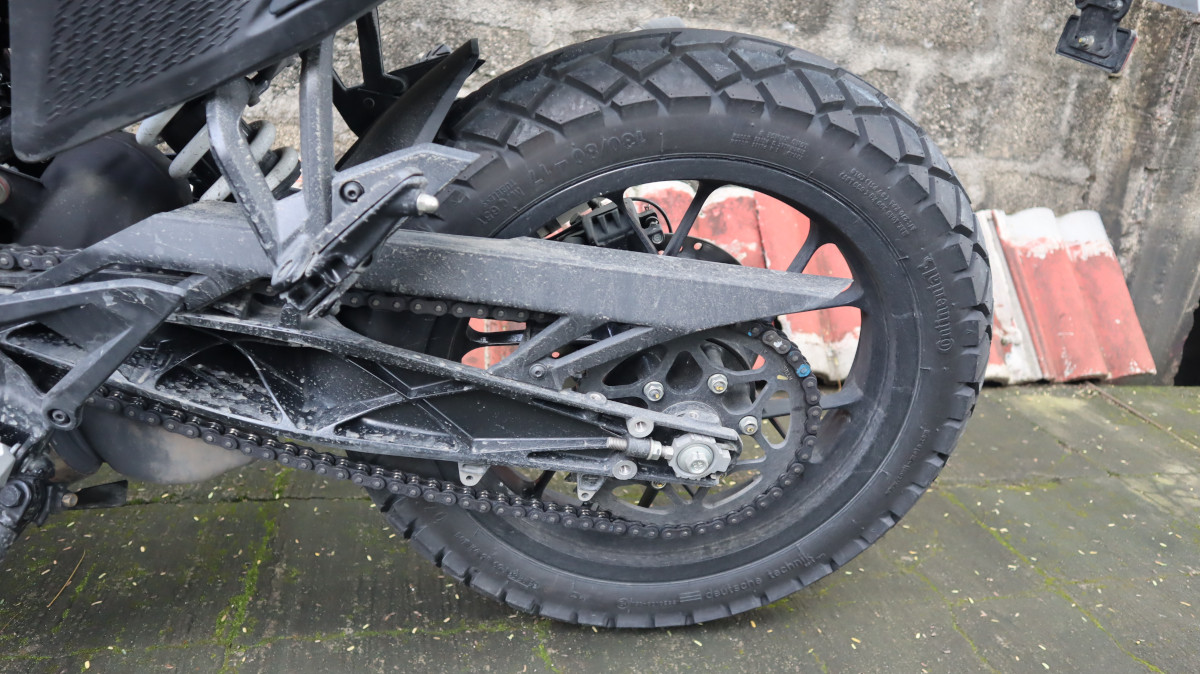 Extra features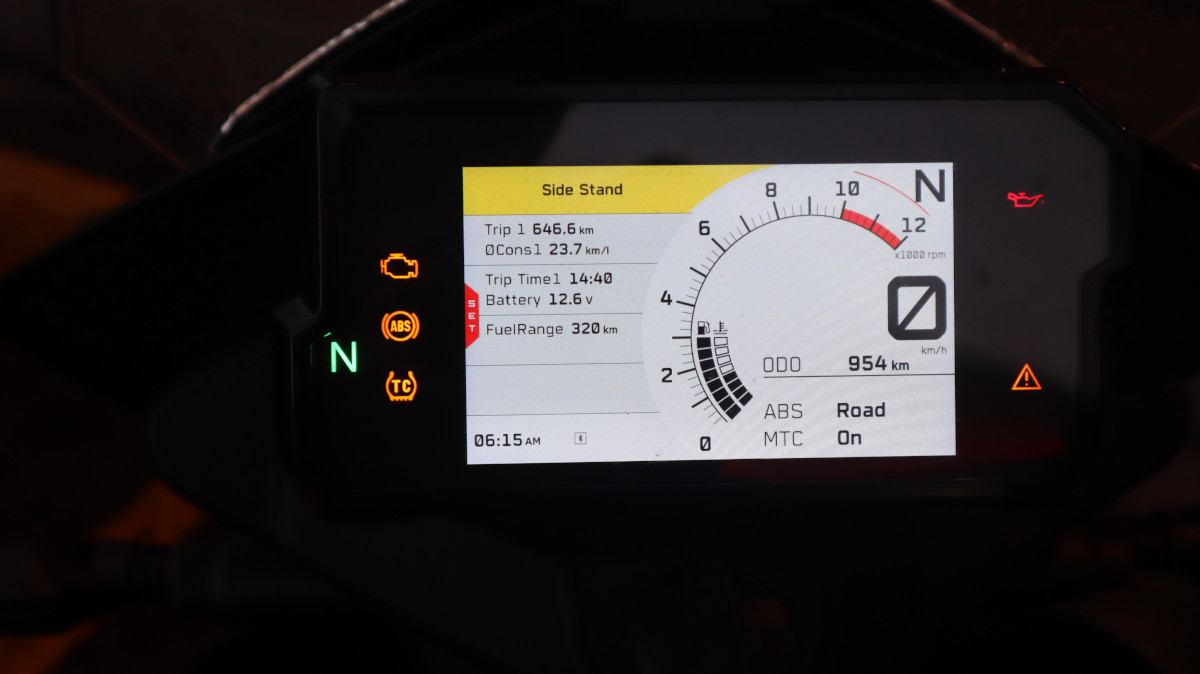 For an entry-level model, the 390 Adventure comes loaded with features. Starting with the dash, the TFT display is full of neat features like two trip meters, detailed warning and service reminders, a gear position indicator, smartphone connectivity, and more. Below this is a 12V car-style power socket, though a USB charging port would have been nice, too.
Above the dash and below the adjustable windscreen is a mounting point for GPS units, further enhancing the 390 Adventure's touring chops. Under the seat is a small storage compartment big enough for the bike's papers, a small tool kit, and maybe an emergency raincoat.  To avoid overheating, the 390 Adventure comes with a larger curved radiator. This revised cooling system allows better heat dissipation, and makes sitting in traffic more bearable for both bike and rider.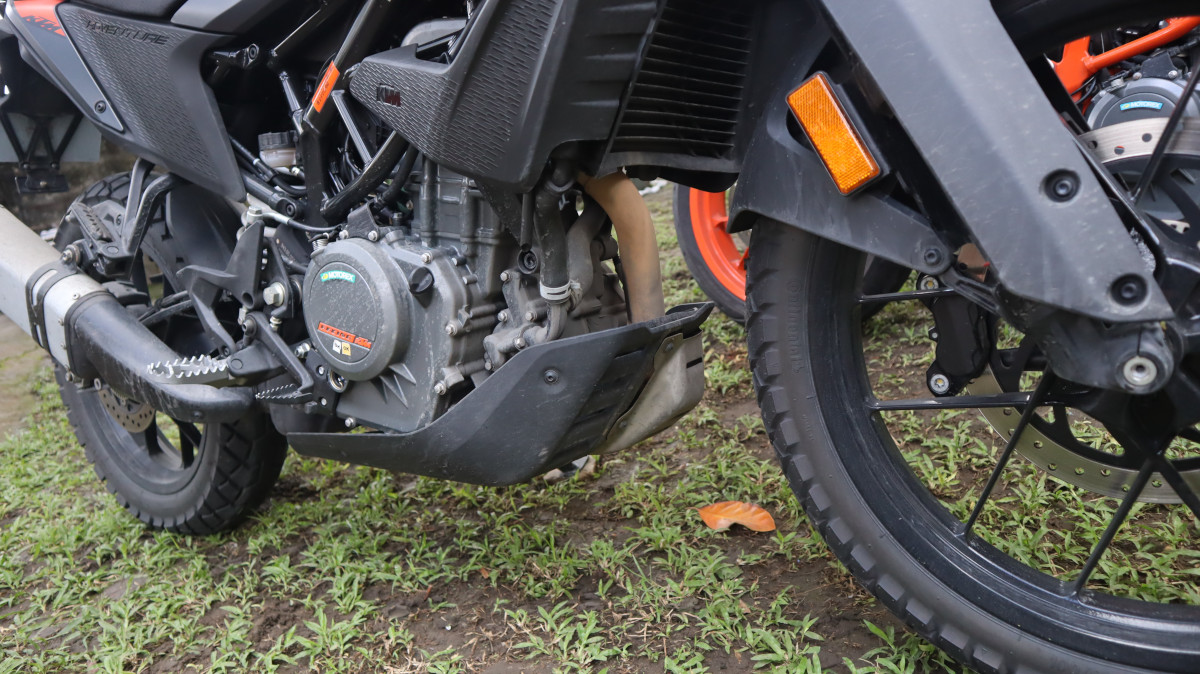 Verdict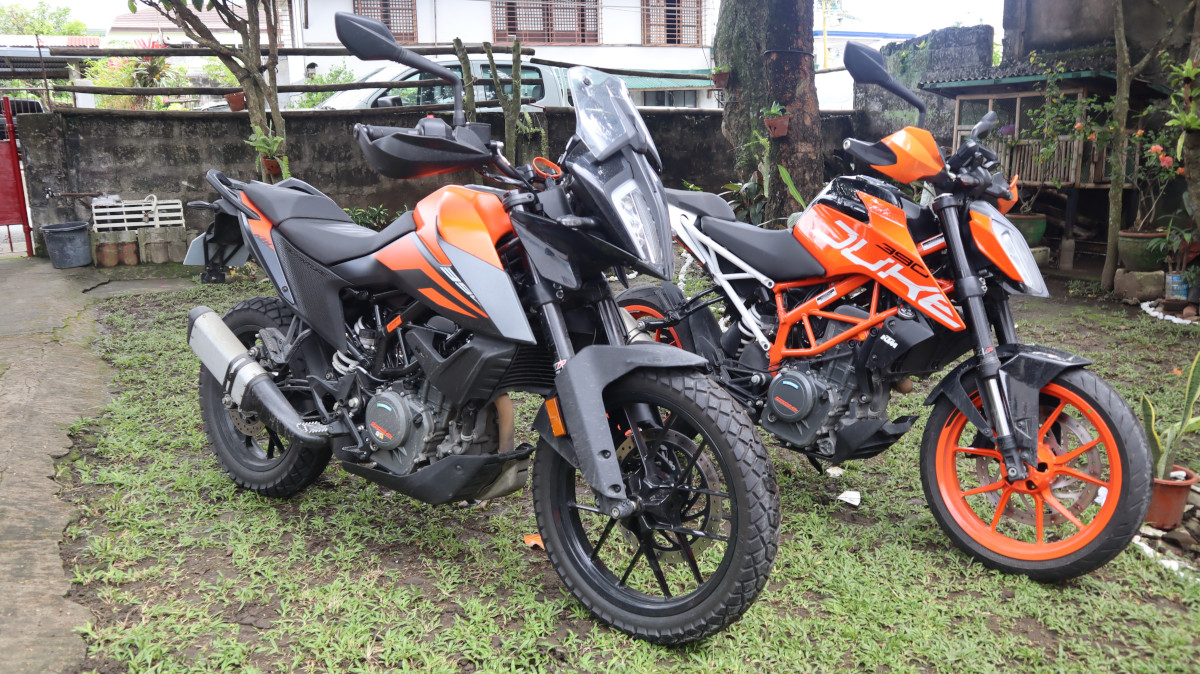 For anyone looking for an approachable adventure bike that makes no compromises, KTM's 390 Adventure offers great value for money. Sure, it's not as fancy or off-road-ready as some other models out there, but it's light, well-specced, has a manageable amount of power, and handles well.
Whether it's your first bike or a value-conscious foray into adventure riding, it's hard to go wrong with this one—as long as you can handle the height.
Specs: 2021 KTM Duke 390
Price: P309,000
Engine: 373cc DOHC single-cylinder
Transmission: Six-speed manual
Power: 43hp @ 9,000rpm
Torque: 37Nm @7 ,000rpm
Score: 19/20