For a company as old as Royal Enfield, using the same platform for a while is to be expected, especially considering its reputation for tried-and-tested formulas. This is certainly the case with the 350cc single-cylinder-powered platform that has found itself in the Classic 350 and Thunderbird in RE's home market of India.
So, it came as a surprise when the British-turned-Indian marque announced that it will be building a totally new motorcycle from the ground up. Enter the Meteor 350, the first new 350 platform from the brand in over a decade. With suave cruiser looks, a laid-back yet capable engine, and Royal Enfield dependability, does the Meteor represent a step forward for the company? Read our full review below to find out.
Styling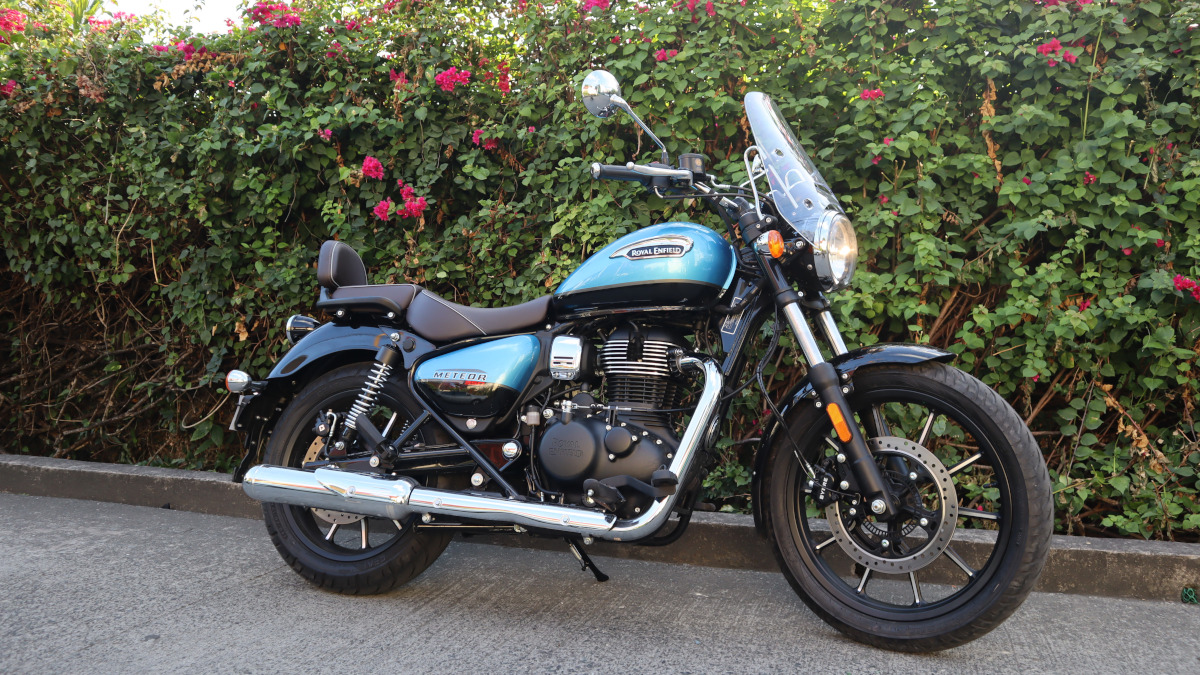 Continue reading below ↓
Recommended Videos
If there's one thing I gleaned from when I first saw the Meteor online a while back, it's how handsome the bike is. Now that I've been able to admire and caress the motorcycle in the metal, my sentiment holds true.
All the proportions are just right—the classically shaped tank reminiscent of big-bore American cruisers, the 19-inch front wheel, and the chrome exhaust pipe all come together to make the Meteor look as substantial as possible for a 350.
The attention to detail is also commendable, with all control surfaces feeling solid and high-quality, including the switchgear that's now made of thicker, more premium plastic than previous Royal Enfield models. The paintwork is stellar, the decals are made of decently thick metal, and the seat looks and feels properly upmarket. Save for some loose wires, such details make the Meteor a showcase of how far RE has come in terms of manufacturing, with quality that's just about ready to go toe-to-toe with European bikes.
The saddle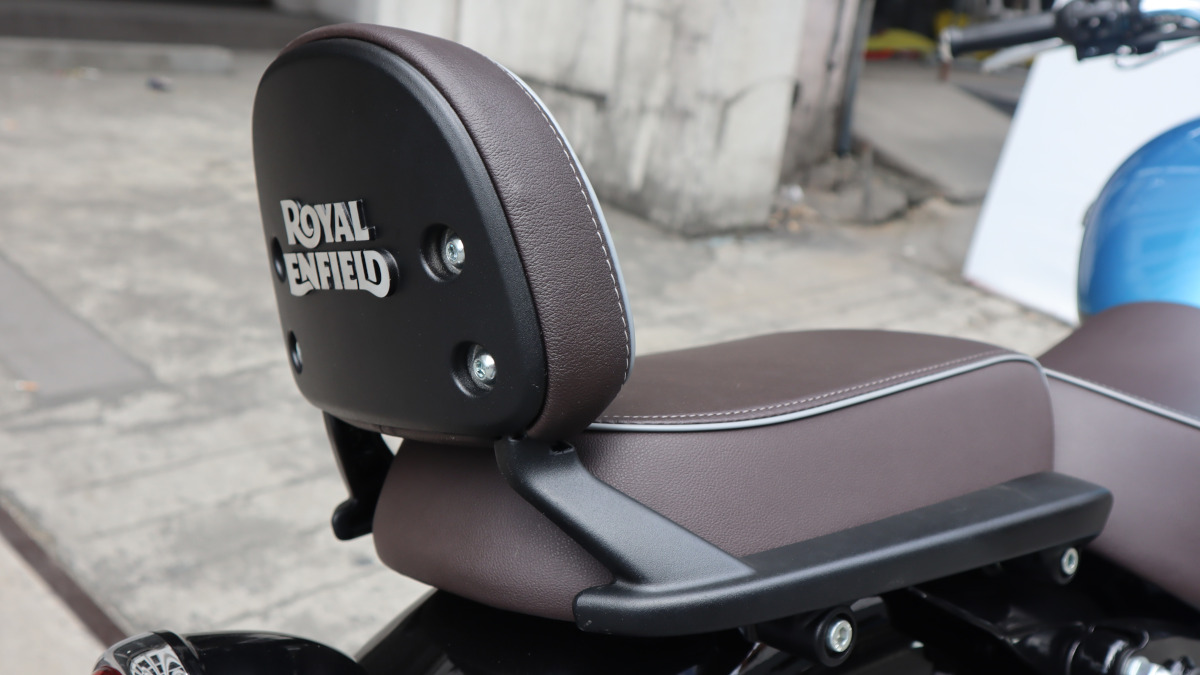 When I rode the Meteor home, I first noticed how easy it was to ride. With a reassuringly low 29.7in seat height with comfortable cushioning, a chassis that's slim between the legs, and laid-back cruiser ergonomics, the Meteor is a textbook example of how easy motorcycling can be.
While forward controls like those found on the Meteor aren't my preference, I understand why some people like them, especially with how comfortable my legs are when cruising down a long stretch of road. On the topic of foot controls, the distance between the shifter and the foot peg is a bit closer than I'd like, but a tricycle-style heel shifter eliminates the need to try and wedge my foot underneath on upshifts.
Included in the top-of-the-line Supernova variant is a clear plastic windshield that does a decent job of deflecting wind at cruising speeds, as well as a passenger backrest with neat Royal Enfield branding. Said backrest is prone to getting hit by your foot when mounting and dismounting, but it's a small price to pay for added passenger comfort.
Engine performance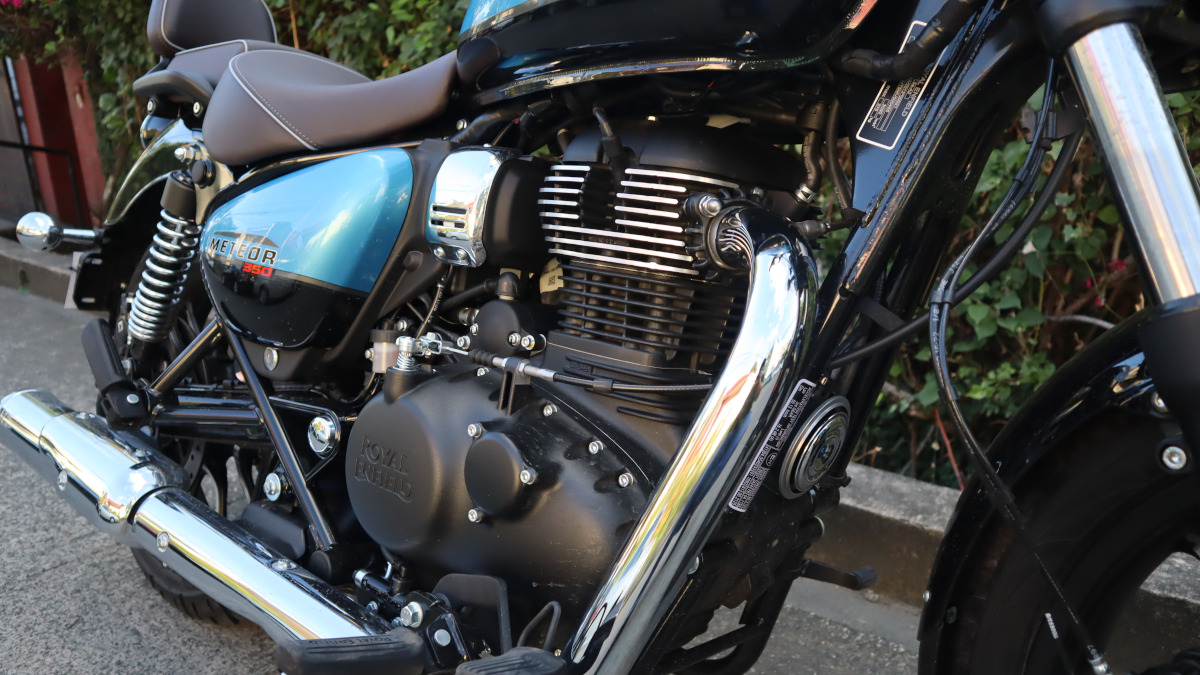 The 349cc SOHC air- and oil-cooled single-cylinder engine nestled in the Meteor's frame is good for 20.2hp at 6,100rpm and 27Nm of torque at 4,000rpm. While it doesn't put out ground-breaking power figures, the powertrain is plenty capable for what it sets out to do. With some encouragement, the thumper will eventually get the Meteor to triple-digit speeds, and it will stay smooth and composed the whole time, making the leisurely pace a bit more enjoyable.
Vibrations that would typically be expected in a single-cylinder engine of this size are mostly eliminated thanks to a balance shaft. Sound-wise, the Meteor's heart sounds more gentle than its name would lead you to believe.
The five-speed gearbox that the engine is paired with is simple and sure, with a satisfying clunk signifying every gear change. Clutch pull is smooth, though the bite point can feel a bit vague.
Ride and handling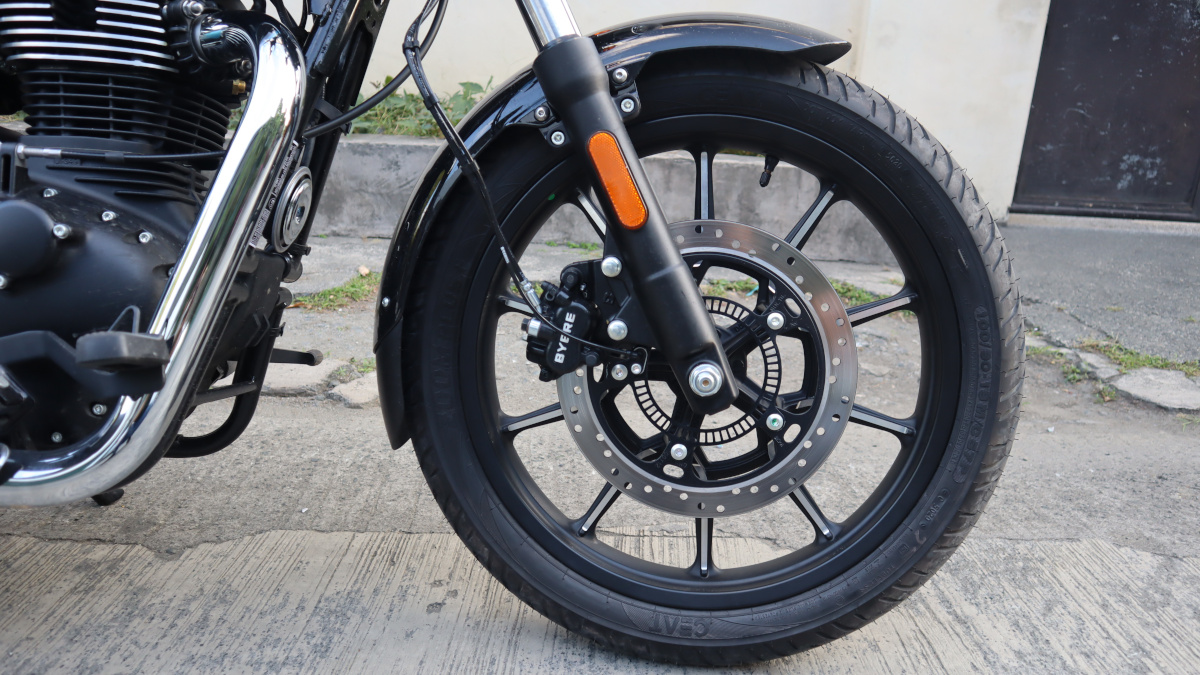 Considering the Meteor's relatively basic suspension setup, it handles quite well. Straight line stability is good, and so is the road absorption. Cornering feels stable and confident, allowing the rider to hustle the bike down a twisty road and have fun doing it.
The brakes are ABS-equipped Bybre units, with a two-piston caliper chomping onto a 300mm rotor up front and a single-piston caliper squeezing a 270mm disc at the rear. While lever feel is a bit mushy and the response isn't as immediate as you'd expect from Brembo-backed brakes, the stopping power is adequate for a bike of this weight and power.
Extra features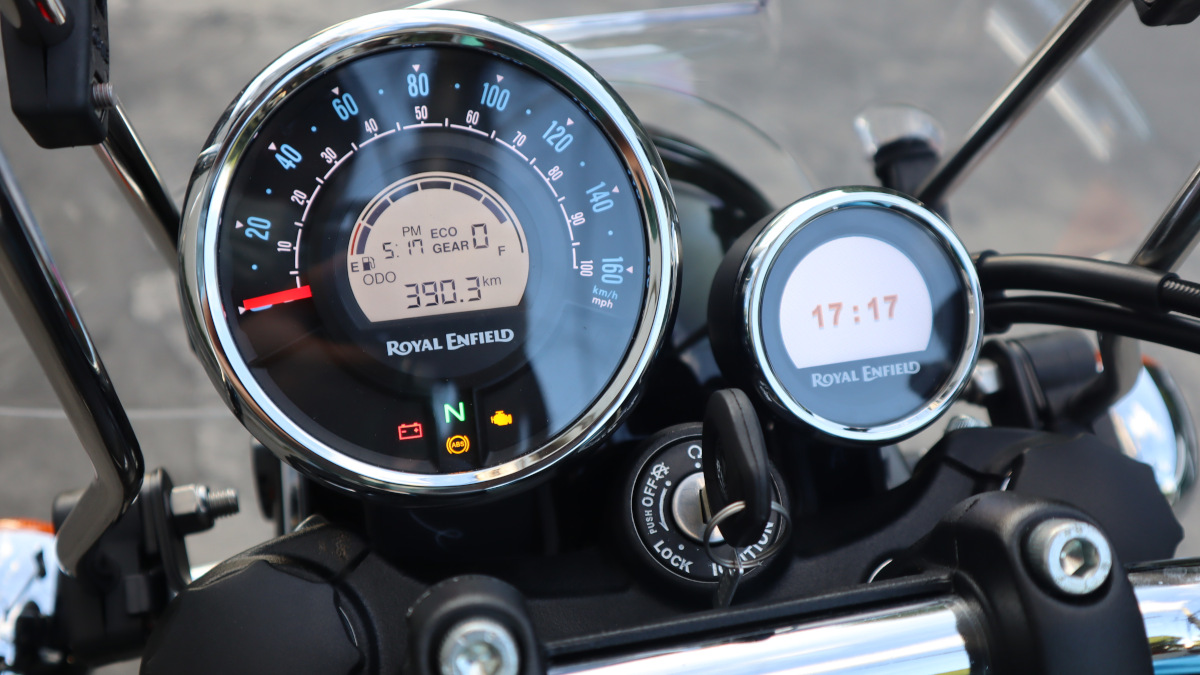 Already a well-rounded package, the Meteor comes off the production line with some neat extras. One of these is Royal Enfield's in-house Tripper Navigation system. Positioned next to the analog/digital main gauge, the Tripper pod is a little round screen that connects to your smartphone and provides turn-by-turn navigation. Powered by Google Maps, Tripper is a simple but foolproof way to get directions. Unlike most navigation apps, the Royal Enfield app is specifically tailored towards motorcycling, and as such only shows the most essential info on the small display. Directions are provided in the way of turn direction, distance in meters, and a little preview of the next turn.
In addition to the built-in navigation, the Meteor also gets a USB charging port for keeping your phone powered, a center stand for easier maintenance, and a gear position indicator.
Verdict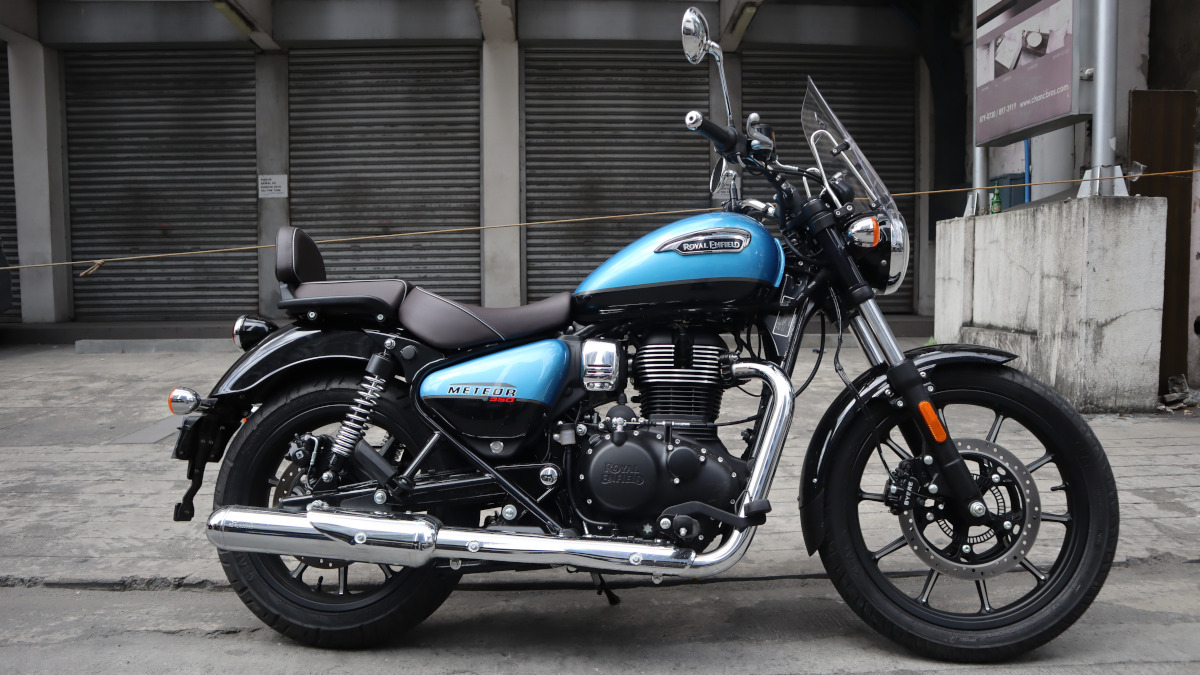 As far as low-displacement cruisers go, the Meteor has everything you would look for: comfy ergonomics, just the right amount of features, a smooth engine, classically handsome styling, and an overall stress-free demeanor.
It would have been a plus if the Meteor were expressway-legal, but it's bikes like this that remind us that tollway riding isn't everything. With a motorcycle this easy to ride, taking the longer route isn't such a bad thing.
SPECS: 2021 Royal Enfield Meteor 350 Supernova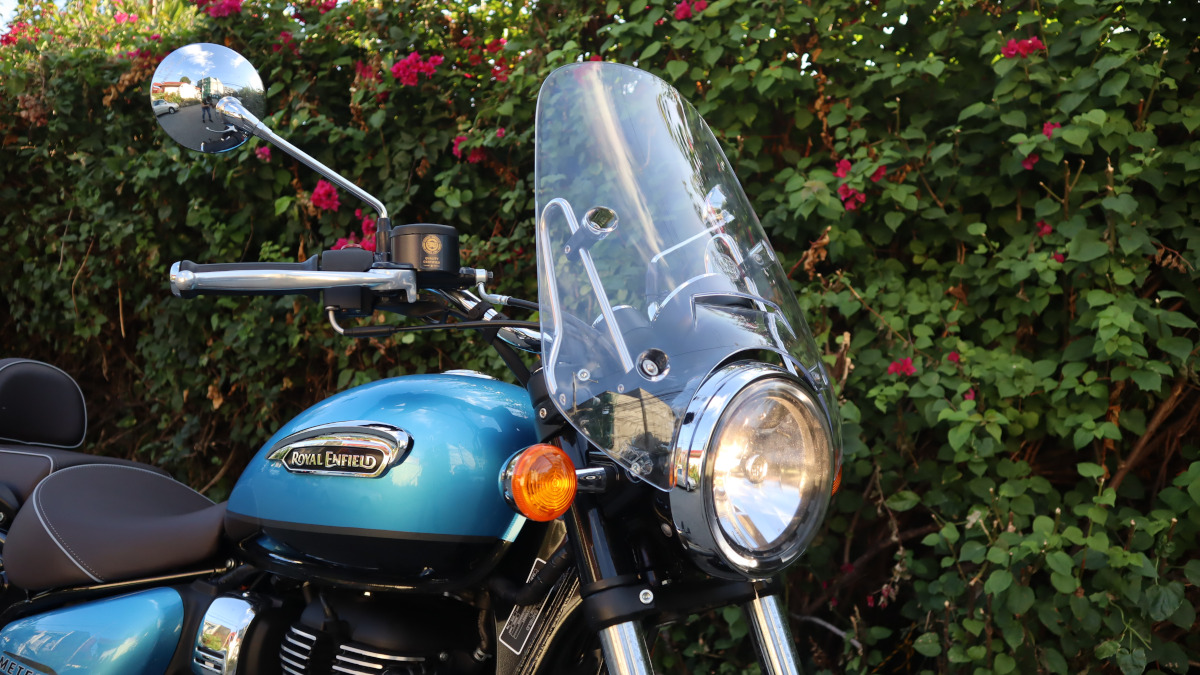 Price: P252,000
Engine: 349cc SOHC single-cylinder
Transmission: Five-speed manual
Seat height: 29.7in
Power: 20.2hp at 6,100rpm
Torque: 27Nm at 4,000rpm
Score: 18/20