Recently, Kymco launched a couple of bikes aimed squarely at the middleweight maxi-scooter segment: the X-Town CT 300i and the Downtown 350i TCS. Both these maxi-scoots are geared towards riders making the jump from 125 to 150cc scooters. 
However, neither of those scooters are expressway-legal. According to Kymco, there is more to motorcycling than riding on tollways, since they only encompass about 8% of Philippine roads. With this in mind, Kymco confidently offers its 300cc scooters as a fun and practical means of exploring the countryside and enjoying what side roads have to offer.
To experience this for ourselves, we borrowed the Downtown 350i TCS. Read on to see what we think of this sport touring scooter.
Styling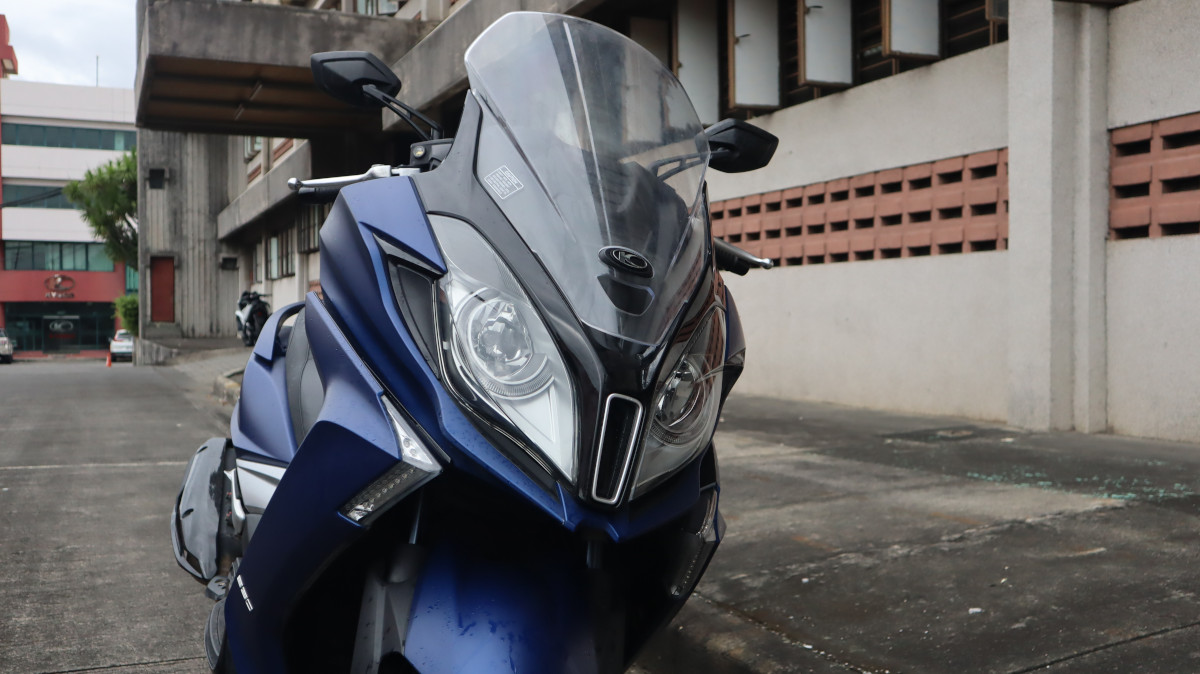 Continue reading below ↓
Recommended Videos
True to Kymco's maxi-scooter styling, the Downtown's full-sized silhouette is adorned with sharp, well-sculpted bodywork. Every design element, from the pointy futuristic LED headlights to the car-like rear end, looks premium and modern. In the Deep Blue color my review unit came in, the Downtown bears a resemblance to its bigger stablemate, the Xciting S 400i, hinting at the sport-touring DNA the two share.
The saddle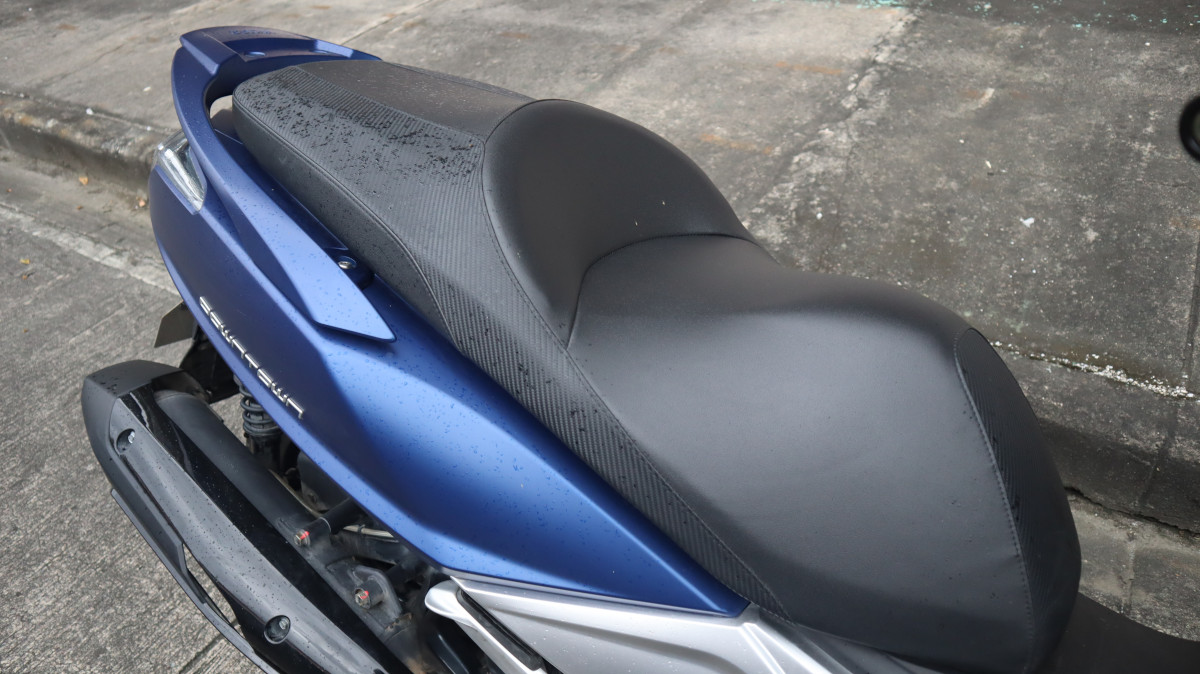 As a scooter intended for sport touring in comfort and style, the Downtown easily hits its mark. The seat might be a bit tall, but the narrowed section between the legs makes stops easy for the average Filipino rider. The generous cushioning is ideal for long hours on the saddle, and the contours support the rider's rear in addition to acting as lower back support.
The step boards are roomy enough to comfortably accommodate adult-sized feet in riding shoes. There are also forward foot rests for relaxed cruising, a feature that I think is essential on any maxi-scooter.
The handlebar and mirrors are well-placed and don't impart too much unnecessary vibrations, and the combination of a digital screen and analog gauges make viewing the bike's stats easy. The LCD screen does mean that the Downtown in our market doesn't receive Kymco's Noodoe technology, which would have been nice to have.
Lane filtering is totally doable here, thanks to the smooth throttle and low center of gravity. Still, its overall size and length does mean that it won't be quite as easy to slip through packed traffic compared to a small scooter.
Engine performance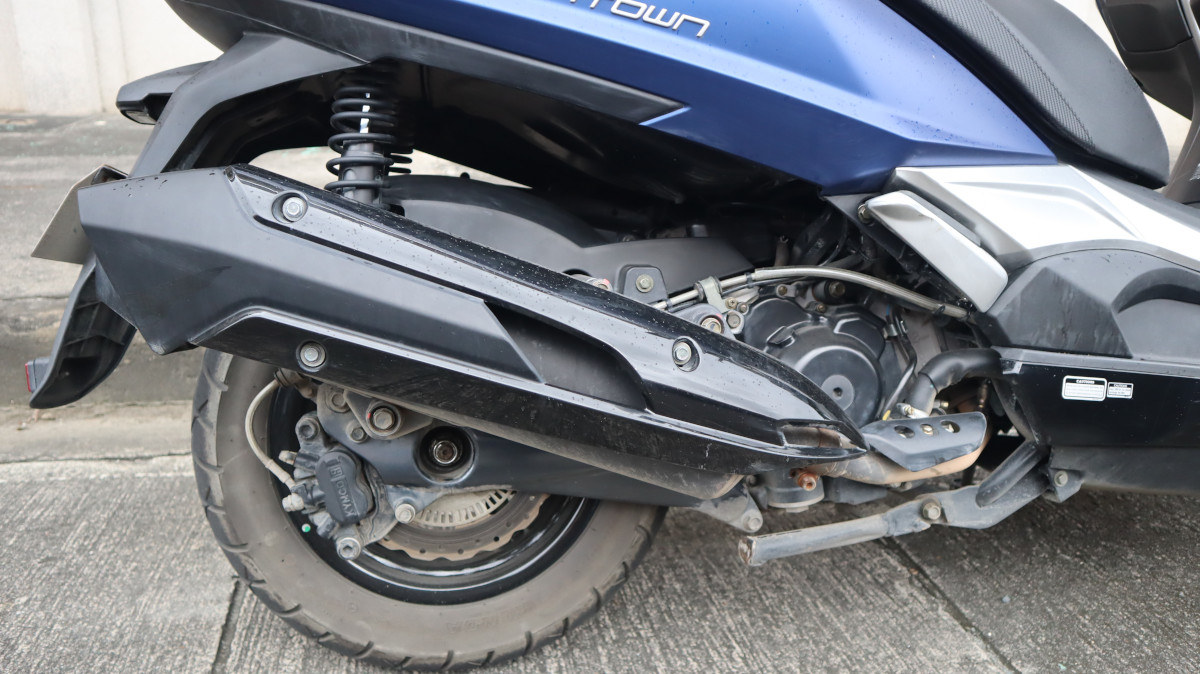 Powering the Downtown is a 350i TCS is a 320.6cc single-cylinder, liquid-cooled, four-stroke engine good for 30hp and 29.42Nm of torque. Intended for city riding as well as touring, the Downtown's engine produces power smoothly and predictably, and is matched to a CVT that allows for worry-free riding.
The Downtown is definitely not lacking in grunt, as it will surely put a big fat grin on your face if you twist the throttle with enough enthusiasm. Acceleration is brisk and overtaking capability is impressive, and for more relaxed rides, the engine will happily chug along at a snail's pace without complaint.
Ride and handling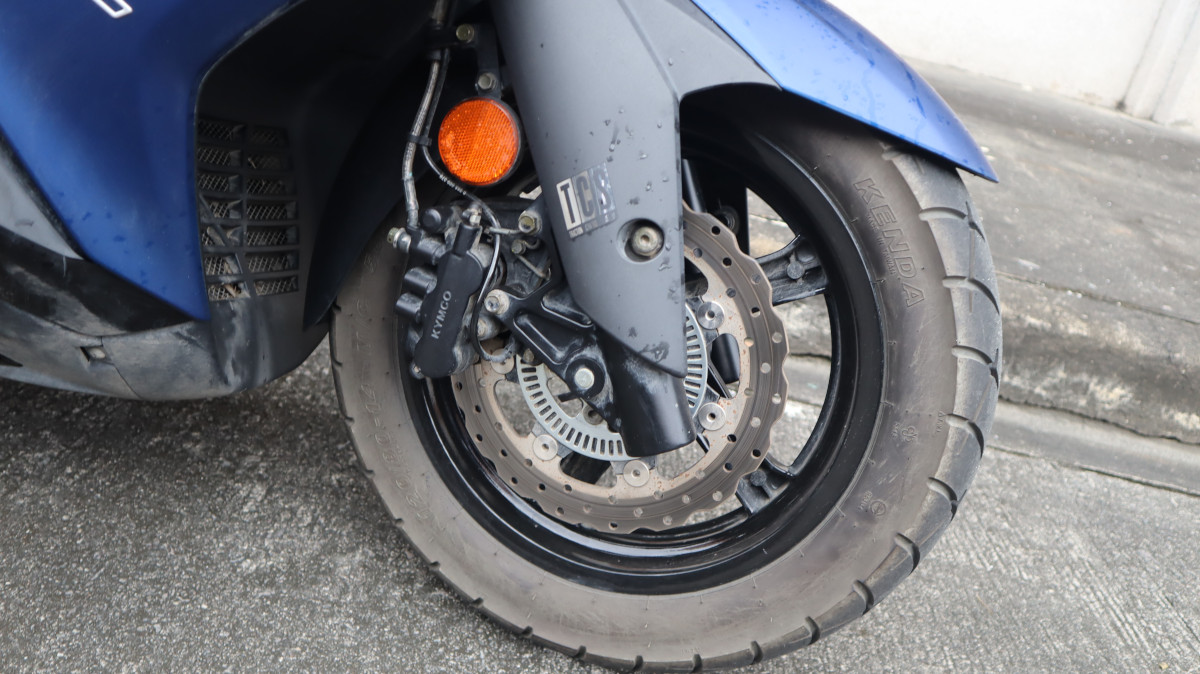 A non-adjustable telescopic fork takes care of suspension duties up front, and the rear is handled by adjustable twin shocks. Despite this simple setup, the 189kg maxi-scooter handles with finesse and agility. With a rigid steel frame and up to 39 degrees of lean angle, the Downtown is stable around a corner. In fact, the maxi-scoot's already ample cornering ability is aided by the switchable traction control system, which makes for even more planted handling.
Stopping power is provided by a 260mm disc in front and a 240mm disc in the back. Both ends are equipped with full Bosch 9.1M ABS. While the brake setup as a whole is perfectly adequate in bringing the Downtown to a stop, the rear brake could use a little bit more bite for slower speed maneuvers. While perfectly composed on well-paved roads and even on minor bumps, the otherwise smooth-riding chassis can be upset by larger obstacles and potholes.
Extra features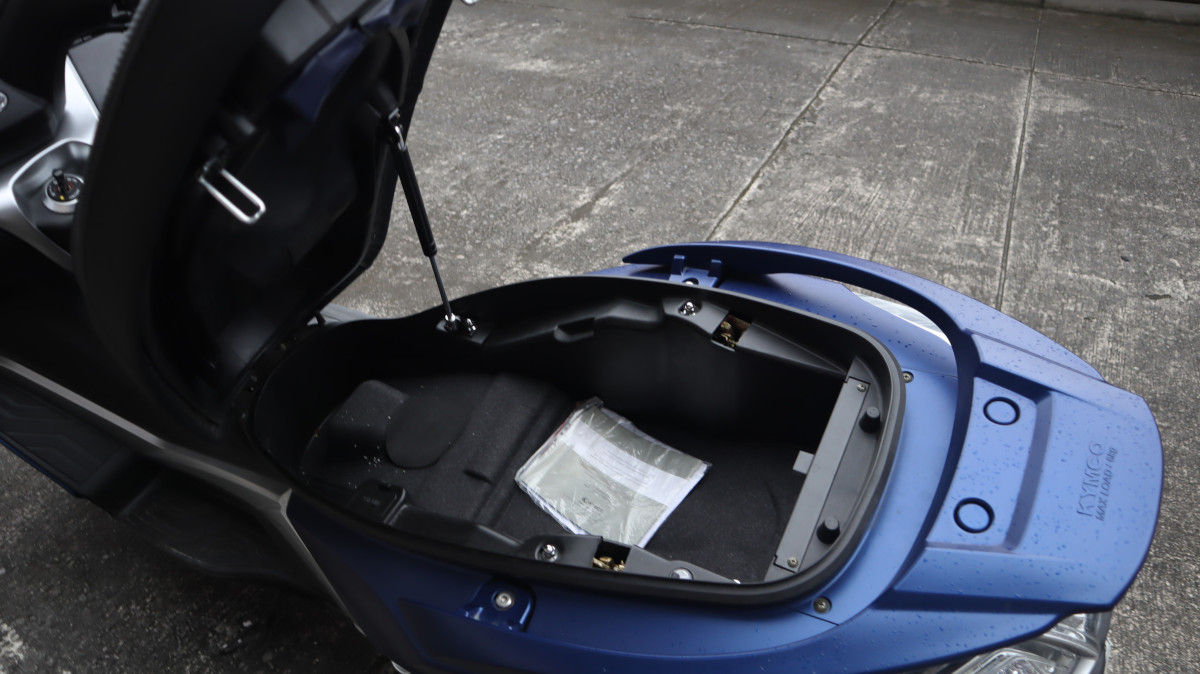 A plethora of neat features is now par for the course for maxi-scooters, and the Downtown excels in that department. Starting with the front area, there are two closable cubbies, and the left cubby is equipped with a covered USB charging port. The LCD screen has functions like trip meters, a clock, engine temperature, voltage meter, and more. On the handlebars you'll find the usual turn signals, ignition, and high-beam switch, as well as some features that should be standard on all bikes like a trigger-style passing light switch, a hazard switch, and adjustable brake levers. Also found on the handlebars is the TCS control.
Under the seat is a spacious storage area with a hydraulic lifter and a light. Storage space is said to be enough to fit two helmets. While roomy and carpeted to protect valuables, the underseat storage area can get a bit warm while riding, so heat-sensitive cargo should be carried elsewhere. Also on the rear end is a sort of spoiler-looking bit that is stylish and functional, as it also works as a passenger grab handle. Judging by the 'MAX LOAD: 5kg' stamped onto it, it likely functions as a makeshift luggage rack as well.
Verdict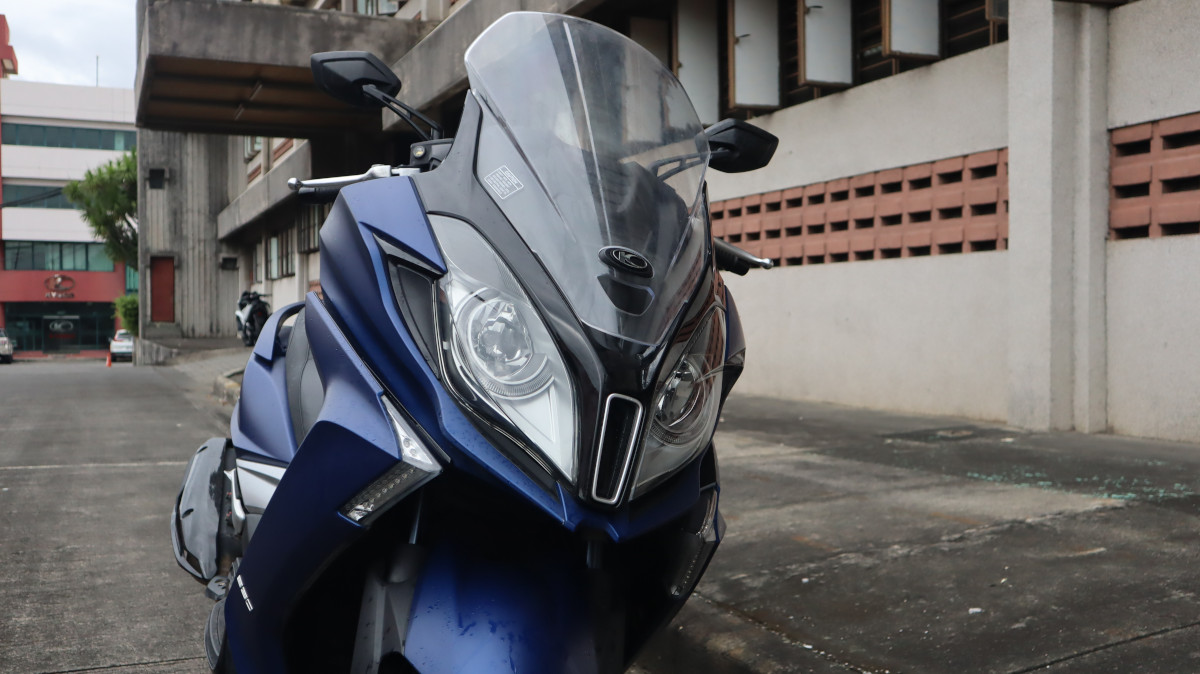 The Downtown is one of the most comfortable bikes I've ridden, and it really does fit the bill as a comfy sport tourer made for city and toll-free highway riding. However, there is one thing that I think is a missed opportunity: Noodoe capability. Kymco's smartphone connectivity and infotainment system, combined with a TFT display, would have made for an even better touring experience.
Nonetheless, the Downtown 350i TCS still meets expectations. It's elegant, stylish, and comfortable while remaining enjoyable, dynamic, and fun to tackle corners with. If you're in the market for a tourer and prefer picturesque scenery, historic landmarks, and underrated local eateries over the vast but monotonous straight roads and repetitive gas stations of tollways, maybe the Downtown is right up your alley.
Specifications: 2021 Kymco Downtown 350i TCS

Price: P259,000
Engine: 320.6cc SOHC
Transmission: CVT
Power: 30hp @7750rpm
Torque: 29.42Nm @6500rpm
Score: 18/20