I recently noticed that the motorcycle jacket I've been using for the past three years is starting to look worn. Normally, I'd be too frugal to care about a jacket looking distressed, but since it's a piece of gear that I trust with my precious skin in the event of a slide, I can't afford to be cheap.
This brought me to MotoMarket in Pasay. I ended up walking out with the RS Taichi RSJ320 Crossover Mesh Jacket—a high-airflow piece of riding gear that I thought was perfect for the perpetual summer heat of the Philippines.
Now that I've broken it in over a few hundred kilometers, here are my thoughts on this reasonably priced jacket from the popular Japanese gear brand.
Styling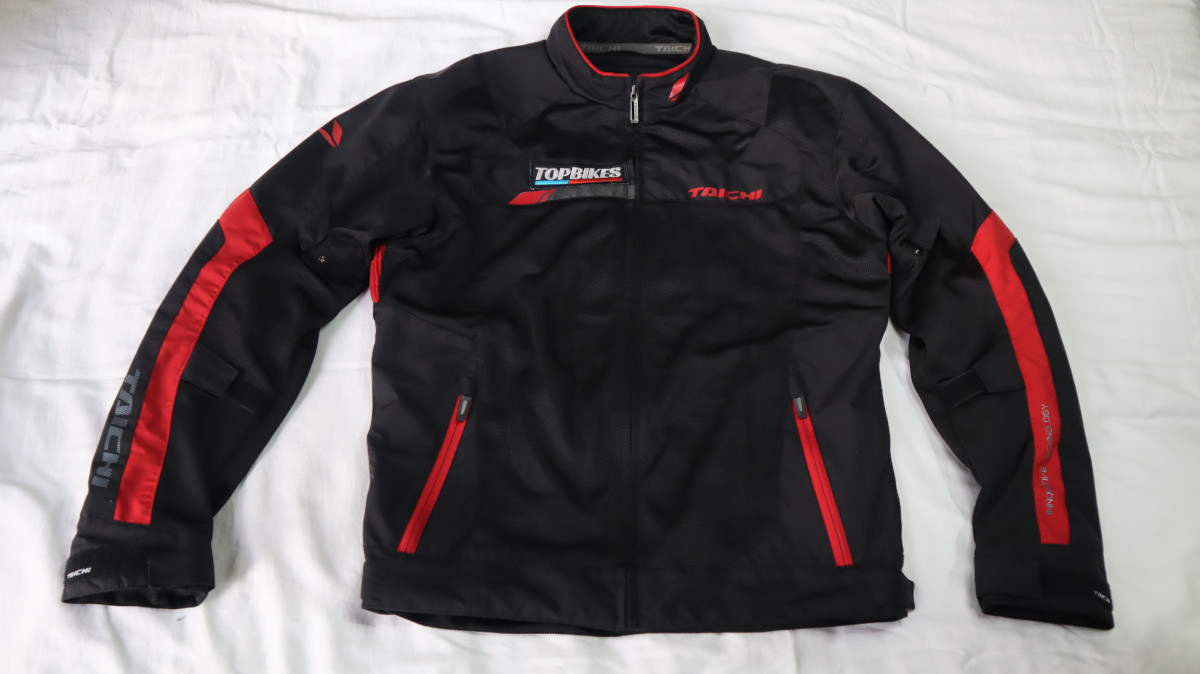 Continue reading below ↓
Recommended Videos
RS Taichi gear tends to look a bit sporty, and the RSJ320 is no exception. The jacket itself is black, which makes it easy to pair with other gear and pretty much any kind or color of motorcycle. There's a smattering of red accents on the jacket that compliment the black base, adding a sporty pop to the otherwise stealthy number. Integrated into these accents are several variations of visible, but not tacky, RS Taichi branding, as well as reflectors that make the rider easier to see at night.
The jacket's shape and silhouette are just right—not too baggy or slim—with several sizes as well as points of adjustment to fit most body types. I bought mine in a size XL, which fits my 5'7" frame.
Unlike some other street jackets out there, the RSJ320 will have a hard time passing as a regular piece of clothing due to the branding and decals, the adjustment straps, and the accordion stretch panels on the back.
Comfort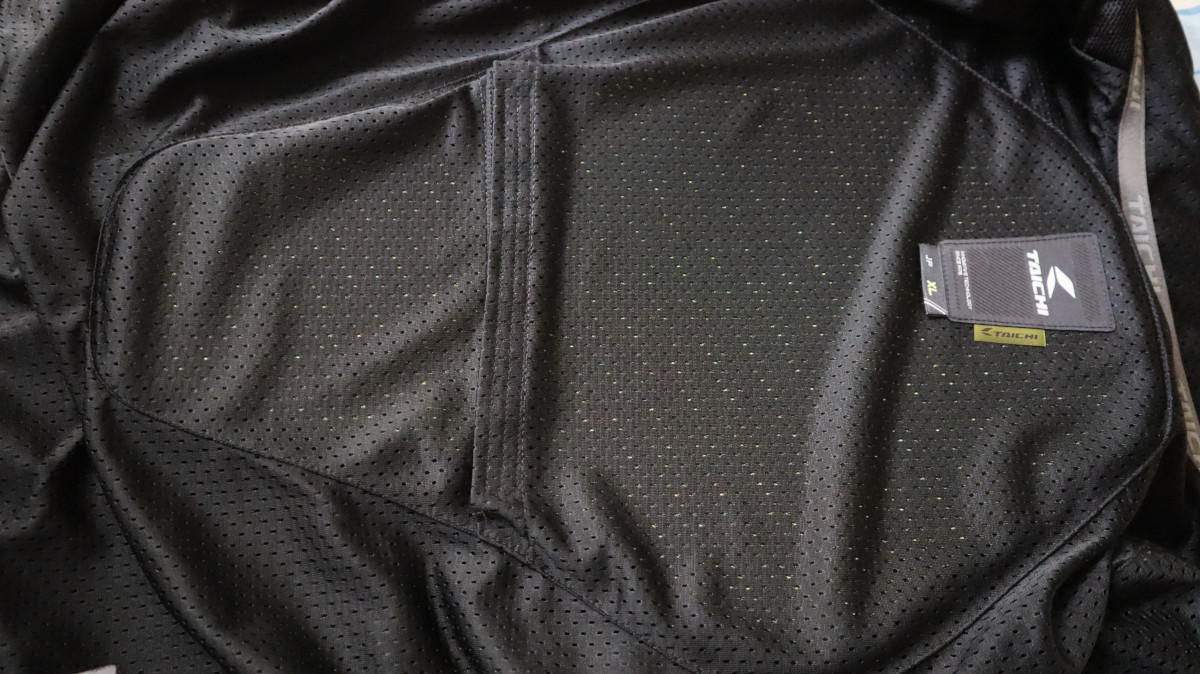 Mesh-type jackets like this one allow for air to flow through and cool the rider without sacrificing safety and structural integrity. The RSJ320 does its job perfectly, keeping me cool so long as I'm not stuck in bumper-to-bumper traffic. But even when I'm stuck in heavy traffic, I don't feel like I'm slowly roasting inside my gear thanks to the ample ventilation, as well as RS Taichi's T-DRY sweat-absorbing material that quickly dries perspiration for better cooling.

On the bike, the RSJ320 jacket feels comfortable in pretty much any conceivable riding position while still providing full coverage. For a more personalized fit, there are several adjustment straps on the waist, wrists, forearms, and biceps. This amount of customization means a safer and more comfortable fit, not to mention making it easier to tuck the sleeves into full-gauntlet gloves.
Safety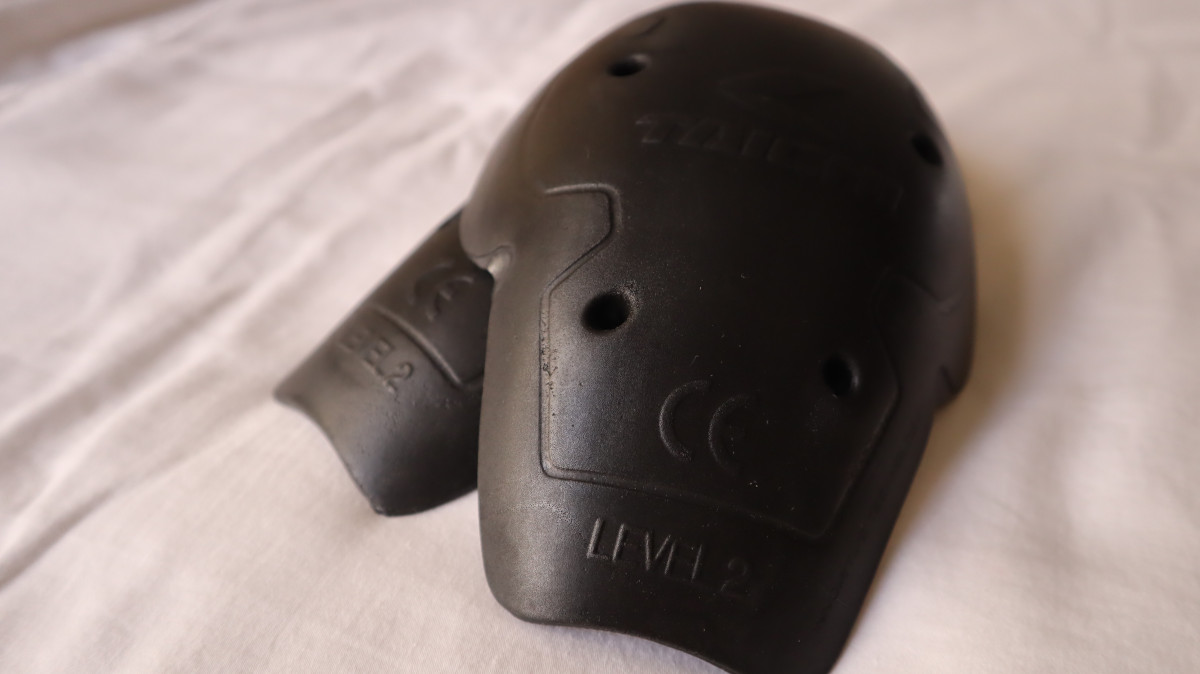 While mesh jackets like this one aren't going to be as abrasion-resistant as full-on leather sportbike jackets, they're still designed and rated to protect the rider's skin during a slide. Plus. they'll always be much better in a crash than non-motorcycle-specific apparel. To help ensure that it doesn't ride up and expose skin during a crash, there's a connecting loop at the waist that can connect the jacket to pretty much any pair of pants.

Armor provisions in the RSJ320 are very good as far as reasonably priced jackets go, with removable CE-rated elbow and shoulder protectors included, a pocket for a back protector, and attachment points for a chest protector (sold separately). The elbow and shoulder armor are very comfortable for something that's CE Level 2-rated. Both are soft and pliable so as not to impair movement, but still offer protection for the rider's joints.
Another aspect of rider safety is visibility, which is tricky to get right for mostly black jackets like this one. RS Taichi, however, found a way to include reflectorized decals on the arms, back, and tailbone to make the rider a bit more visible at night without making them look too goofy during the day.
Extra features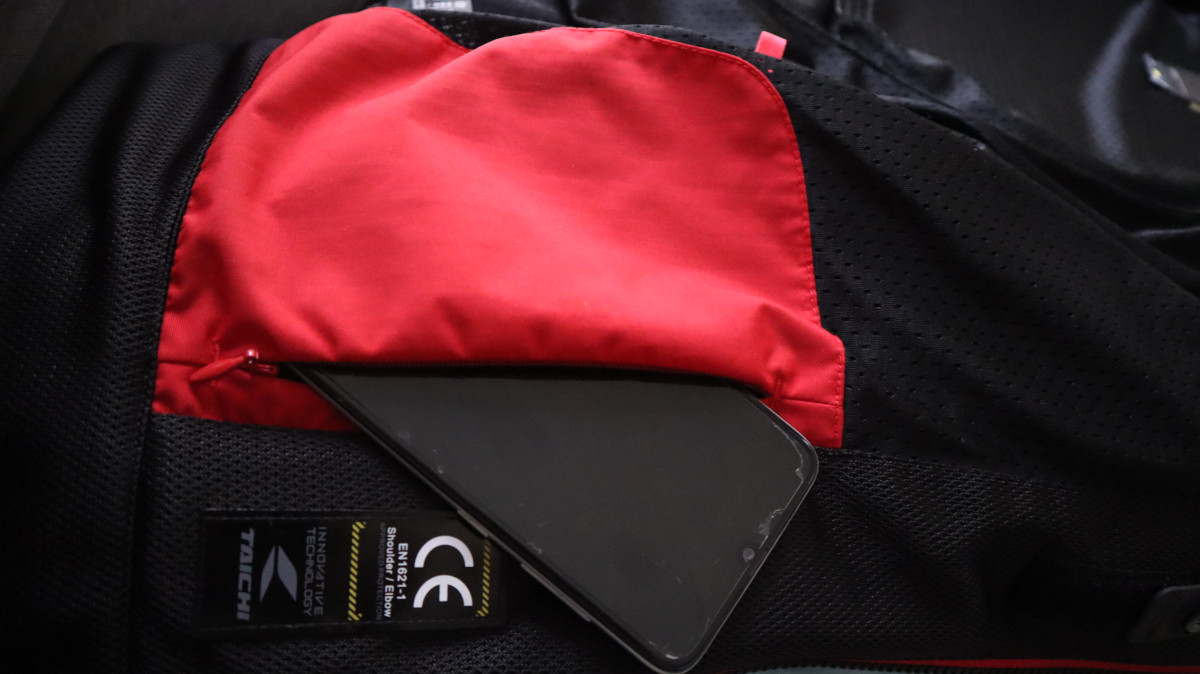 While P6,950 is a reasonable price for a quality motorcycle jacket, it's still a decent chunk of change for most people. To help soften that blow on your wallet, RS Taichi included a whole bunch of useful features.
For starters, the high degree of fit customizability is notable, as most mesh jackets only have adjustment straps on the wrists and waist. Also notable is the number of pockets for armor and the quality of included protectors. Not a lot of jackets at this price point include provisions for a chest protector, and some jackets don't come with protectors at all.
As a street-oriented jacket, pockets are a necessity, and the RSJ320 might only have a few, but they're decently sized and have high-quality zippers that are easy to find even with gloves on. Aside from the standard two pockets in the front, there's a third pocket hidden inside the jacket for more valuable items.
RS Taichi also includes a hanger beefy enough to support the jacket, as well as a sheet of cool stickers bundled with the care instructions.
Verdict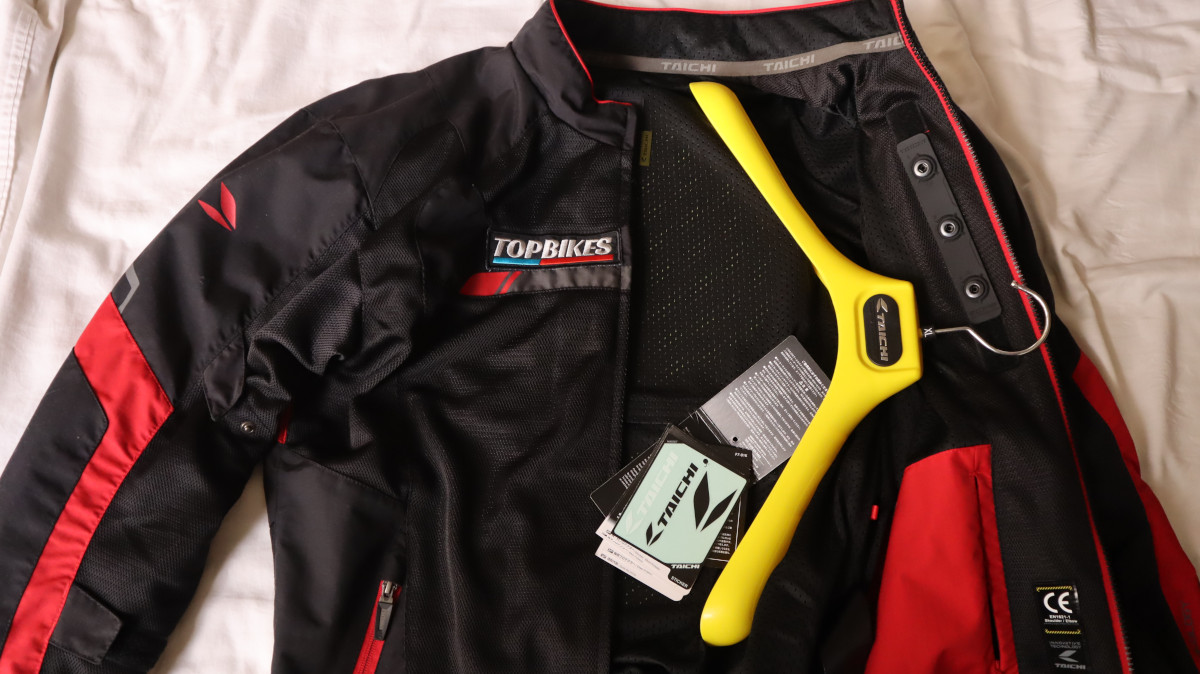 As a street jacket for everyday use, the RSJ320 ticks all the right boxes. It's breathable, comfortable, packed with protection, and cool-looking without being flashy—all without breaking the bank.

If there's one thing I wish RS Taichi had included, it's a removable waterproof lining. Weather in our country is only ever hot or rainy, so having a riding jacket that's ready for both would be a lot sleeker than having to carry around a separate rain shell. Wet weather protection aside, the RSJ320 is a great deal, and will likely serve as my all-purpose jacket for years to come.
Specs: RS Taichi RSJ320 Crossover Mesh Jacket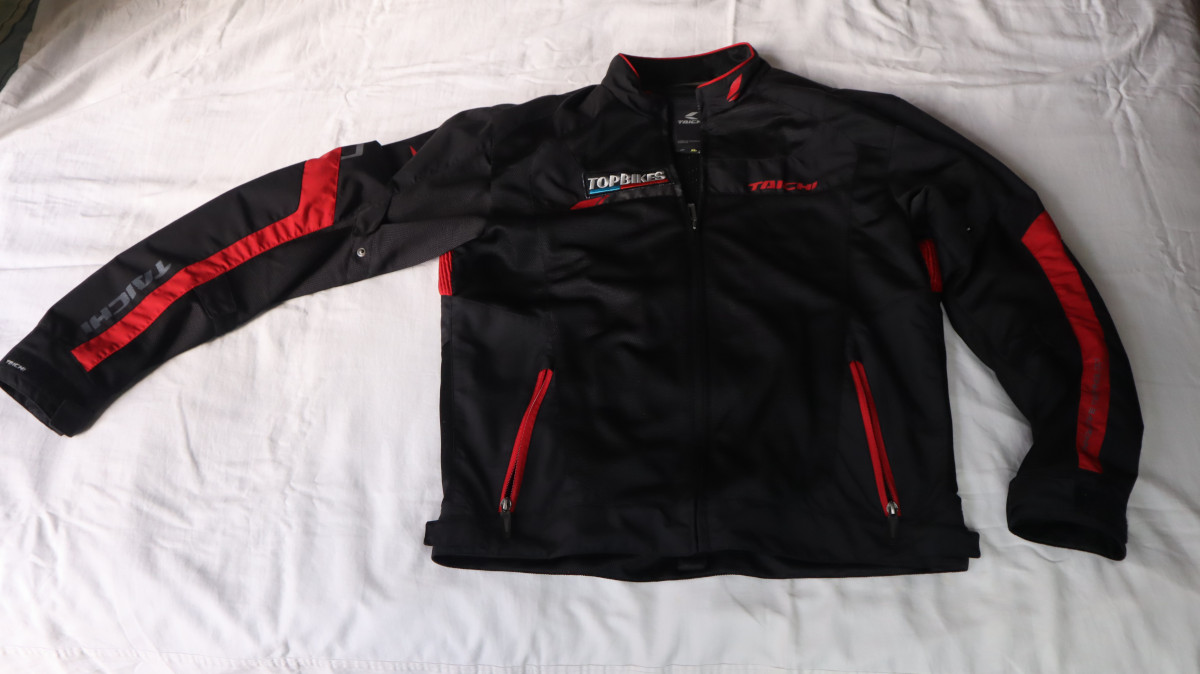 Price: P6,950
Type: Mesh Jacket
Score: 20/20