If your hands get injured, you most likely won't be able to ride until you're healed up. So wearing gloves, along with other safety gear, is absolutely essential where riding motorcycles is concerned.
When it comes to riding gloves, things don't get much safer than racing gloves, which are designed to keep your precious fingers whole and functional even at speeds exceeding 300kph. One such pair is the RS Taichi GP-WRX.
Japanese gear brand RS Taichi is well known in riding circles, with race suits and gloves spotted on tracks the world over, and street riding gear offering great protection at decent price points. Its GP-WRX gloves, which we personally purchased in Osaka about a year ago, is a full-gauntlet style that promises top-level protection and performance on the track. Read our full review to find out how these gloves fare with daily use.

Styling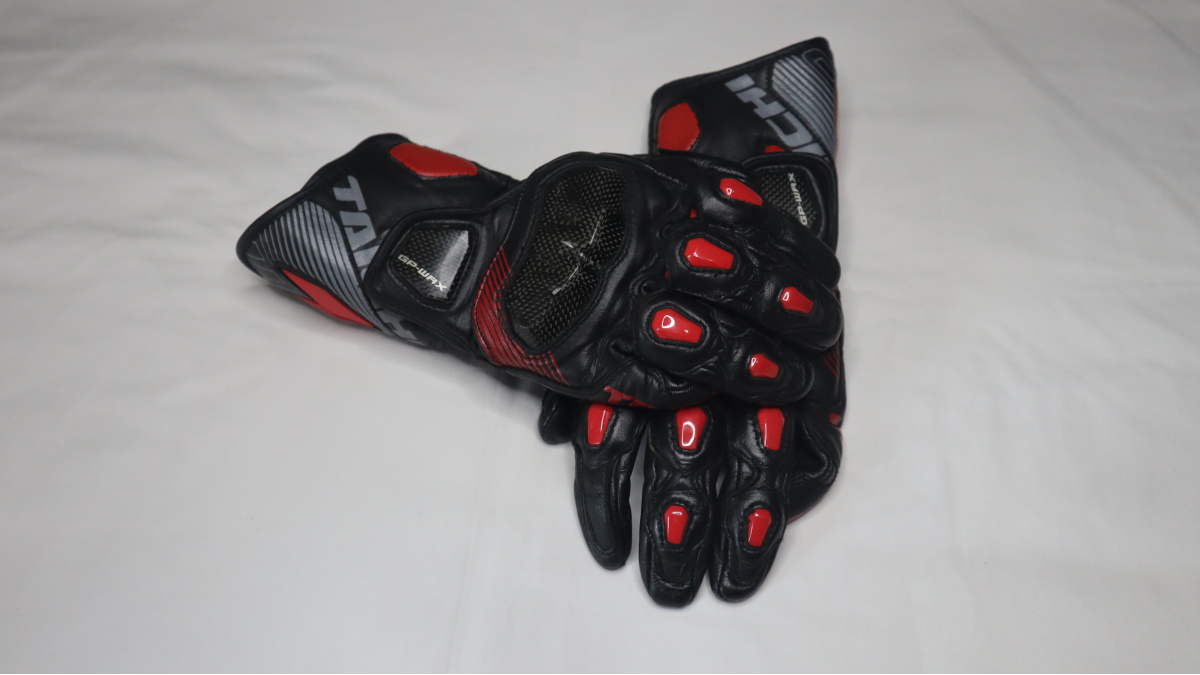 Continue reading below ↓
Recommended Videos
As a general rule, gear made for racing always looks cool. The GP-WRX gloves are no exception, looking very much like they have been taken straight out of a scene from Power Rangers or Kamen Rider. This pair's black/red colorway is very easy to match with outfits, other pieces, and even any motorcycle.
With a full-gauntlet length, copious amounts of hard armor, pre-curved fingers, RS Taichi logo, and carbon-fiber knuckles, the GP-WRX means serious business. They might seem a bit out of place on a cruiser or scooter, but for more sport-oriented bikes, these gloves are right at home.
Comfort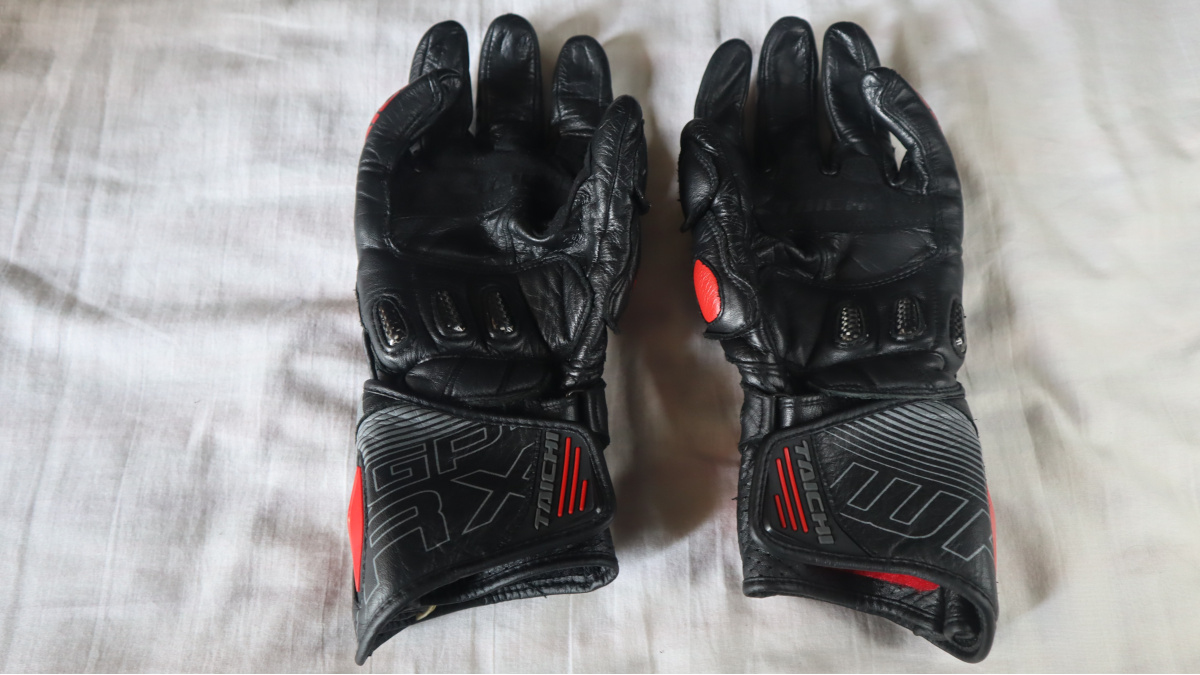 Full-leather race gloves don't have the best reputation when it comes to comfort. Many tend to be stiff and hard to move around in, but the GP-WRX are surprisingly soft and supple, especially once you've broken them in. While not comfier than their mesh or textile counterparts, these gloves allow for a good range of motion for the fingers and the wrist.
The leather is soft, and there are also accordion stretch panels on the finger joints, separate articulated panels for the hard armor parts, and unobtrusive internal stitching. Your hands can comfortably get into any position without compromising protection. The gloves are fairly breathable, too, since it has perforations in strategic areas like in between the fingers, behind the knuckle protector, and around the wrist area.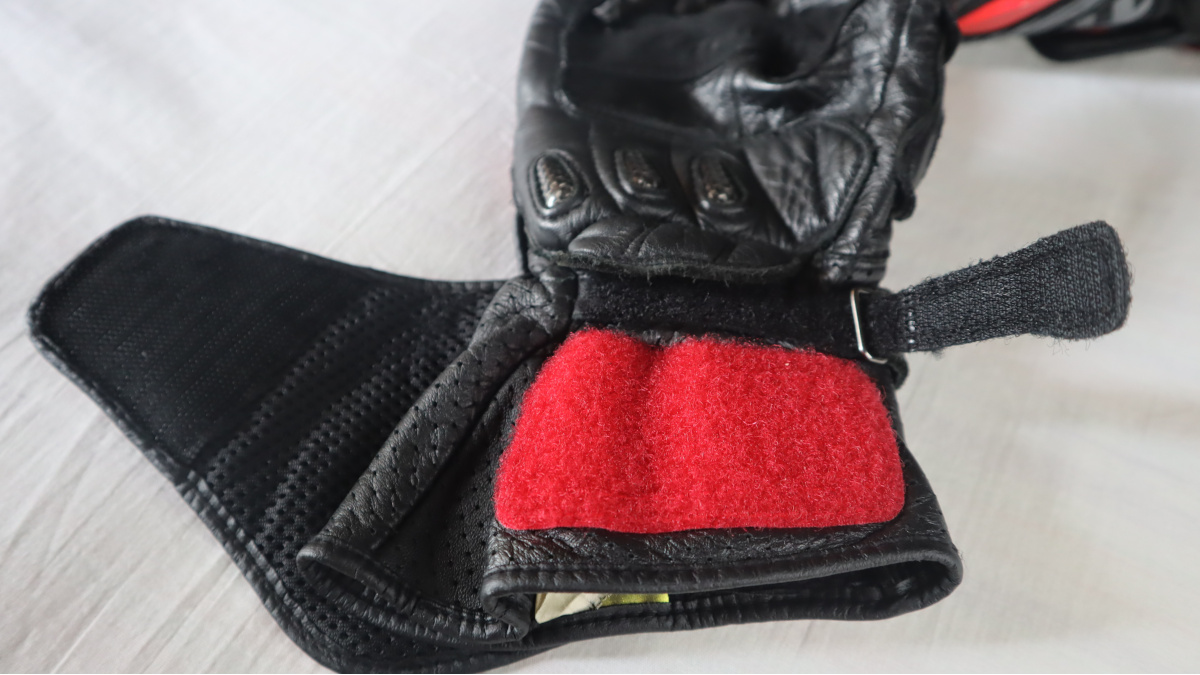 The full-leather GP-WRX tend to develop a 'race leather' kind of smell with sweat, so you will want to clean and air them out regularly. A caveat of leather gear is that it should always be properly stored and cared for; putting them away while wet can lead to mold, while leaving them out in the sun can cause cracking and degradation.
Fit-wise, these gloves are spot-on. I wear large gloves in most brands, and the GP-WRX in large fits my average-sized hands perfectly. There's enough length in the fingers to close the hand all the way around the throttle, and the fit around the palm and wrist are snug without becoming restrictive. Riders with longer fingers should size up, though.
Safety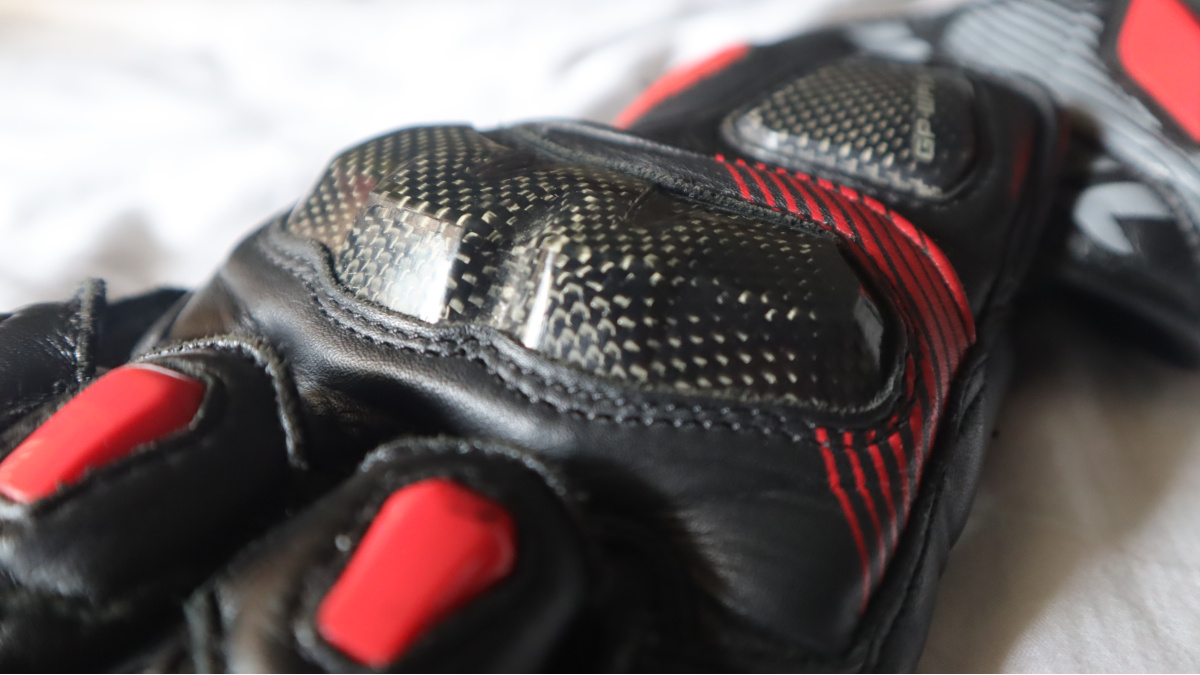 The GP-WRX, like all gloves intended for high-intensity track sessions, are packed with features meant for all sorts of crashes. For abrasion protection, the outer shell is a blend of 95% cowhide and 5% synthetic leather. The matetial isn't as fancy as kangaroo leather, but is still supple and thin enough to provide a good feel on the handlebars and levers.
Carbon sliders on the palm area—backed by 6mm of dual-compound foam—keeps your hands from gripping the asphalt during a crash and absorb the impact of the instinctive arms-outstretched reaction when falling over. Impact protection is handled by the numerous hard armor plates on the finger joints, while being reinforced by more dual-compound foam for comfort and better shock absorption. The knuckle and top of the wrist are both secured by sizable carbon-fiber plates with foam.
RS Taichi's original double-wrist closure system ensures a tight, comfortable fit so the gloves won't come off during a crash. The aramid knit, meanwhile, guarantees maximum stitching strength to prevent it from falling apart in a slide.
We've used these gloves regularly for the past year mostly on the street, with a couple of track sessions. The amount of protection and stability they offer despite continuous use gives us peace of mind.

Extra features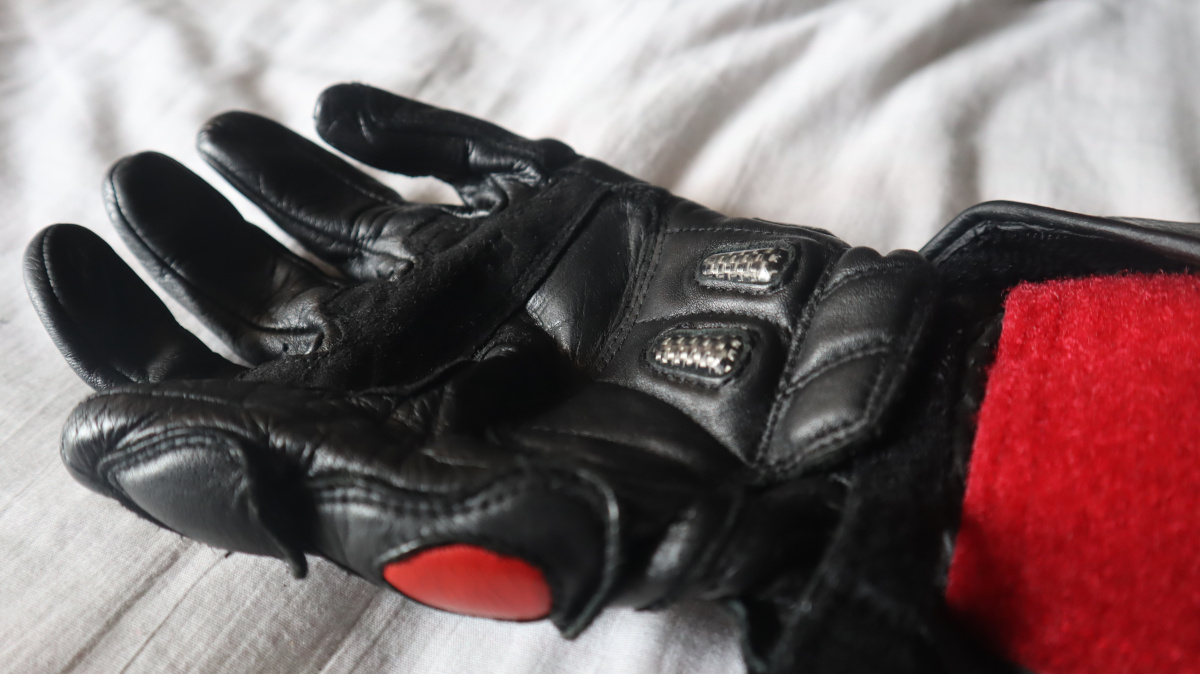 Gloves aren't the most feature-rich pieces of gear, but RS Taichi gave the GP-WRX a couple of tricks. While not stated in the product description or on the tag, the leather fingertips of the gloves work with a touch screen, so you can use them with your smartphone. The length of the gloves means you can wear them over the sleeve of your riding jacket, which adds covering and prevents weird tan lines from the sun bearing down on exposed skin. The velcro bits are protected by flaps when fully closed, so they don't accidentally snag on your clothes.
One feature we would've appreciated is a pinky and ring finger connection, which prevents the pinky from being pulled away or rolling under the hand during a crash. While the said part on the GP-WRX does have an additional layer of leather, a pinky and ring finger connection would add a bit more safety on the track.
Verdict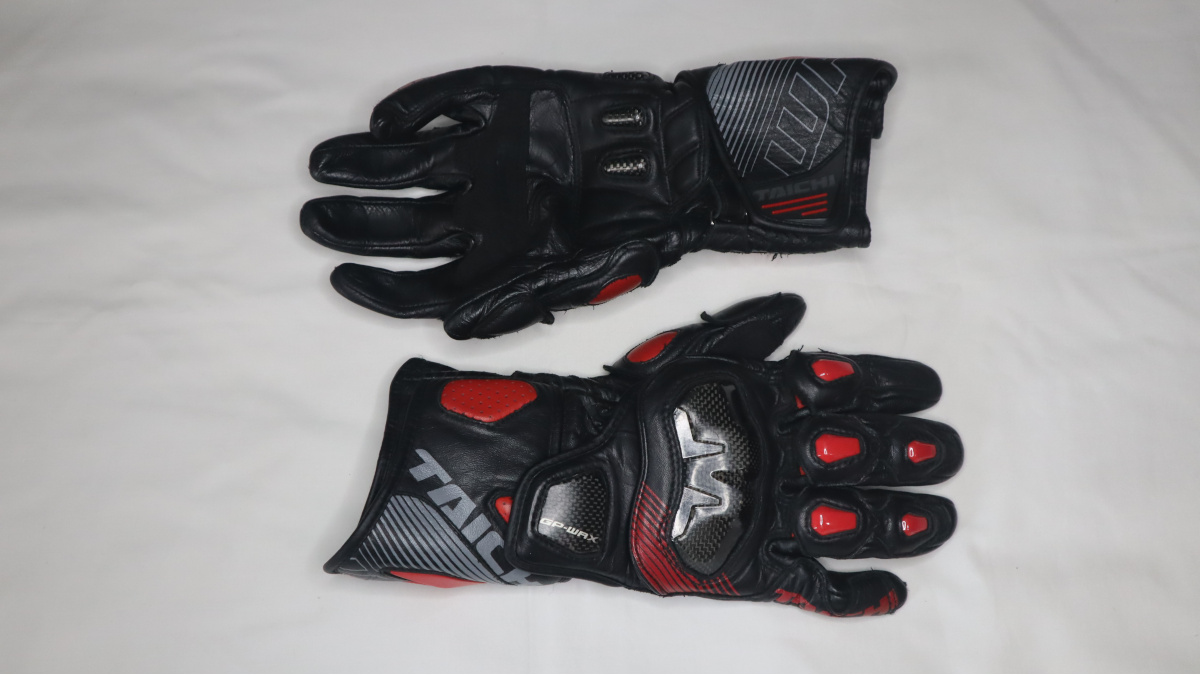 The RS Taichi GP-WRX gloves are comfortable and versatile for street use, while offering protection for days at the track. With the right leather care, these race gloves are comfier than most. Sportbike riders looking for a pair of race-ready gloves that are comfy enough for daily use should give them a look, provided you can find a pair here in the Philippines or order them online.
RS Taichi GP-WRX Racing Gloves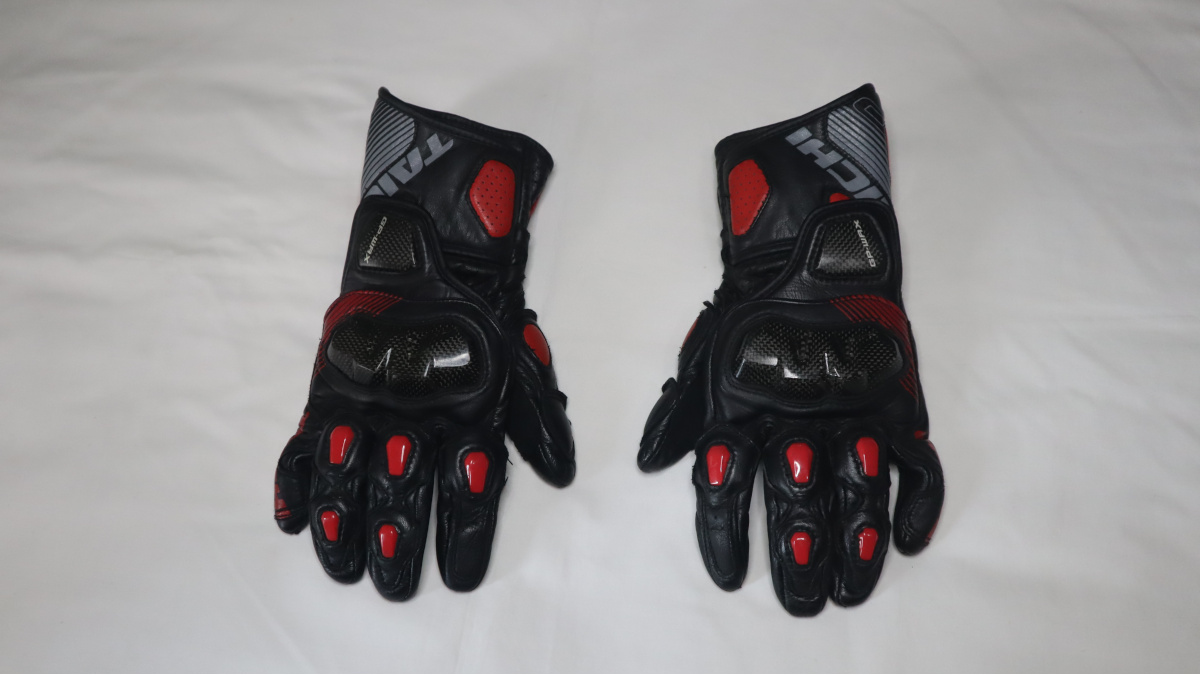 Price: 9,000 Japanese yen (roughly (P4,000)
Type: Full-gauntlet leather race gloves
Score: 19/20