Much like in the regular consumer market, name brand recognition is king when it comes to motorcycle communicators. Riders hold two brands in high regard: Sena and Cardo. These manufacturers have dominated the top-end of the communicator market, and are often spotted on the helmets of big bike riders.
Premium products command a premium price, however, and many riders, me included, would have to save up to get one. For the longest time, I've been using an affordable unit I scored online. While it's fine for solo ride use (especially for the price), I always felt that a higher-end model would be a substantial improvement.
Now that I'm past the days of living off on my college allowance and part-time writing paychecks, I found myself debating whether or not to drop a good chunk of my salary on a premium communicator. I got in contact with Motoworld to arrange a demo unit of the top-of-the-line Sena 50 series communicator, which the company gladly lent me for review.
Does a high-end communicator really make a difference? Or are you better off wearing wired earphones in your helmet for a fraction of the cost?
Styling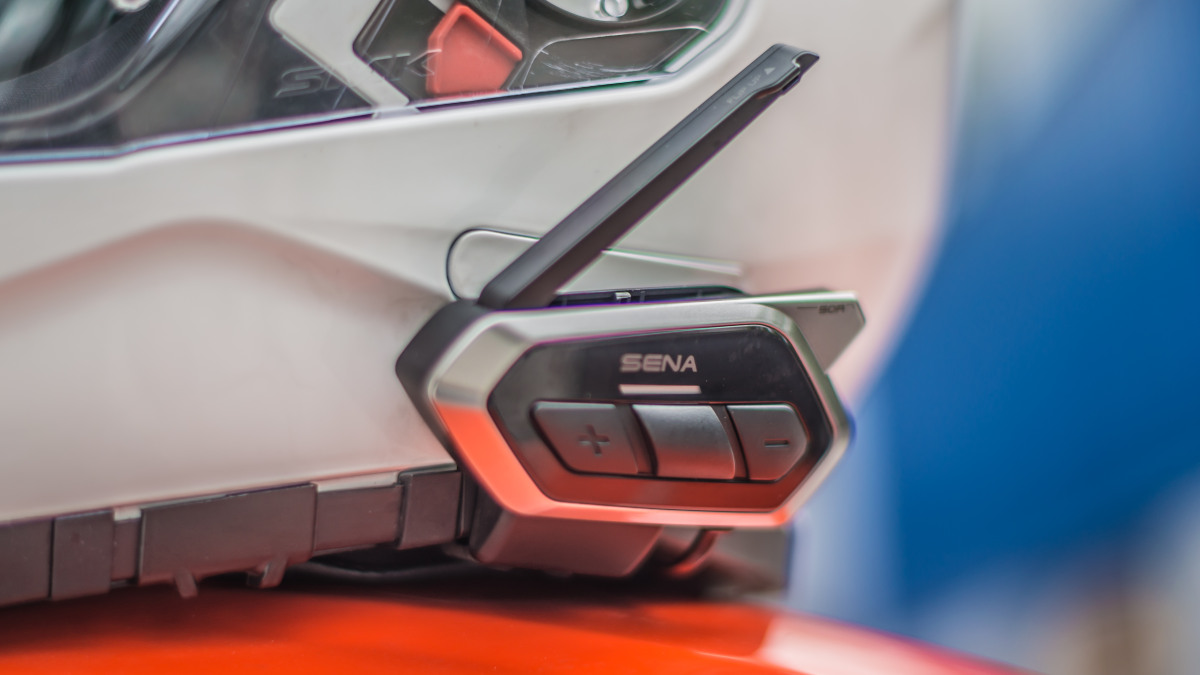 Continue reading below ↓
Recommended Videos
Considering the hefty initial investment, it only makes sense that flagship communicator models look and feel the part. I was lent the 50R—the streamlined low-profile variant that foregoes the bulky looking jog dial on the 'standard' 50S for a simple three-button setup.
The device itself is sharp and compact, with angles that complement any helmet. The 50R sports black glass-like inserts and metallic housing, which make for a discrete but sophisticated look that is expected from the price point.
Build quality is superb, with solid materials, no unnecessary wiggle, and well-hidden wiring depending on your installation skills.
Comfort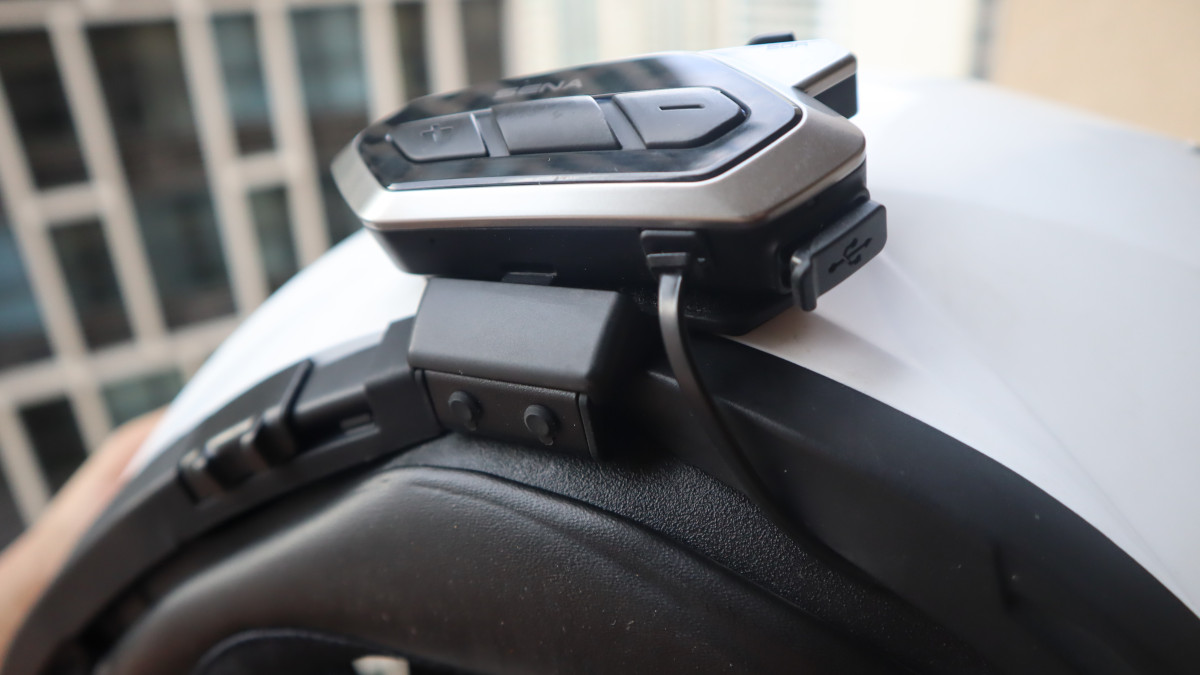 If your helmet has speaker cutouts, the 50R's speakers won't cause your noggin discomfort. Wires are minimal and easily tucked away inside the padding, while the miniscule wired mic doesn't get in the way at all. For those with open-face or modular helmets, the boom mic's slim design won't take up too much space or look goofy.
Operating the 50R with gloved fingers is easy thanks to the large buttons, although changing songs is almost too long a time to have one hand off the handlebar.
Function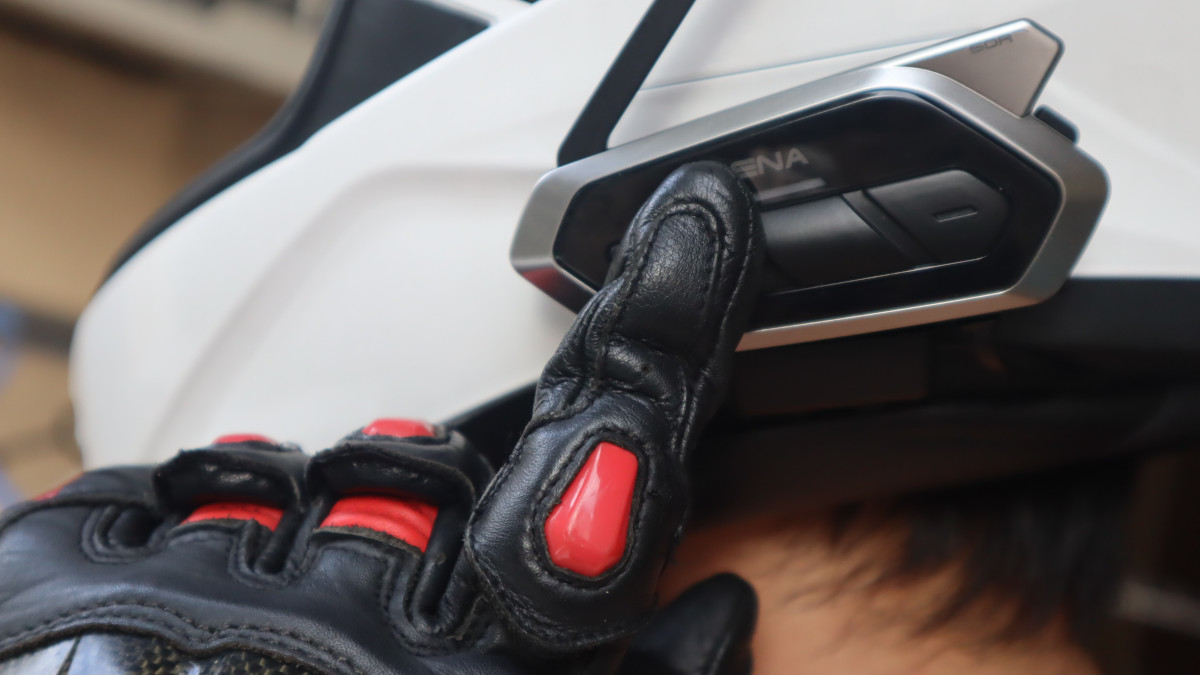 After a quick installation process and firmware update, the 50R is ready to go. Sena has its own utility app for the 50 series. which isn't required to use your communicator. The app does provide the most user-friendly way to cycle through the unit's functions, tweak settings, and explore everything the Mesh 2.0 feature has to offer.
The manual is necessary to learn the combinations of button holds and presses needed to operate the 50R's multitude of functions. Good thing the button inputs for the basics—like turning the device on, pairing with your phone, and answering calls—are easy to memorize.
The first thing I noticed was how streamlined the whole experience was. Setup is easy to understand, phone pairing is quick and simple, and the combo of a pleasant female voice and audible beeps gives me confirmation for everything I try to do.
Sena's HD speakers aptly deliver clear, solid sound whether it's music, voice, or navigation app. I'm no sound geek, but I can say that the 50R's speakers are leagues better than my previous (budget) unit. Mic quality is equally good, especially with the noise suppression function. My riding friends (using Sena 50 series comms as well) and I hear each other loud and clear even with their aftermarket exhausts. This eliminates the need for memorizing and understanding hand signals.
Pairing with other Mesh-equipped communicators is as simple as standing near your rider buddies and pressing the button. Thanks to this revolutionary feature, pairing is not only hassle-free, but those who drop out of range will automatically be reconnected once they catch up.
Connecting with non-Mesh communicators over Bluetooth is also possible, but expect the pairing difficulty and connection quality to vary with different brands and models.


Extra features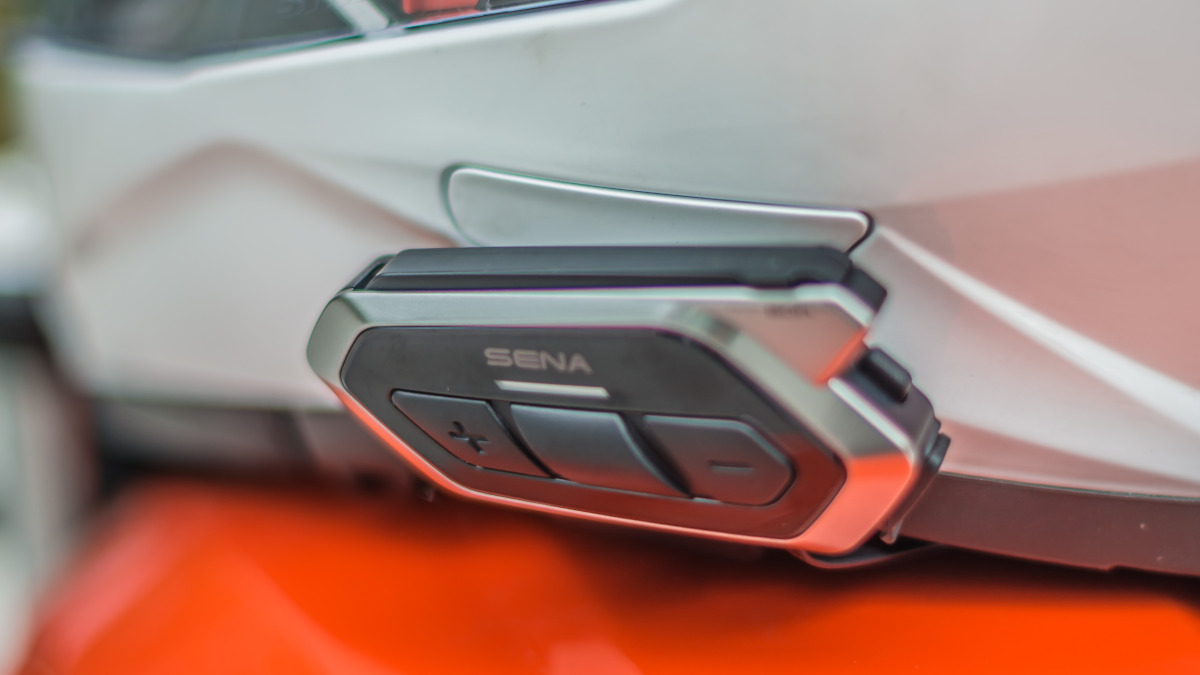 Included with the 50R is the mounting hardware, a USB type C cable, Wifi adapter, provisions for either a wired or boom mic, speakers, spare adhesives, warranty documentation, and several copies of the owner's manual in different languages.
The flip-up antenna on the side boosts connection range, and makes the 50R look even more high-tech.
Voice command functionality is a neat bonus, although it isn't 100% reliable despite the quality microphone. Thrown into the package is FM radio functionality, which should prove useful as backup entertainment if your phone dies.
The angled USB type C cable is a nice touch, and allows quick charge times. A full battery requires just an hour of charging, and lasts me about a week of short rides around town with my music on, plus one or two long rides with Mesh intercom turned on.
Sena hasn't claimed full waterproofing for the 50 series, but the 50R's still working perfectly fine after a few rides through rain, hinting at some level of water resistance at the very least. The charging port is covered, so  water won't get into the unit so easily even if you end up drenched.
Verdict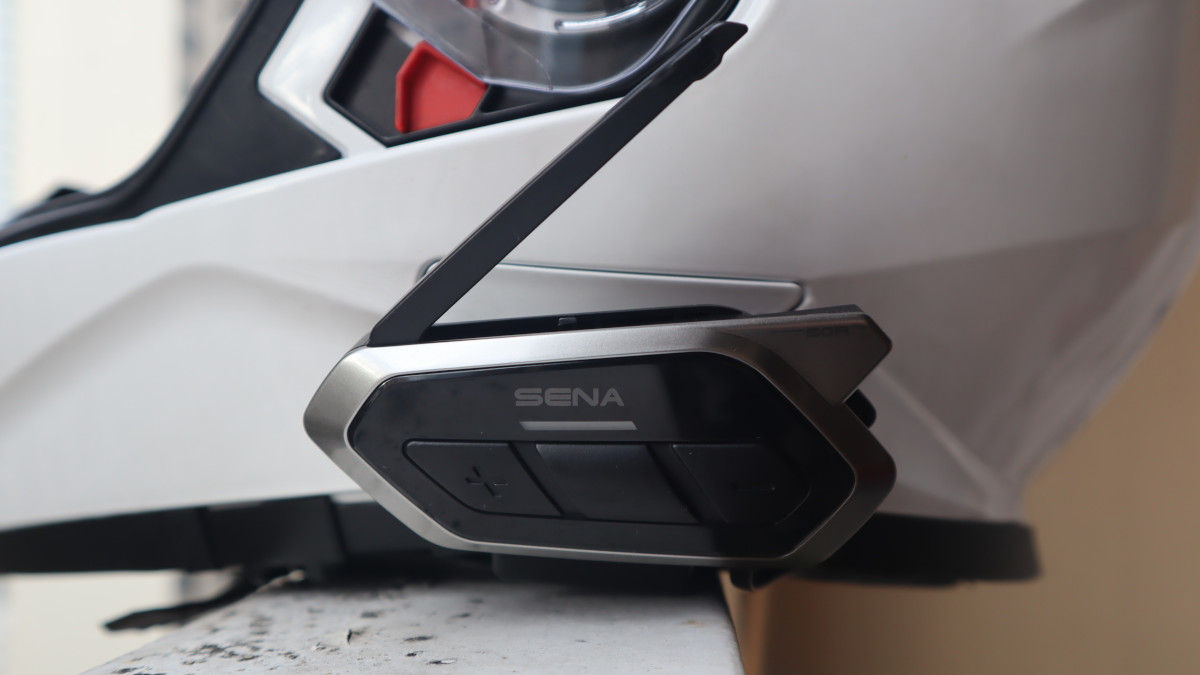 Before you decide whether you buy the 50R/50S or Cardo's Packtalk system, the primary thing to consider is what brand of comms your usual riding group uses, as connectivity will be much easier if everyone's using the same brand.
If your friends mostly run Sena units or if you're a solo rider, then the 50R is a gear choice you won't regret. It has excellent build quality and performance, ample battery life, a wide array of functions, and a long range of around one kilometer for either Mesh or Bluetooth intercom.
Specs: Sena 50R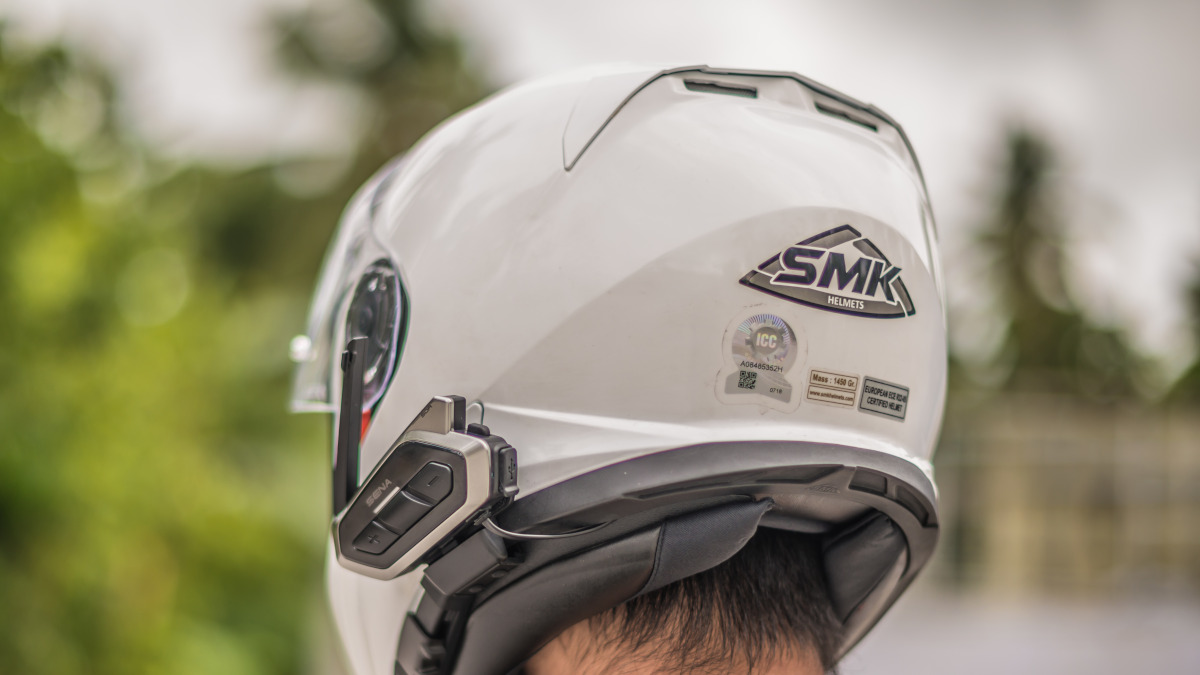 Price: P17,950 (Motoworld)
Connectivity: Mesh 2.0 and Bluetooth 5
Score: 19/20
Top Bikes Philippines is now on Quento! Click here to download the app and enjoy more articles and videos from Top Bikes Philippines and your favorite websites.