The second smallest bike in Yamaha PH's YZF sportbike lineup, the venerable YZF-R3 has found itself in the hands of many a beginner rider, sporting enthusiast, and track day junkie. After all, its sharp YZF styling, punchy 321cc parallel-twin engine, and ultralight chassis make for a hard-to-resist package. 
Perhaps these characteristics are why Zero2Podium riding clinic uses the YZF-R3 as its bike of choice when teaching students how to take on the racetrack. I was lucky enough to be one of those students last week when Coach Che Estepa and one of Zero2Podium's R3s taught me the basics of track riding at the Alpinestars track day.
How good of a teacher is the 2018 Yamaha YZF-R3 for a track novice like me? Read our impressions below to find out. 
What's hot about the R3?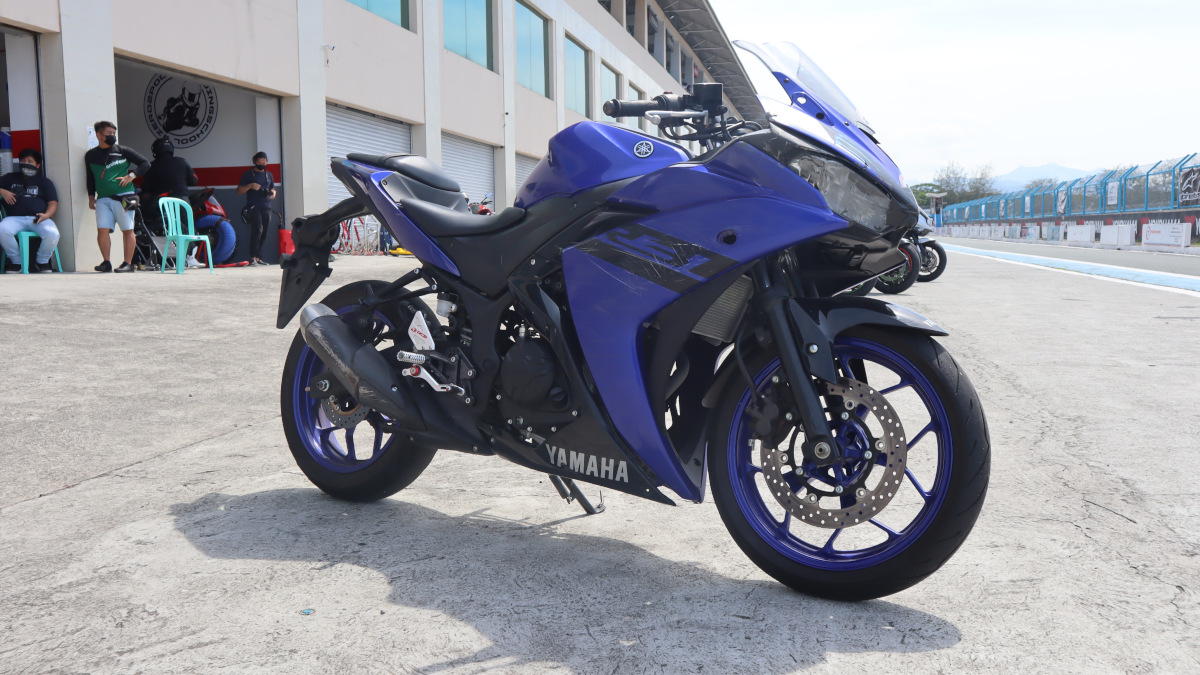 Continue reading below ↓
Recommended Videos
Yamaha's YZF styling is iconic in the industry, with even the 155cc YZF-R15 looking like a proper superbike to the uninitiated. Granted, the R3 I used on track was a 2018 model, so it doesn't bear the updated current-gen styling, but it still looks as sharp as can be for a bike even beginners can use.  
Angular dual headlights, a full belly pan, and sharp fairings finished in Yamaha Racing Blue made this YZF-R3 look right at home on the track. Now, as seen in the pictures, my R3 has obviously seen its fair share of slides and stumbles.
How does the saddle feel?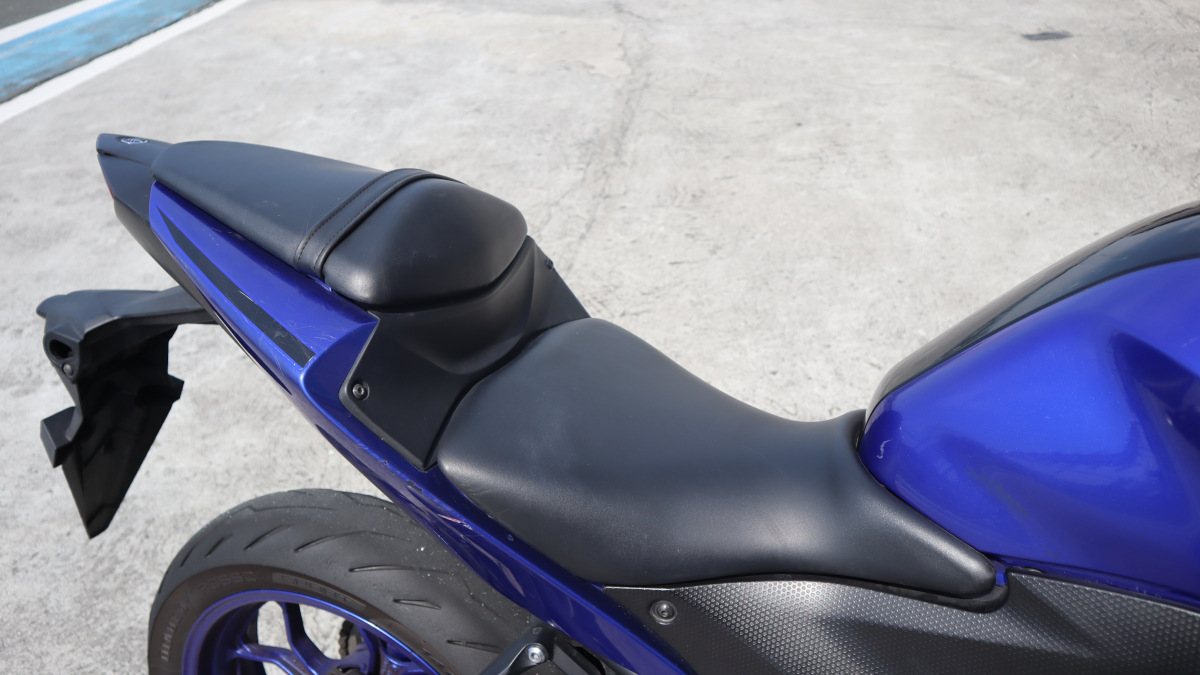 With a low 30.7-inch seat height, a 167kg wet weight, and a chassis that's narrow between the legs, the YZF-R3 is definitely not too much to handle at a stop for an average-sized Filipino rider. The seat itself is smooth and easy to move around on, which you'll be doing a lot when hustling around the track. Cushioning is ample but not exceptional, which is fine since comfort isn't a priority on the track anyway. 
While the R3's ergonomics are definitely aggressive with its clip-on handlebars and high-mounted rear sets, sitting on the bike doesn't feel as severe as being on something like the R6. Because it doesn't have really low-mounted bars, the YZF-R3 allows for a sort of upright riding position, making it less likely to tire out track newbies.
Does the engine perform well?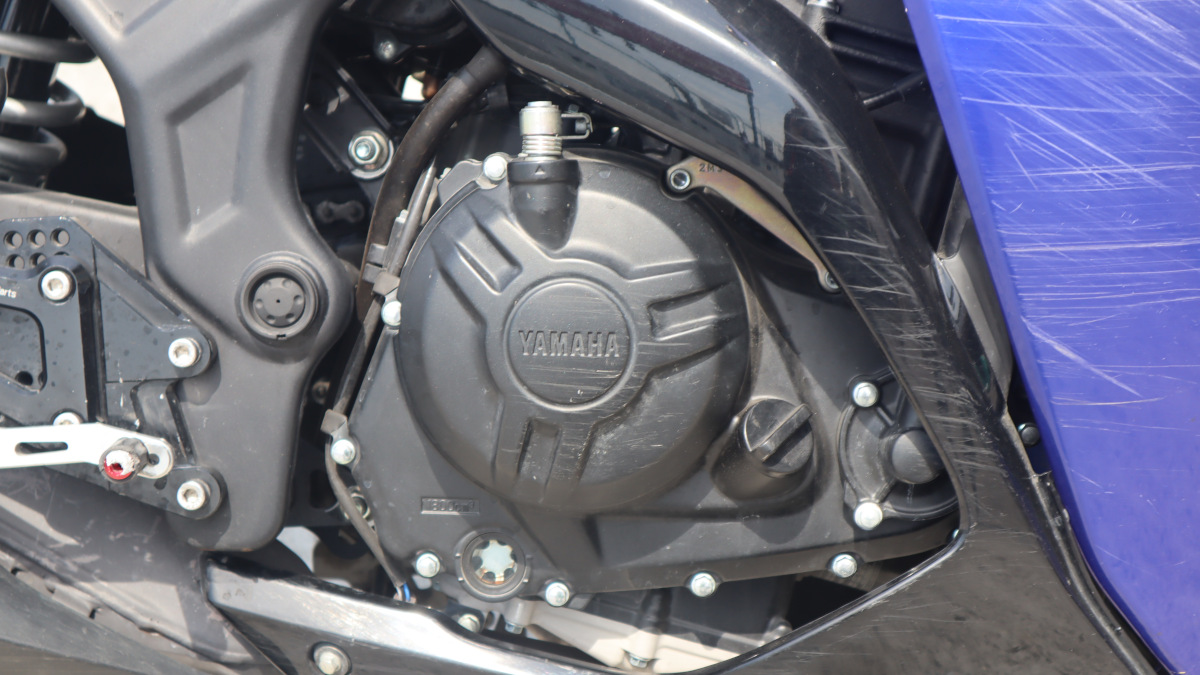 The 321cc DOHC parallel-twin engine in the R3 loves to rev, and rev it you must to get the full 41.4hp that lies in wait at 10,750rpm and the 29.6Nm of torque available at 9,100rpm. Being a parallel-twin, a good bit of that torque is available early on in the rev range, but you'll still have to give the throttle some encouragement to get it really going, especially when coming out of a corner. 
I was able to push the R3 to over 170kph on Clark International Speedway's straightaway. 
A six-speed manual transmission transmits power from the engine through a chain final drive to the rear wheel. Being relatively basic, the transmission doesn't include a quickshifter or even an assist-and-slipper clutch. This bare-bones shifting experience felt ideal, considering that the bike was set up to teach track novices the basics. 
Is it any good around corners?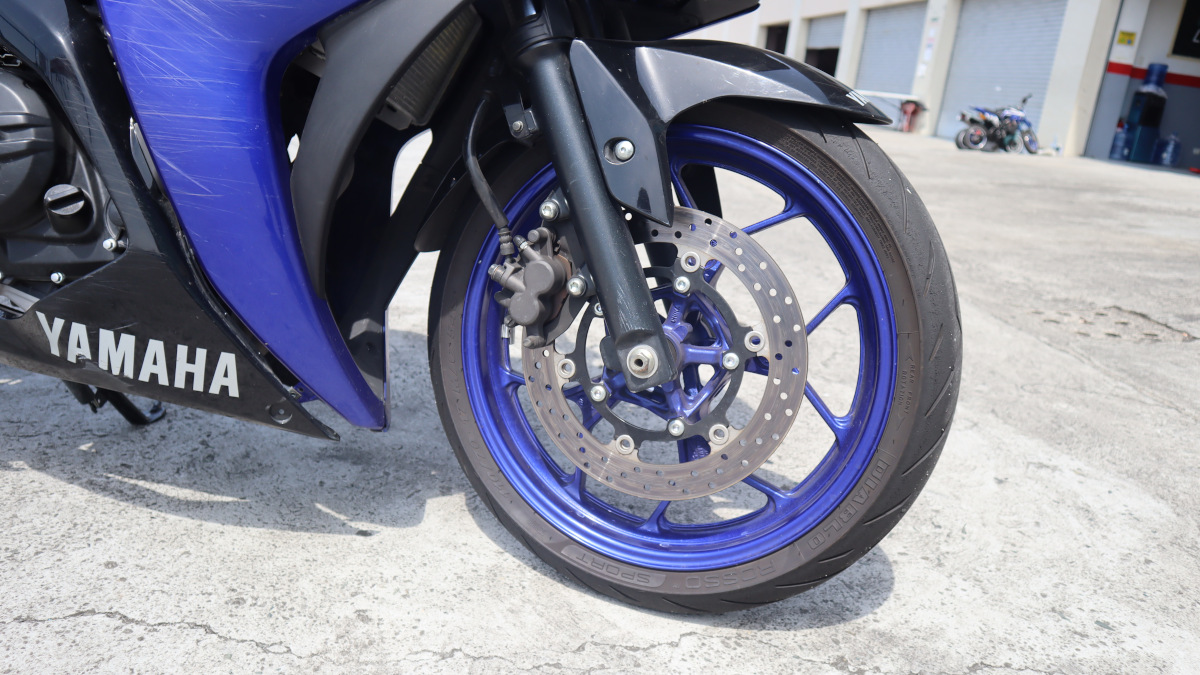 What the YZF-R3 lacks in sheer grunt, it makes up for with proper sporty handling. A 41mm KYB fork up front and a preload-adjustable KYB rear shock provide more than enough damping to soak up track imperfections while still allowing the R3 to handle as sharply as possible, especially when coupled with the sticky Pirelli Diablo Rosso Sport tires that Zero2Podium has mounted on.
Getting the YZF-R3 to hold a line and clip apexes only requires that you know what you're doing, and with Coach Estepa's guidance, I eventually found myself flicking the bike from one side to the other with relative ease.
I was told that finishing the whole track only using the R3's engine brake was possible because it's so light. Surprisingly enough, it really was possible, despite all my street-riding instincts telling me to at least tap on the brakes going into corners. In terms of actual braking power, the non-ABS-equipped 298mm front rotor and 220mm rear disc don't sound like they're quite up to the task, but they did their job pretty well thanks to the R3's light weight. 
What other features does it have?
Being a track-prepped bike, the R3 I used had even less features than the stock version. There were no mirrors, holes where the turn signals should be, and no passenger footpegs. Of course, all these were taken off to make the bike as safe and light as possible for the track, so that in itself is a feature. 
Zero2Podium did add some things, such as RCB rear sets with grippy foot pegs and lightened shifter/rear brake pedals and an RCB clutch lever with a strangely far back bite point. Aside from being installed to replace banged up parts, these additions help make the bike more track-suited. 
The LCD dash is still present on this R3, which gives the rider access to all its functions, including a neutral indicator, gear position indicator, and a racy-looking analog tachometer.